Tim Tebow Can Break Through into Major Leagues: Mets Hitting Coach Kevin Long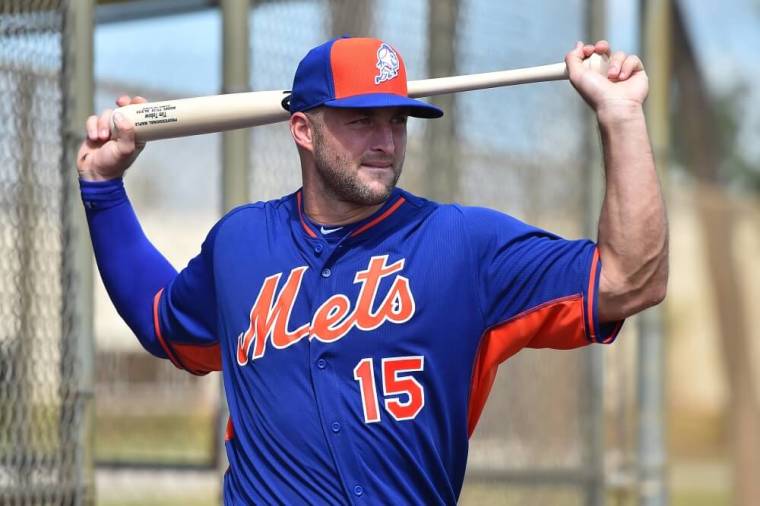 Popular Christian athlete and former Heisman Trophy winner Tim Tebow can make the transition from American football to baseball and one day "break through into the major leagues," New York Mets hitting coach Kevin Long said.
"I don't count out the fact that maybe, at some point, (Tebow) can break through into the major leagues," Long told 1070 The Fan this week. "He's put together like no other athlete we've ever seen," he added.
"He's got a lot of work to do, he understands that," Long continued. "He knows it's not gonna be easy, but having seen his swing now and worked with him a little bit, I'm not so sure that he can't break through maybe give himself a chance to get (to the major leagues)."
Long said he has worked with Tebow. "You know what, it was kind of cool. He called me when he was out here for the Arizona Fall League, and I live in Arizona. So, he called and asked if we could get together. We hit six or seven times, and you know what, he could hit a little bit."
Long continued: "… Kind of surprising, but I tell you what, with his work — the guy is just a machine. He's 260, 7 percent body fat. He's 6-4. He's put together like no athlete I've ever seen. His work ethic is off the charts. And we all know what kind of human being he is. But obviously, you have to have talent, and baseball is a tough sport to pick up after 10 years. We'll see if he can do it, but I'm not counting him out — that's for sure…
"Well, he's going to play in the minor leagues. But, listen, he's got to play. He's got to get some at-bats underneath his belt. In a month, you're going to get 100 at-bats. He's got 100 at-bats probably in his professional career right now. That's counting the instructional league and the Arizona Fall League. But that's only a month worth of baseball after a big layoff. So he needs to play some minor league baseball. We'll see how that ends up. But yeah, I don't count out the fact that maybe at some point, he can break through into the major leagues."
Mets manager Terry Collins has also said he "certainly" hopes "we'll see Tim Tebow in some of our games." Speaking at baseball's annual Winter Meetings, Collins added, "If he's not in our camp, I'll get him over."
Some have criticized Tebow for dropping professional football aspirations and pursuing a career in baseball. Many sports fans were also left wondering why the 29-year-old national championship-winning quarterback with NFL playoff experience would set aside his NFL dreams to try his hand at a sport he hasn't played competitively in 12 years.
In October, the athlete defended his decision. "I don't have to live my life based on how other people want me to live. If I was on a team and that team asked me to do something, I would do anything," Tebow said on ESPN. "But if I am not on a team and a team offers me a contract to sign with someone to go and play tight end, H-back, fullback, running back, whatever it is, and I have had a lot of those offers, I don't have to go sign with them. I am not on their team. That's just making a professional decision to not go do something that I didn't really have in my heart. It wasn't a dream."
Last month, Tebow's book, Shaken: Discovering Your True Identity in the Midst of Life's Storms, was named a best-seller on The New York Times, USA Today, The Wall Street Journal and Publisher's Weekly best-seller lists.
"The goal of this book is if you pick it up with your head down you finish the book with your head held high knowing that God has an awesome plan for your life, you matter, and you're important. And that is a bigger identity than the world could ever offer," Tebow told Fox News host Sean Hannity.