Tim Tebow Doesn't Want to Talk Football When Doing Charitable Work
Tim Tebow Doesn't Want to Talk Football When Doing Charitable Work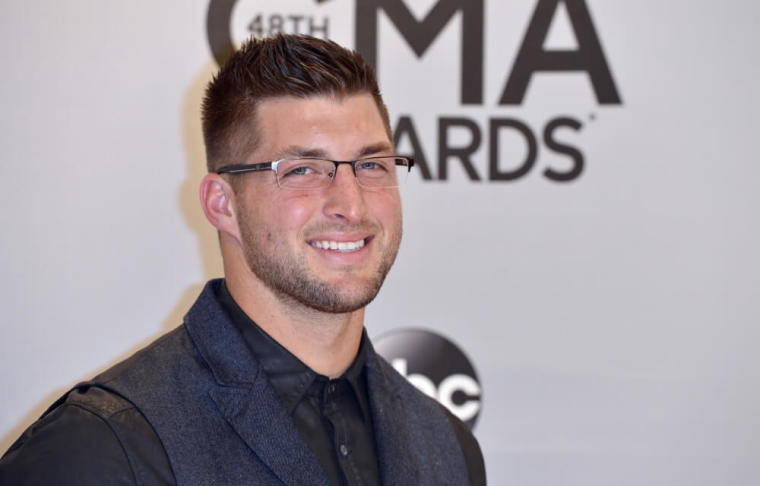 While the world of sports tries to figure out the next step in Tim Tebow's football career, the Christian athlete wants people to realize that he is focused on bigger things.
"It's not about football. It's about what we're doing, through faith, hope and love and the people we serve all over the world," Tebow told The Florida Times-Union before his sixth annual Tim Tebow Celebrity Golf Classic that took place March 12. "That's going to be bigger than football every single day of my life."
This year, Tebow invited his former University of Florida football coach Urban Meyer, Ole Miss coach Hugh Freeze, former Atlanta Braves star Chipper Jones, NFL Hall of Famer Marcus Allen, PGA Tour winners Billy Horschel and Zach Johnson; former Heisman Trophy winner Danny Wuerffel, and music group The Band Perry to participate in the celebrity golf event. Tebow has raised over $5.5 million through the years with the Tim Tebow Celebrity Golf Classic that benefits children in need through his Tim Tebow Foundation initiatives like the Tebow Cure Hospital in the Philippines, the Night to Shine prom for teenagers with special needs and the W15H program that gives kids with fatal illnesses a chance to make their dreams come true.
Tebow has been making a difference with his charitable organizations, and chose to focus on his contributions to society instead of football during his event. However, Horschel spoke about Tebow's influence extending beyond football.
"When I get older I want to be like Tim ... and I am older than Tim," Horschel told the Times-Union. "He's done amazing things. Football is just one thing, but what he does in the real world, where things really matter, is amazing."
Wuerffel knows a thing or two about football after winning the 1996 Heisman Trophy. He believes Tebow has a bright future ahead of him.
"Football is obviously the most known and recognized thing to a lot of people, but when you look at the platform he has, his greatest years are yet to come, whether he plays in a Super Bowl or never plays again," Wuerffel said.
Earlier this year, Tebow spoke out against placing too much importance on football, which can be seen sometimes as idol worship.
"We choose to idolize certain things, and love certain things," Tebow said according to the Montgomery Advisor while speaking at benefit for the Cancer Wellness Foundation of Central Alabama. "...I'm not saying it's wrong to love sports, I love them as much as anybody. But do we choose to really see what matters?"
As a speaker at the Montgomery, Alabama benefit called "The Journey Continues…," Tebow invited three "wish girls" battling cancer to join him. Instead of focusing on celebrities, the athlete-turned-college-football analyst spoke about how "messed up" it was that people were not honoring those trying to overcome cancer.
"All these men and women that are celebrities, they're awesome, they're good friends of mine. They do a lot," Tebow said. "And everyone was idolizing these men and women, and nobody was paying attention to these three girls. I think all of them would agree, these three girls have more character, heart and determination to fight through what they had fought through than any one of those celebrities."
The athlete said he was struck with the revelation that, "This is what matters. This is what we should be focusing on.'"