Tim Tebow Named as Newest Addition to the Florida Gators' Ring of Honor
Tebow will be officially inducted into the Gators' Ring of Honor on Oct. 6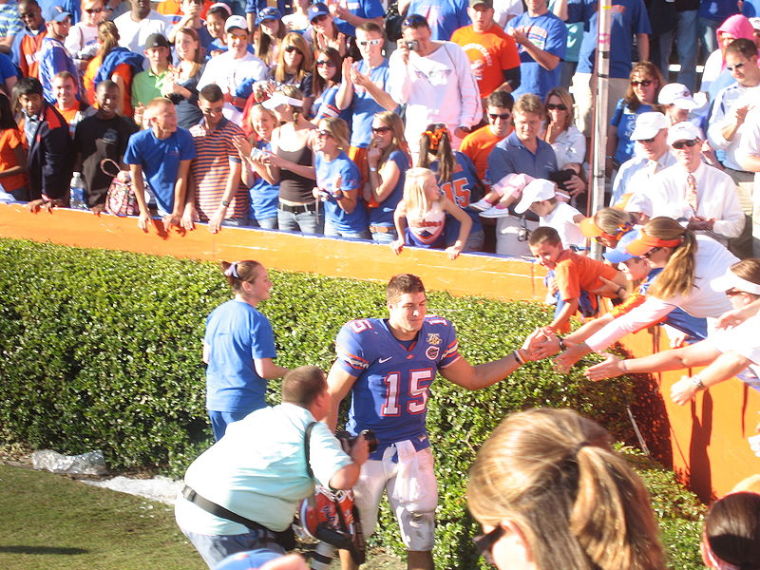 Years after starring for the Florida Gators during his college football career, Tim Tebow will be honored by the school by officially being inducted into their Ring of Honor.
Tebow will be added to the group of greats on Oct. 6 during the Gators' game against the LSU Tigers.
His name will also be displayed in the North End Zone of Ben Hill Griffin Stadium.
"I am so humbled and thankful to be able to receive this blessing, being inducted into the Ring of Honor," Tebow said. "I know in my heart that I truly couldn't have done it without amazing coaches and teammates who loved and sacrificed for each other so that we could accomplish our goals."
The 30-year-old former quarterback will join other offensive standouts such as running back Emmitt Smith and fellow signal-callers Danny Wuerffel and Steve Spurrier. Spurrier also served as the Gators' head coach from 1990-2001.
Defensive end Jack Youngblood and linebacker Wilber Marshall are the two other former Gators included in the Ring of Honor.
Over the course of his four-year collegiate career with the Gators, Tebow racked up 9,285 passing yards to go with 88 touchdown passes. Tebow was a multi-faceted offensive threat during his days in Gainesville, as evidenced by him rushing for nearly 3,000 yards and punching in 57 touchdowns on the ground, as reported by Sports Reference.
He was also named as the Heisman Trophy winner back in 2007 and was part of two national title-winning teams.
Tebow has said that being a Gator was a "lifelong passion," and soon he will be immortalized in the team's stadium.
In the meantime, Tebow will continue with his career in professional baseball.
The outfielder/designated hitter recently took part in the Double-A Eastern League All-Star Game. Tebow served as the DH for the game and batted ninth in the order. He went 1-for-4 in the game, with his lone hit being a double off of right-handed pitcher Beau Burrows.
Tebow also struck out once during the exhibition.
For the season, Tebow has a batting line of .270/.330/.390 for the Binghamton Rumble Ponies, a Double-A affiliate of the New York Mets. The left-handed hitter has also flashed some power for the Rumble Ponies, tallying 12 doubles, a triple and five home runs for his team, according to Baseball Reference.
There have been rumblings that the Mets could call up the Eastern League All-Star to the Majors before the end of the regular season, but Tebow is not thinking about that, SNY.tv reported.
Tebow maintains that his focus remains "on the process and not the maybes, not the hypothetical, not the what-ifs."