Tim Tebow proposes to girlfriend, former Miss Universe Demi-Leigh Nel-Peters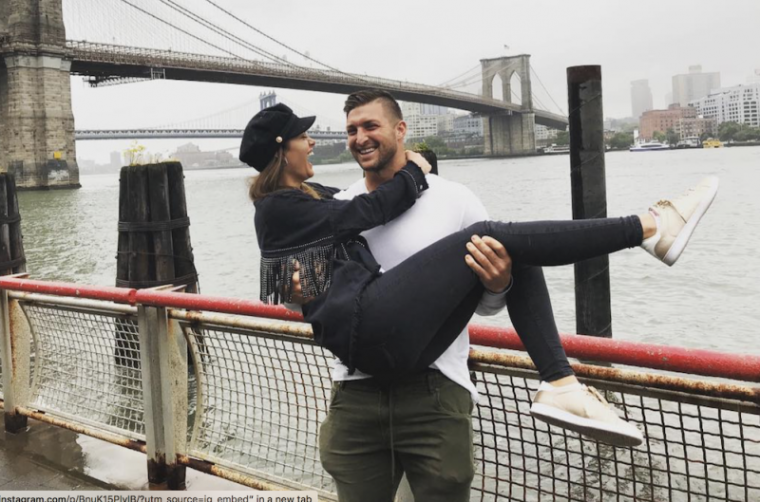 Longtime bachelor and beloved Christian athlete Tim Tebow proposed to his girlfriend, former Miss Universe Demi-Leigh Nel-Peters.
The former NFL quarterback-turned-minor league baseball player took to social media on Thursday with the big announcement.
"Thank you for saying YES and making me the happiest man in the world. You're the love of my life, and I can't wait to spend the rest of my life with you," Tebow wrote on Instagram with a photo of the athlete on one knee as he slipped a 7.25-carat solitaire ring on her finger.
Nel-Peters posted the same photo with a heartfelt message to her new fiancé.
"Any dreams I've ever had, you've exceeded them all! I love you and I can't wait to spend forever with you! @timtebow," she gushed.
The outspoken Christain proposed to Nel-Peters on Wednesday during the sunset at his family's farm outside of Jacksonville, Florida, PEOPLE reported. After the proposal, which took place in front of an arbor and a custom bench that was engraved with the date the couple first met, South African singer Matthew Mole serenaded the two with their favorite song, "The Wedding Song."
Tebow's romance first began in July, when Tebow told ESPN he was blessed to have a beauty queen in his life.
"She is a really special girl and I am very lucky and blessed for her coming into my life," Tebow said. "I am usually very private with these things but I am very thankful."
In August 2018, Nel-Peters, who is from South Africa and won the Miss Universe crown in November 2017, wished her new beau a happy birthday on Instagram, confirming to the public that they were officially in a relationship.
On the "Today" show, Tebow opened up about how everything with Nel-Peters began.
"We actually met through one of our nonprofits called Night to Shine," Tebow told Kathie Lee Gifford and Hoda Kotb in September.
Night to Shine is a worldwide event sponsored by the Tebow Foundation for people with special needs.
"Her sister has special needs, so we invited them to Night to Shine in South Africa,'' he continued. "We kind of met and started talking through that and haven't stopped."
While competing for Miss Universe, Nel-Peters made it clear that her passion was to empower women. Since winning the crown, she has developed a program that helps train women in self-defense called the Unbreakable campaign. The 23-year-old was inspired to launch the campaign after being the victim of an attempted hijacking earlier this year in Johannesburg.
Like Tebow, 31, whose foundation helps people living with disabilities, Nel-Peters has said that her biggest motivation comes from her half-sister who has a disability.
"My half-sister was born without a cerebellum and is completely disabled. She is my biggest motivator and inspiration because her situation makes me realize how special life is and I always want to work twice as hard, enjoy life twice as much so that I can enjoy it for her as well. Therefore each experience I encounter is that much more special," Nel-Peters said, according to the Miss Universe page.
Tebow told People magazine last spring that he was ready to start a family but hadn't found the right woman to marry and start a life with. In his list of requirements, he said he was looking for a person with a "good heart" who has a relationship with God.
There is no public mention of Nel-Peters' religious background. Her Instagram page, however, shows the humanitarian work the pageant star has done with a nonprofit in New York called God's Love. God's Love describes itself as a nonsectarian organization.