Tim Tebow 'Sad' About Rumor That 'Tebowing' Was Abortion Protest, Like NFL Anthem Protests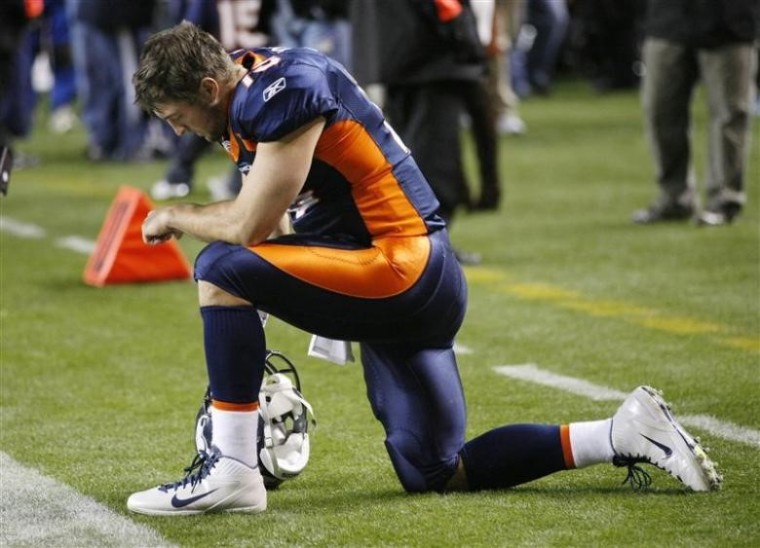 Former NFL quarterback turned Minor League Baseball player Tim Tebow spoke out against a viral post that's been circulating on social media which accused him of "Tebowing" for political protest.
Tebow said it was "disappointing" and "a little bit sad" that people are misrepresenting his famous pose to add fuel to political protest.
"Let's not forget about Tim Tebow, the NFL quarterback that kneeled in protest of abortion during the National Anthem in 2012," a post shared by rapper T.I. which has since went viral read in part.
The post compared Tebow to Colin Kaepernick, the San Francisco quarterback who knelt during the national anthem at NFL games last year in protest after the deaths of African-Americans at the hands of police. Other NFL players have since followed suit, but Tebow wasn't one them.
"I never did anything during a national anthem but stand and support my country," Tebow told USA Today on Friday.
The Heisman Trophy winner explained that his kneeling in prayer started in high school before and after games to "thank my Lord and savior, Jesus Christ" as well as gain perspective in his life.
"It was never something I did to take away from somebody else," Tebow continued. "It was just something I did with a personal relationship with my God. So I think that's just sometimes disappointing when things get taken away from the truth and then it's just created into whatever somebody wants it to be.''
Although happy to be American and recite the anthem, the outspoken Christian assured that he "doesn't knock" those football players who stand against social injustice and what they believe in. Tebow said it's important to "know their heart and where they're coming from."
President Donald Trump denounced the NFL players who kneel during the National Anthem as unpatriotic. He has also repeatedly demanded an end to such protests.
A new policy revealed last month by NFL Commissioner Roger Goodell and and supported by Trump, claims teams will be fined if players on the field fail to stand during "The Star-Spangled Banner." However, players who choose not to stand during the patriotic number may remain in the locker room until the anthem is finished.
Follow Jeannie Law on Twitter:
@jlawcp