Tim Tebow Returning to Hometown For A New Job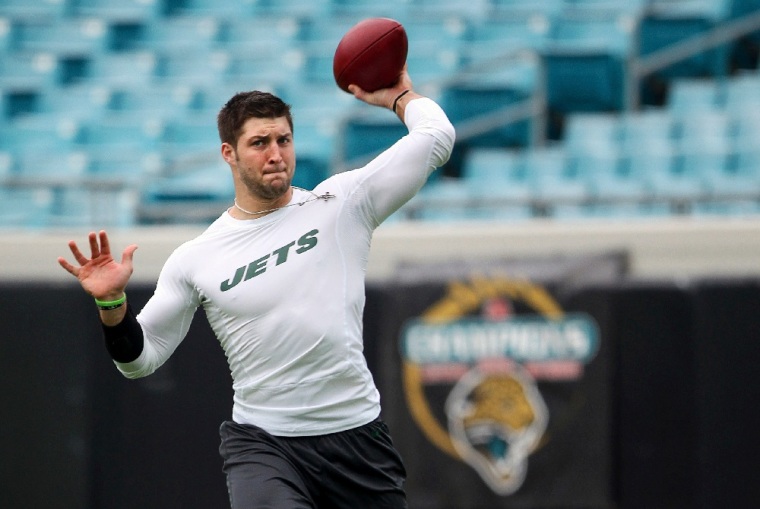 Tim Tebow may no longer be active in the NFL, but he is proving that he is still in high demand by acquiring another job.
Tebow, 27, was selected to host a new sports show on Jacksonville, Florida radio station 1010XL, called Tuesdays with Tim. Each Tuesday, Tebow will appear with award winning sports analysts Dan Hicken and Jeff Prosser to analyze the Southeastern Conference football season for listeners.
Tebow is already serving as an active SEC Network analyst and a contributor to ABC's Good Morning America. Steve Griffin, 1010XL President and General Manager, explained why his team was excited to bring Tebow on board in the athlete's hometown.
"We are proud to welcome Tim Tebow to the 1010XL team. We are excited for our listeners and sports fans who have followed Tim's career and will enjoy hearing his expert opinions on the SEC," Griffin said in a statement. "We are proud to be the flagship station of the Jacksonville Jaguars, the home station for JU and UNF athletics, and to be part of so much that matters to the fans of Jacksonville. 1010XL is excited to be a part of bringing Tim back to Jacksonville."
Tebow went from being a starting quarterback who led the Denver Broncos to a playoff run in 2012, to being signed on with the Jets later that year where he was mostly utilized for special teams options. Tebow only completed eight pass attempts, six completions, 32 rushes and 102 yards with no touchdowns for the Jets before head coach Rex Ryan released a statement saying things did not work out with the Christian athlete.
Although he joined the New England Patriots last year, things did not work out and he was cut from the team. Steve Clarkson, Tebow's personal QB instructor, has been vocal about Tebow getting another shot in the NFL.
"I would hope whoever, wherever he ends up that they give him an opportunity, and I think if they do, they'll be pleasantly surprised," Clarkson previously told The Newark Star-Ledger last year. "I think the guy still can play."
Tebow has remained positive about his experiences, despite the media questioning his future in the NFL.
"I may not know where I'm going next, but I know what's guiding me," Tebow said previously according to naplesnews.com.