Tim Tebow Surprises Fans During Filming for New Book, 'Shaken'
Tim Tebow Surprises Fans During Filming for New Book, 'Shaken'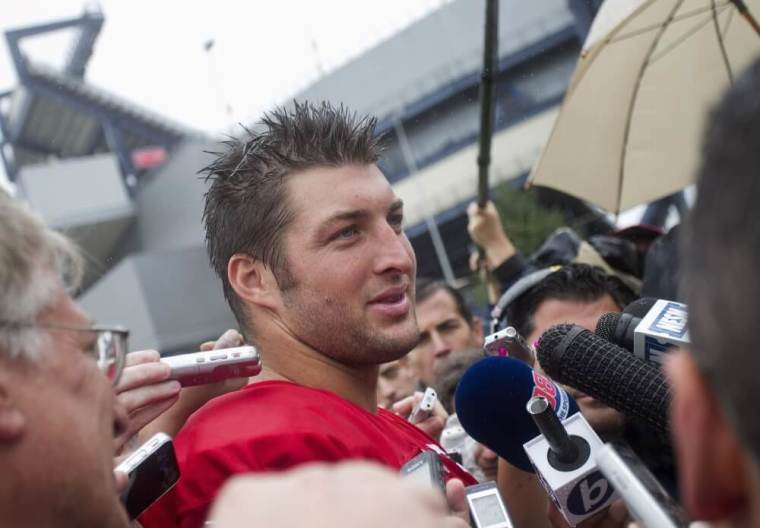 Tim Tebow has proven that he's never too busy for his fans after he took a break from his latest project to spend time with a pint-sized admirer.
Tebow was in Gastonia, North Carolina, shooting a video for his second book, Shaken: Discovering Your True Identity in the Midst of Life's Storms last week when 11-year-old Phillip Williams, the son of Gaston County Commissioner Jason Williams, slipped a note under the door where Tebow was filming to ask for an autograph.
To his family's surprise, the 28-year-old NFL quarterback-turned-television personality and motivational speaker decided to halt what he was doing to meet them.
"What you see on TV is what you get. He was very gracious," the elder Williams said in an interview with the Gaston Gazette. "My kids were really star struck. As Christians, we appreciate the way he lives out his faith and promotes a biblical worldview in our culture."
Tebow, however, didn't only limit his pleasantries to children. He also took time out of his work schedule to meet with local fans David Masters and his athletic trainer Jordan Chapman.
"He was just very kind, down to earth and very genuine," said Masters. "He didn't have to come out there and talk to us. When he opened the door, he had his Bible in his hands, and I just thought, 'Man, this guy's for real.'"
According to the Gazette, Tebow was visiting the landmark Loray Mill in Gastonia where he took pictures and preached a message about love that was recorded there for his upcoming book.
Tebow's second book, Shaken: Discovering Your True Identity in the Midst of Life's Storms, will be released in October and is expected to reveal some of the disappointments that resulted from his short-lived NFL career.
"First, he was a beloved college football champion, media sensation, and best-selling author drafted in the first round of the 2010 Draft. Then he had a miracle playoff run with the Denver Broncos before being traded to the New York Jets," reads a description of the book. "After one season he was cut by New York, next signed by the New England Patriots, then let go after training camp. Tim Tebow has achieved big victories and plunged the depths of failure, all while holding firm to his faith."
Exclusive Op-eds from the Presidential Campaigns
The description goes on to reveal how Tebow plans to get personal about some of the most challenging moments in his life.
"In Shaken he explains why neither the highs nor the lows of his life can define him — and he reveals how you, too, can find an unshakable identity and purpose," the description continues. "In revealing passages, Tebow pulls back the curtain on his life, sharing the vulnerable moments of his career that have shaken him to his core — while also teaching the biblical principles that will enable you to keep the faith, no matter what comes your way."