Tim Tebow Takes Sick Teenager to Dinner and Gives Her Family a Personal Training Session With Foundation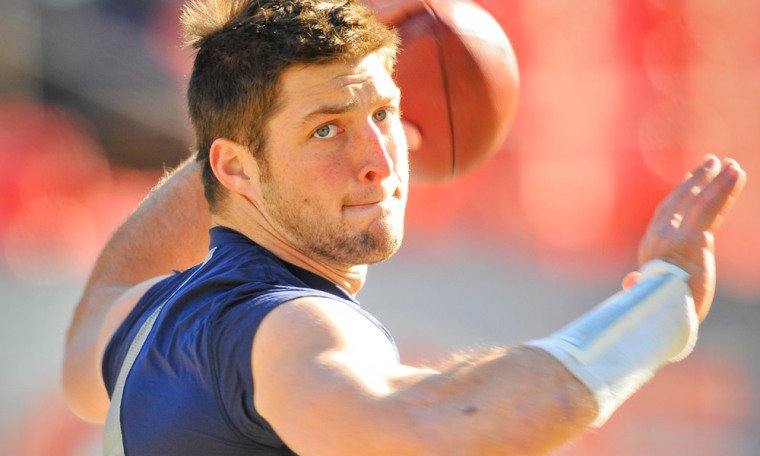 Tim Tebow may not be playing in the NFL, but he recently exercised his star power when he made a young fan's dreams come true.
Tebow, 27, is a former NFL quarterback who currently serves as an ESPN college football analyst. Beyond football he is active with the Tim Tebow foundation which provides a program called W15H to offer kids with life-threatening illnesses their dream experiences.
Haley Burke, a teenage fan of Tebow's with Ehlers-Danlos syndrome, recently met the athlete who flew she and her family to Arizona for four days. There the Burke family stayed in the presidential suite at a Scottsdale resort for four days, met Tebow for dinner, and engaged in a personal training session, according to People.com.
While Haley's wish to meet her hero came true, it seems Tebow was also impacted by the experience.
"They're amazing," Tebow told People. "The entire time I was with them, I was so inspired by their strength and courage in facing every day and every struggle with a positive attitude."
The footballer went on to explain the importance of his foundation and the work that it allows him to do.
"Other than my faith and family, my foundation is the most important thing in my life," Tebow told People. "It allows me to keep so many things in perspective, and it gives me the opportunity to bring people together to invest in the lives of children all around the world."
After surprising fans with a comical T-Mobile commercial earlier this year where the football player spoke about all of the things he is free to do without a contract, he took over the cell phone company's Twitter handle to answer fans' questions last February. There, the Evangelical Christian also took the opportunity to share his faith with others.
"If you could have one super power what would it be and why," one person questioned.
Tebow responded, "The gift to help heal others."