Tim Tebow's Christianity Mocked After Shirtless Run; QB Laughs Off Attention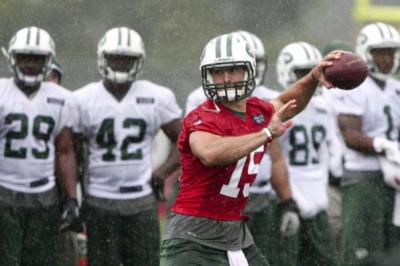 Tim Tebow's teammates have used his religion to make light of the New York Jets backup QB running through the rain without a shirt after the team's first public practice on Saturday.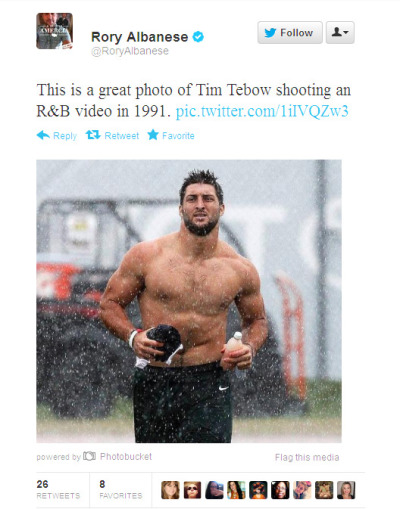 While several media outlets reported about Tebow's shirtless run through the rain after practice, some of the backup QB's teammates also had some things to say.
Bart Scott, Jets' linebacker, said the evangelical Christian may have chosen to run through the rain for a reason.
"Maybe it was holy water," Scott said in an ESPN report.
Bryan Thomas, Jets' linebacker, also joined in poking fun of the Christian QB, by questioning his Christianity in light of Tebow showcasing his bare chest.
"You have to give him a hard time," Thomas said according to ESPN reports. "Man, that's not Christian-like."
Tebow laughed off the attention he received for taking off his shirt, saying that he had done so many times before joining the New York Jets where his every move is documented.
"I mean, I can't tell you how many times probably in Florida or Denver after practice I would do sprints back and forth with that and jog off the field and never think about it again," Tebow said in an ESPN interview Monday. "And it would never get reported and now it does."
While Tebow said his shirt came off since it felt like "20 pounds" in the rain after practice over the weekend, he spoke about the extensive amount of media attention that he received after joining the New York team.
"Sometimes it does get a little comical and funny to me. It's really not cliché, I just try not to think about it or worry about it or pay attention to it," the QB said. "I try to be myself and live as much of a normal life as I can without having any of this change who I am or what I am or why I do it. That's something I kind of take pride in is not changing, especially my values, my pride, my faith, anything like that."
Tebow's teammates seem to also appreciate the QB's attitude, despite occasionally poking fun at his faith and notoriety.
"How can you ever not accept somebody who has humility, who works hard, who's a great teammate?" Scott said.
Tim Tebow's Legacy of Faith, Hope and Love