TLC Singer and Pastor Whose Video Sermons Inspired Her to Return to Faith Meet First Time at NRB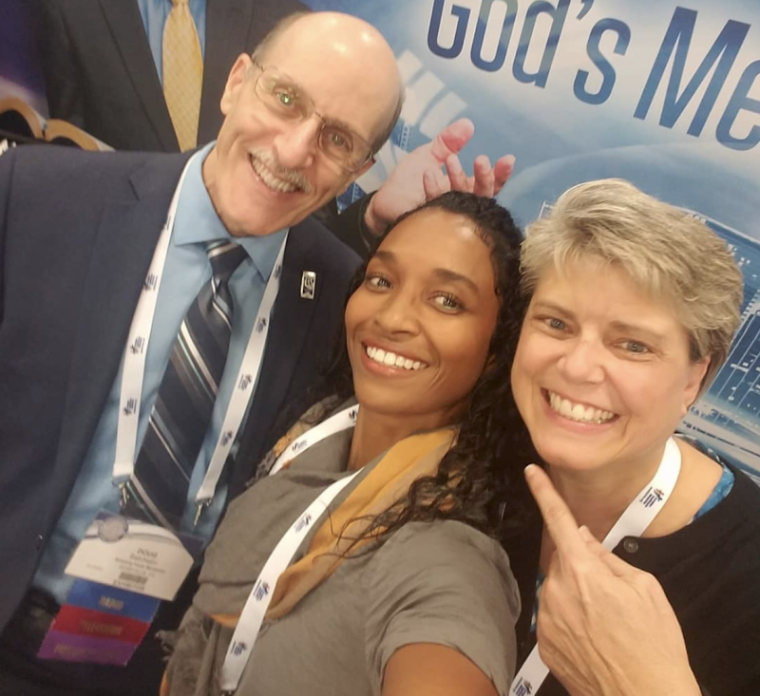 NASHVILLE — Singer Chilli from the popular R&B group TLC flew to Nashville, Tennessee, on Thursday to meet the pastor of Amazing Facts Christian Media Ministries whom she says greatly impacted her recent return to the Christian faith.
In an interview with The Christian Post, Chilli explained that she flew from Atlanta to Nashville to meet Pastor Doug Batchelor at NRB, a week-long conference that was held in the Gaylord Opryland Hotel to unite religious leaders in all forms of media.
She shared that she grew up Seventh-day Adventist but had wandered away from the faith throughout her career. Although she's still busy touring, the entertainer recently returned to her Christian faith in the past few years after discovering Batchelor through his live stream videos.
Chilli explained that she often watched Batchelor on the Lifetime channel along with Pastor Charles Stanley, David Jeremiah and Joel Osteen on Sunday mornings. She was always drawn to Batchelor in particular and after doing more research on him, she realized his ministry was also derived from the Seventh-day Adventist belief.
"I CANNOT believe I just met my hero and pastor, Pastor Doug and his lovely wife Karen! Thank u Jesus!" Chilli wrote on her Instagram page along with the above photo. "Thank you @enchantedpr for this moment. I will never forget this."
Amazing Facts broadcasts multiple television programs and a live call-in radio program, Bible Answers Live, on hundreds of media outlets around the world. The Seventh-day Adventist Church is considered a Protestant Christian denomination known by its observance of Saturday, the seventh day of the week in Jewish calendars, as Sabbath.
Batchelor told CP that he had never heard of the group TLC before but was also delighted to meet Chilli at the conference.
"Amazing Story! We were called last week by Chilli one of the lead singers of an R&B pop singing group called TLC. She said she had been watching the Amazing Facts programs for years and they changed her life. When she heard that we were in Nashville she flew from Atlanta so she could meet us here at the conference. Very sweet person with an amazing testimony," Batchelor wrote on his Instagram page.
The singer is currently on tour and said she'll be returning back on the road after their meeting but admitted that even while on the road she makes it a purpose to keep the Sabbath.
Bachelor and his wife, Karen, said they were leaving NRB for dinner with the star before she had to head back on the road.