TobyMac, Mandisa, Kirk Franklin Hope to Keep MLK's Dream Alive Tackling Racism in New Music Video
TobyMac, Mandisa, Kirk Franklin Hope to Keep MLK's Dream Alive Tackling Racism in New Music Video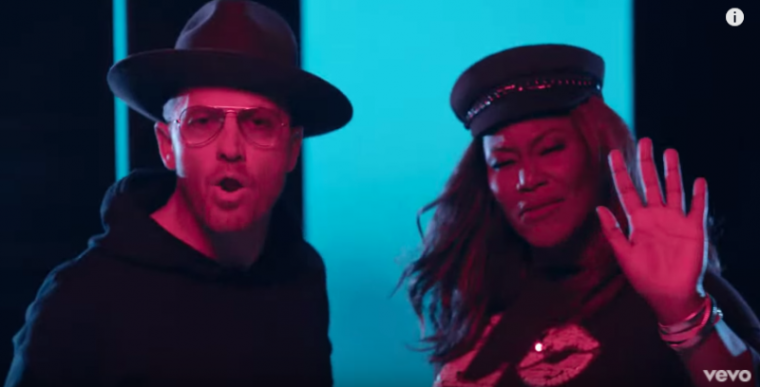 Grammy Award-winning singer Mandisa teamed up Christian-music heavy hitters TobyMac and Kirk Franklin for the release of her new music video "Bleed the Same," which she hopes will evolve into a movement that will unite all people.
"Bleed the Same" is a song off of Mandisa's 2017 album, Out of the Dark. The songstress purposely timed the release of the moving video around Martin Luther King Jr. Day, Jan. 15, since the message of the song directly corresponds with with Dr. King's dream that all people — black and white — be treated equally.
"Part of Dr. Martin Luther King, Jr.'s dream was that 'little black boys and black girls will be able to join hands with little white boys and white girls as sisters and brothers.' As I joined with TobyMac and Kirk Franklin, it is not lost on me that the timing of the music video release for #BleedTheSame coincides with the weekend we celebrate Dr. King's legacy. Our prayer for this song is that is more than a hit song, but a movement of unity and love," Mandisa declared.
The song premiered on the mainstream outlet Huffington Post and Mandisa explained the exacts events that inspired the timely song.
"What happened during the week of Independence Day in 2016. On Tuesday, there was a shooting of a black man by police. On Wednesday, there was another shooting of a black man by police. And on Thursday, there was a shooting of police by a black man in Dallas. And I remember that week so vividly. There was so much division and hate, and it broke my heart," she explained. "That week really inspired this song, about how we are more beautiful when we come together, and the power of unity.
"My prayer is that it makes people think, especially before they speak. And if it's just a song that people enjoy, that's not good enough. I really, really hope it causes people to pause a little before responding and before judging people. That they'll think this person is coming from a different perspective than I am, so let me treat them with the respect I would want to be treated with."
TobyMac, who is featured throughout the entire track and has a biracial family himself, also used a quote from MLK while promoting the song.
"So honored to be on this unifying song with Mandisa and Kirk Franklin. In a time where everything seems so divided, 'only love can drive out the darkness,'" TobyMac wrote on Facebook.
"Bleed the Same," the song and video, opens and closes with the speech that Kirk Franklin gave at the 2016 Dove Awards. The gospel icon is heard pleading with his peers about the importance of speaking up when racial injustice and division is running rampant in the world. The song ends with him praying for unity in the name of Jesus.
The lyrics of the song serve as a reminder that regardless of people's differences, everyone is a child of God and is the same on the inside.
"We all bleed the same / We're more beautiful when we come together / We all bleed the same / So tell me why, tell me why / We're divided / Woke up today / Another headline / Another innocent life is taken / In the name of hatred / So hard to take / And if we think that it's all good / Then we're mistaken / 'Cause my heart is breaking (tell it, 'Dis) / Are you left? / Are you right? / Pointing fingers, taking sides / When are we gonna realize? / We all bleed the same / We're more beautiful when we come together," Mandisa is heard singing.
The video features families, police officers, firefighters and others of every race and color. Watch below: