TobyMac Visits Alma Mater Liberty University, Says School Was 'Pivotal In My Life' and Changed His Music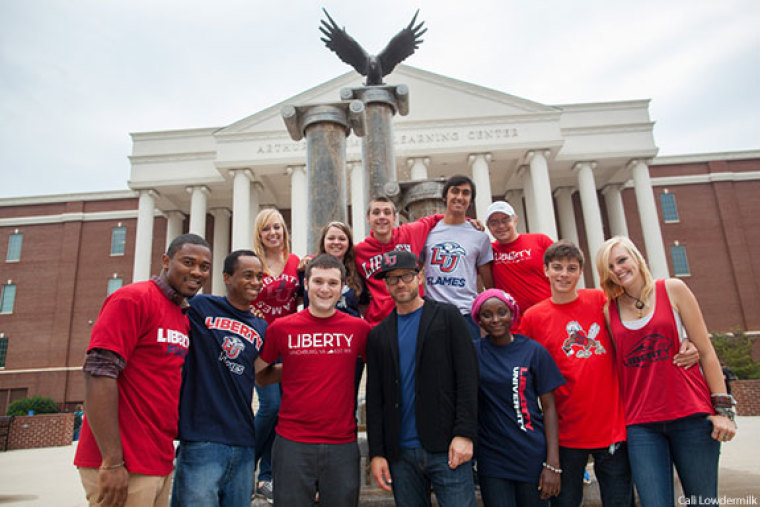 Award-winning Christian music artist Toby McKeehan, better known as TobyMac, paid tribute to Liberty University in Lynchburg, Va., this past week. He visited the school where he graduated in 1988, shot some hoops, hooked up with some old friends, and thanked his alma mater for promoting his upcoming tour.
"It's an honor for me," TobyMac said about his partnership with the school in a statement. He described it as "pivotal in my life … it offered me a foundation for my spiritual life and for some of my friends that I have done my whole life with."
The singer started his first band, DC Talk, at Liberty with two of his college pals in 1987. Along with Newsboys current vocalist, Michael Tait, and Audio Adrenaline current vocalist, Kevin Max, TobyMac made albums that mixed genres such as hip-hop, soul, and gospel. Before the band's breakup in 2000, they even experimented with grunge and alternative.
Since then, TobyMac has won various awards as a solo artist. "It's always hard to surpass a Grammy Award," he told The Christian Post in a June interview. He has won 6 Grammys, received the "Artist of the Year" award at the first K-LOVE Fan Awards show, and finally achieved his first American Music Award (AMA) last year.
In the wake of this success, Liberty decided to sponsor TobyMac's upcoming Hits Deep Tour, which runs from Nov. 7 to Dec. 15. He visited the campus Wednesday to record audio and video promotional materials for his alma mater. "It's nice to get that opportunity to tip my hat to something that played such a massive role in my life," he said.
While visiting his old campus, TobyMac met new faces and caught up with his old college pal, Jeff Adler, who now serves as head men's soccer coach. The artist, who played intramural basketball at Liberty and reportedly still plays three pickup games a week, dunked a ball off a mini trampoline. He expressed admiration for S.O.A.R. Dunk, Liberty's "most unconventional ministry team," which uses acrobatic maneuvers off trampolines to dazzle crowds and as a platform to share the Gospel.
Before his time in Lynchburg, the artist wrote songs "about whatever," but the school helped him zero in on "the most important thing to me, the dearest thing to my life, and that was my faith in God," he said.
Next weekend, TobyMac will perform at Walt Disney World's "Night of Joy," along with 17 other Christian bands. Tickets and schedules are available on the Walt Disney World Website.