Tomi Lahren Emotionally Breaks Her Silence, Says TheBlaze 'Deeply Hurt' Her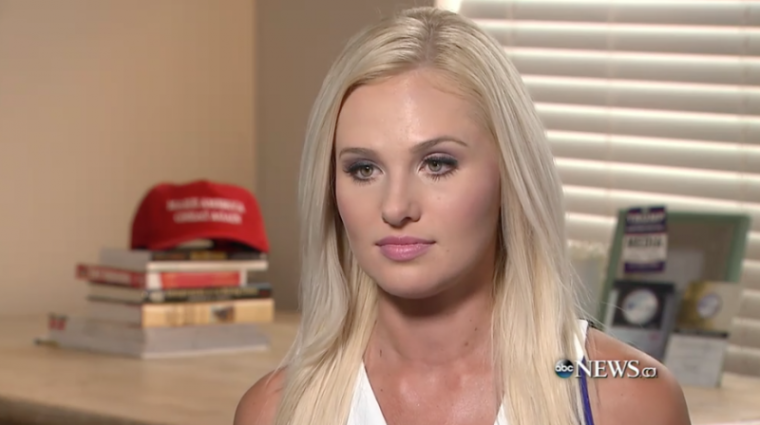 Controversial right wing commentator Tomi Lahren broke her silence with a tearful defense claiming she was fired by TheBlaze for her pro-choice comments while on "The View."
On ABC's "Nightline" Wednesday, Lahren sat down with anchor Byron Pitts to talk about what's going on with her since TheBlaze decided to pull her from their on-air programming.
"I'm deeply hurt by what has happened, I'm disappointed in what has happened, but if this is the way it is, let's just part ways cleanly," she said. "I just want to work and have the freedom to put my voice out there and I want to interact with my fans and my followers. That's all I want out of this."
While addressing the matter, the conservative political commentator became choked up and explained that she was emotional because along with her job, her voice has also been silenced.
"Without that, I feel lost," she added of her show on TheBlaze. "When your outlet is taken away from you, when your catharsis is stripped from you and you don't understand why and you're so disappointed and you're so blindsided by it, it hurts."
Although TheBlaze denies such claims, the talk show host maintains that she was fired after making comments in favor of abortion rights while appearing on ABC's "The View" on March 17.
While on the popular daytime talk show, Lahren argued that it was hypocritical for a conservative to be pro-life on the abortion debate.
"I'm someone that is for limited government, so I can't sit here and be a hypocrite and say I'm for limited government, but I think that the government should decide what women do with their bodies," stated Lahren, adding "stay out of my guns, and you can stay out of my body as well."
Upon hearing the comments, many on the right denounced Lahren's comments and even her boss, best-selling author and radio personality Glenn Beck responded in an opinion article that the pro-life view was as much in the Constitution as limited government.
"The founders were really, really clear. The preamble of the Constitution clearly states to secure the blessings of liberty to ourselves and our posterity. Well, who are our posterity, if not our unborn children and grandchildren and great grandchildren," argued Beck. "Our descendants and future generation, that's who the Constitution is securing the blessings of liberty for. Not just us."
The 24-year-old has since filed a 27-page lawsuit against her employer TheBlaze and its owner, Beck, claiming her employment contract does not prohibit her comments on "The View."
The conservative multi-platform news and entertainment network took Lahren off camera but is still paying her until her contract is up in September 2017. Her lawsuit states that her salary is only contingent on whether or not she remains silent on social media.
Her attorney, Brian Lauten, assures that Beck and others at TheBlaze "embarked on a public smear campaign" and obstructed Lahren's business relationships.
Lahren assured "Nightline" that she's looking to put all of this behind her and is just seeking control over her Facebook page which has 4 million followers.
She wants a judge to revoke her employment contract and give her the freedom to speak her mind openly.
TheBlaze told Dallas News in a statement, "It is puzzling that an employee who remains under contract (and is still being paid) has sued us for being fired, especially when we continue to comply fully with the terms of our agreement with her."
Follow Jeannie Law on Twitter:
@jlawcp