Tony Blair Says Ground Troops Might Be Needed to Defeat ISIS in Iraq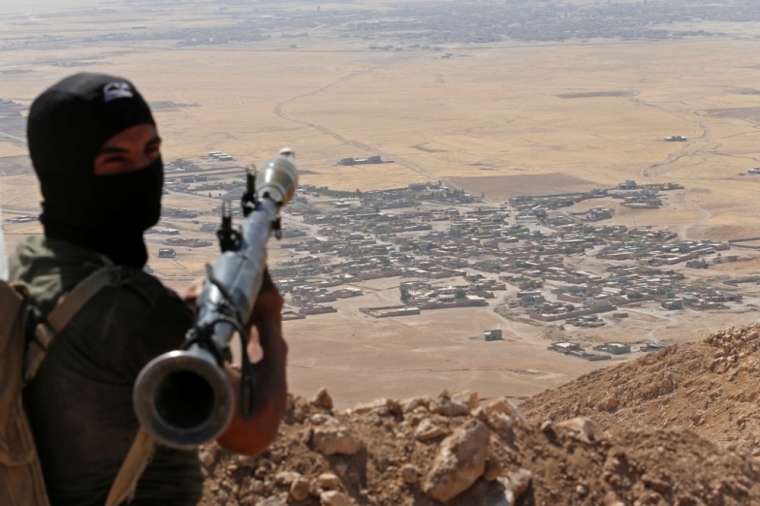 Former British Prime Minister Tony Blair has said that despite reluctance from Western powers, ground troops might be needed in Iraq to fight terror group ISIS, as that would be the only way to really defeat them.
"Unless you're prepared to fight these people on the ground, you may contain them but you won't defeat them," Blair, who serves as a U.N. Middle East peace envoy, told BBC News.
He added that there is "no appetite for ground engagement in the West" but said that local forces could step in instead.
In a separate essay published on his Faith Foundation website, Blair talked about the nature of ISIS, the Islamic militants who have been waging war on Syria and Iraq and targeting minorities, including many Christians.
"The problem is not that we're facing a fringe of crazy people, a sort of weird cult confined to a few fanatics," Blair said.
"If it was, we could probably root it out, kill or imprison its leaders, deter its followers and close the doors to new recruits."
President Barack Obama has repeatedly ruled out sending ground troops into Iraq, however, even when insisting that the U.S. will engage ISIS wherever it operates.
"After a decade of massive ground deployments, it is more effective to use our unique capabilities in support of partners on the ground so they can secure their own countries' futures. And that's the only solution that will succeed over the long term," he said earlier this month in Central Command in Florida.
"As your commander in chief, I will not commit you and the rest of our Armed Forces to fighting another ground war in Iraq."
British PM David Cameron has also said Britain would not be sending ground troops, but is helping arm Iraqi and Kurdish forces in their battle against the terror group.
The no-combat-troops strategy has been criticized by some, however, including Iranian President Hassan Rouhani, who called the plan "ridiculous" and questioned the U.S.'s commitment to the cause.
"Are Americans afraid of giving casualties on the ground in Iraq? Are they afraid of their soldiers being killed in the fight they claim is against terrorism?" Rouhani said in an interview last week.
"If they want to use planes and if they want to use unmanned planes so that nobody is injured from the Americans, is it really possible to fight terrorism without any hardship, without any sacrifice? Is it possible to reach a big goal without that? In all regional and international issues, the victorious one is the one who is ready to do sacrifice."
American airstrikes have hit various ISIS targets in Iraq, and are now moving into Syria, though Iraqi soldiers continue reporting heavy losses.
On Monday, Iraqi officials said that ISIS fighters had overrun a military base close to Baghdad over the weakened, with a heavy but yet unconfirmed number of casualties, Reuters reported. The attacks came despite a number of focused airstrikes in the area.
Elaborating on his suggestions, Blair said it was possible to "harry and hem them [ISIS militants] in by air power" but argued that at some point "someone's boots on the ground" would be needed.
"I'm not saying we in the West need to do this; it would be better if it were done by those people closer to the ground who have got the most immediate and direct interests in fighting them," Blair clarified.
"But I don't think we can in all circumstances rule it out, and after all we do have the force capability to do this."
He also recalled his experience with former President George W. Bush in the Iraq ground invasion of 2003, arguing that people should take note of the lessons learned during that time.