Tony Dungy Offers Super Bowl Halftime Video on Adoption
Pro football TV analyst and NFL Super Bowl XLI winning coach Tony Dungy is hoping that a large number of Christians hosting parties for this year's Super Bowl will include showing their guests his 3-minute video asking Americans to take a look at the world's orphan crisis and adoption.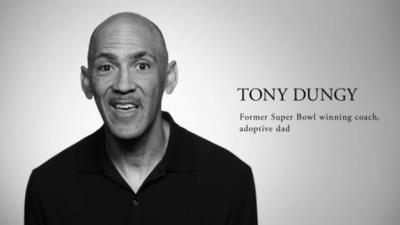 "The big win on Super Sunday would be to raise awareness about the millions of children who need a family. I would love to see thousands of local community groups and circles of friends gathering together to stop and consider how they can help," said Dungy, who was the head coach of the 2007 Super Bowl Champion Indianapolis Colts.
Dungy is involved with The Adoption Journey Project, a collective of organizations who want to break down the barriers to adoption. The groups include Bethany Christian Services, Lifesong for Orphans, and Lifeline Children's Services.
The video message available for free download at http://www.adoptionjourney.org/dungyhalftime and in a DVD includes a personal message from Dungy and his wife, Lauren, aimed at helping more couples consider adoption.
Marc Andreas, vice president of Marketing at Bethany Christian Services, the largest adoption agency in the country, told The Christian Post Monday that he is hoping that the video will make more people aware of the "global orphan crisis of kids that need mom and dads."
"With more than 100,000 children in need of a stable and loving family in the U.S., if just a fraction of groups gathering to watch the 'big game' influence just one family to adopt, we would make a huge dent in this social crisis," Andreas said.
Tony Dungy Adoption Awareness
This year's Super Bowl halftime show includes Madonna. However, Andreas said that his group, consisting of hundreds of volunteers, and its efforts are not in competition with the celebrity singer.
"We're doing a grassroots effort. We want to reach out to people that already have a heart for adoption. Those people, like our 1,200 volunteers, are going to want to spend three to five minutes of their halftime doing something good for kids and they will be okay in turning off Madonna," he said.
"I don't expect it to literally compete with Madonna across the entire public, but for those that have a heart for this and know that they care for orphans and adoption I think it will be a great fit," he explained.
Dungy and his wife have four adopted children as well as three biological children.
"I see adoption as the second phase of being pro-life," said Dungy, in an interview story posted on the Adoption Journey website. "It's a vivid reminder of what God has done by adopting us into His family."
The free halftime video kit available online includes the 3-minute video featuring Dungy and his wife, a printable guide for event organizers for introducing the video and starting conversations about the Dungys' message, and instructions for downloading the video with multiple ways to play it on the television.
Andreas said that the video project provides an opportunity for lots of Christian families around the country that are gathering for Super Bowl parties with their friends and family to do something good.
The goal for The Adoption Journey Project is to foster honest conversations about the adoption process, offer comprehensive yet easily accessible information about domestic and international adoption, and connect those who have already adopted with those who are thinking about it.