Tony Evans shares update on wife's cancer: family trusting God for miracle amid 'most difficult storm'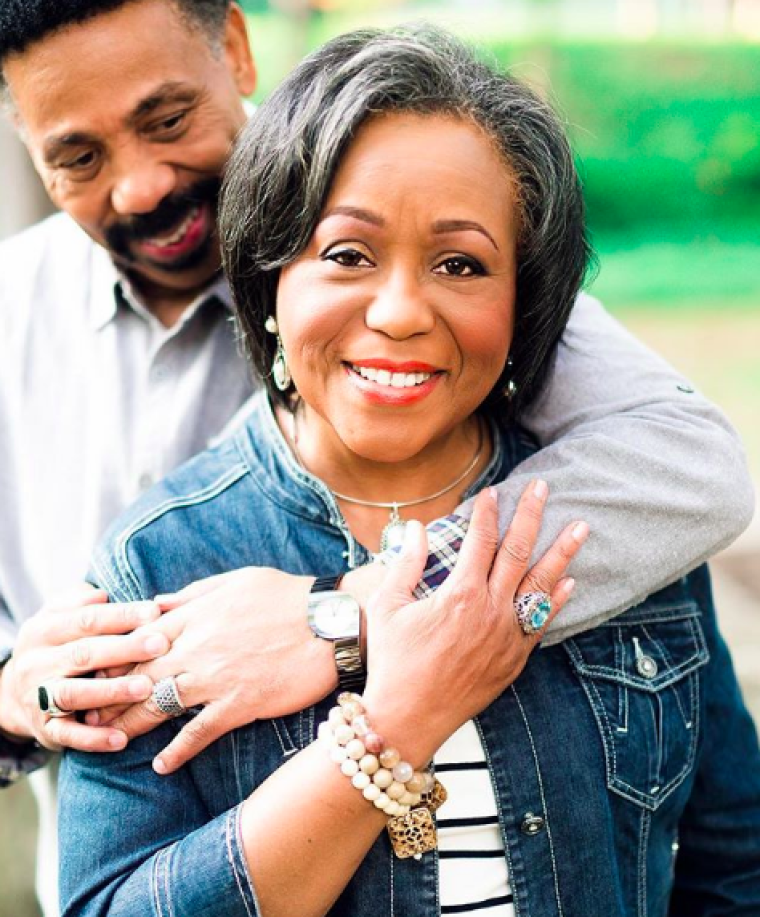 Tony Evans shared a health update regarding his wife, Lois, who was recently diagnosed with a rare form of cancer, and revealed that while the family is going through the "most difficult storm" they have ever faced, they're choosing to listen to God's voice and expect a miracle.
Evans, president of The Urban Alternative and senior pastor of Oak Cliff Bible Fellowship in Texas, took to Instagram on Thursday to thank supporters for the outpouring of support his family received after he announced Lois' rare gallbladder cancer had returned.
"The flood of your prayers, calls, cards, emails, and direct messages have encouraged our hearts. We feel your love and cannot express how much your care and concern matters," he said.
"Despite the doctor's serious diagnosis, Lois is currently in no pain. We are actively in and out of doctor's offices as we pursue both conventional and alternative paths. We are spending a lot of time in waiting rooms these days and we are seeing the blessing available to us even in the middle of this challenge. We have time. The gift of additional time with family. The gift of uninterrupted time to meditate on God's Word. The gift of time to talk to God and hear Him talk to us."
Evans said his family is viewing this health care crisis as an "opportunity" to "tune in to God at a new level."
"When there's a storm, you tune in to whoever has the information on what you need to do in the midst of bad weather," he explained. "You turn on the radio, flip on the TV, or scroll through social media to get the information you need to stay informed and to stay safely out of harm's way. Since our situation is probably the most difficult storm we have ever faced, in the same way, we choose to pay attention to God's voice. He has never failed to guide and direct us in times past and we believe we can trust him with Lois' health and our future."
Evans admitted that "sometimes," there is fear, but every time that fear arises, "we have the opportunity to choose faith."
"In our figurative and literal waiting room experience, we have been given the time and opportunity to exercise the muscle of our faith in a God who's never failed us," he said. "We choose to take refuge in Him."
The pastor concluded his update by asking for continued prayers, adding: "Lois' illness is rare and has no known cure. But we wanted you to know that she is doing well and that we are looking up and expecting God to do a miracle."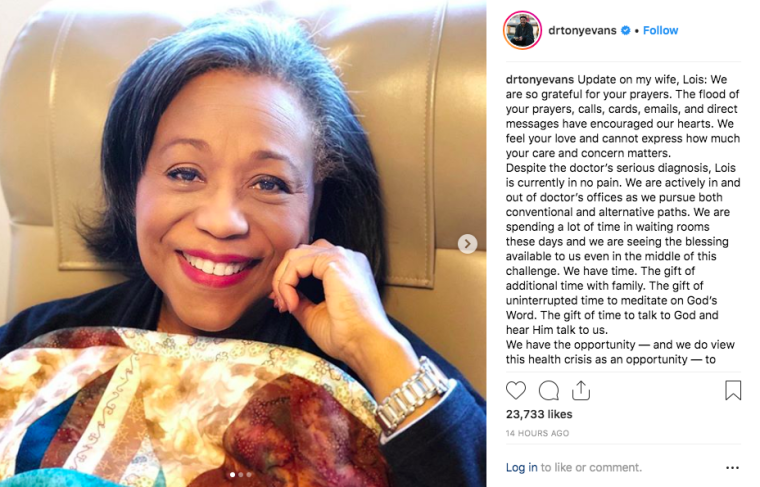 Evans first announced his wife's cancer diagnosis on April 2: "We are going to trust God in the dark for a solution, and we are asking you to fervently pray to that end," he wrote at the time, adding that he knows the news is "shocking."
"It is shocking to us too," he admitted. "In recent days, we have had quite a bit on us as a family as you know. My faith is being tested in a way I've never experienced … but I trust God. I choose to believe — our whole family is choosing to believe that, even now, He knows what He is doing."
The news comes less than a year after Evans' niece, Wynter Pitts, suddenly died. Evans recalled the scene in the hospital after Pitts passed away.
"Feeling that sadness, shock, mixture of both, heartache. Seeing a young man weep over his young wife. And then the worst part of it for me was him going to tell his girls, who were at the hospital too. And then to hear the wailing from four girls, that this was so unbelievable," he said.
"At the very same time something very encouraging in the midst of the heartache, tears, and pain, Jonathan  [Pitts] immediately went into where their mother was, that she was with the Lord. That she was with her Savior. And as everybody was crying, girls saying, 'no this can't be, this can't be,' he began singing a hymn. He began singing a praise song. And so we joined in with him as he sang to his girls," he said.
"Because I believe what I preach," Evans said. "I do believe she's in a better place. I do believe in the sovereignty of God. I do believe in the goodness of God. I do believe. And because I believe, I do keep going."
In his latest update, the pastor provided a mailing address to those who wish to send cards:
Tony and/or Lois Evans
c/o The Urban Alternative
PO Box 4000
Dallas, TX 75208