Tony Perkins: Trump 'Likable Guy' but Needs Evangelical-Friendly Running Mate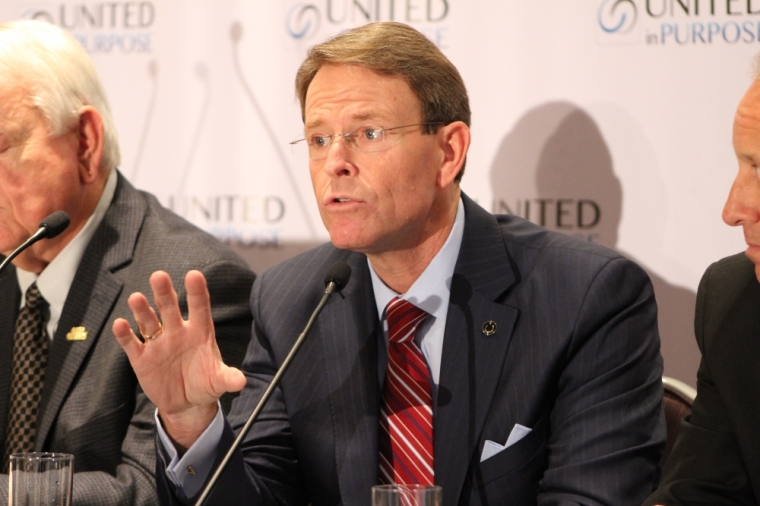 NEW YORK — Conservative Christian leaders who gathered for a closed-door meeting with presumptive Republican presidential nominee Donald Trump in New York City Tuesday left with a positive impression but want to see more from the candidate.
Family Research Council President Tony Perkins said Trump was impressive, but needs a running mate who has a good relationship with conservative evangelicals and to embrace a conservative Republican platform.
"I think he came and, as has been described here, with humility, actually sat down and had a conversation," Perkins said at a press conference after the meeting attended by more than 900 conservative Christian leaders.
"I kind of did my own survey of the room. ... One of the things that I've heard is 'he's not what we've seen in the media.' He's actually a likable guy. I like him. I like what I've heard. I think this is a good start. I feel much more comfortable … he gained a lot by coming here today and having this conversation," Perkins continued. "I don't think people are leaving here with their minds made up but I think they have moved the needle today and I think now he has a little bit growing, increasing wind in his sails from the grassroots."
Perkins highlighted Trump's likability factor as more important than campaign cash after a reporter raised concern about Trump's wanting war chest for the general election against presumptive Democratic presidential candidate Hillary Clinton.
"Obviously money is important in politics but we've had candidates before that have had a lot of money but they have not had the grassroots support. Today the focus here was not so much on his campaign money but more on can he turn out a core constituency of the evangelical community, GOP-leaning voters of the evangelical community. Mitt Romney fell short of that. John McCain fell short," Perkins said.
Despite being pleasantly surprised by Trump's demeanor and listening ability, however, Perkins and most of the other evangelical leaders at the press conference said they weren't yet ready to endorse the real estate mogul from New York as a candidate.
"This is a process as I have stated. The conversation has begun today. There are some concrete things that have to take place, I believe, for me to be in that position. One is, Donald Trump does not have a track record when it comes to being in public office and I've known public office, I've been in the political world for 20 years," Perkins added.
"The best indicator of future performance is past performance. We don't have that in this case and I think that's why it's going to be extremely important who he chooses as his running mate. Is it someone who does have a conservative track record? Is it someone who has a relationship with evangelicals that will be part of his inner circle of advisors? Which then gives us the ability to know that these things he said, there is an anchor to them," Perkins noted.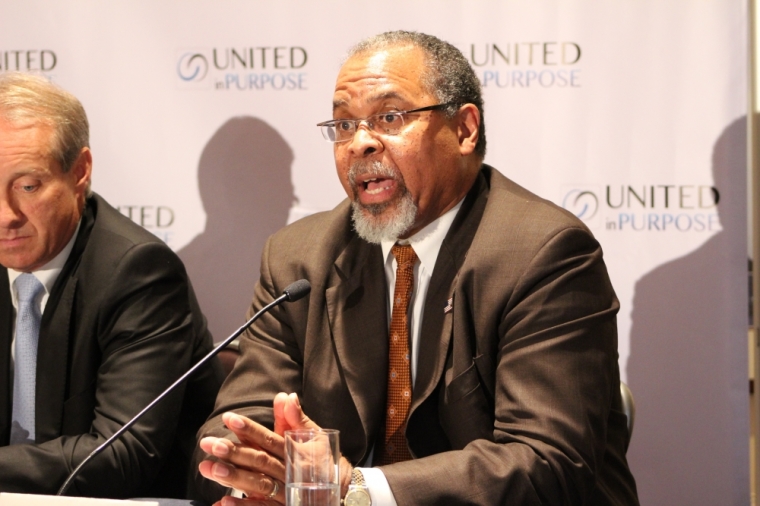 The Family Research Council president said he will be looking to see how well Trump does at the Republican National Convention next month.
"I think we have the GOP Convention coming up. I happen to be a delegate that will be on the platform committee. I'm interested to see what he is going to do with one of the most conservative platforms the GOP has had. The existing platform, will he support that. So far, indications are that he will. I think there has got to be some tangible things before I get to that point [endorsement]," Perkins said.
He explained that even though Trump is new to the public policy arena, he has shown a willingness to learn and he is also waiting to see how he develops in this area and the team he puts together to advise him.
"I think Donald Trump is new to the public policy arena. We've seen him make statements only to change them. Quite frankly, that's not a bad thing. If you make a mistake and you get it wrong, you go back and fix it. I don't know why people get all upset about that," he said.
"Is he learning in this process? I think he is. I don't think he spent most of his adult life thinking through these policy positions. He's been building buildings. Now it's important who he has around him that can advise him on the consequences of these policy decisions. When we see that come into place, that's gonna be a major factor as well," Perkins added.
Ken Blackwell, senior fellow for human rights and constitutional governance at the Family Research Council, said he is looking to see how Trump embraced the GOP platform not how he will "remake" it.
"He is in fact grabbing the mantle and grabbing the flag of the GOP," Blackwell said. "A party that has principles and policies in place. He won the primary process fair and square but he didn't get a signal that he is to remake the Republican Party and the conservative agenda that it represents, and therefore Tony is absolutely right.
"How his campaign embraces the GOP platform is important because it is not only the guidepost for the presidential election, it is in fact the guidepost for how we conduct elections and the policies that we formulate right down the line to the most basic township or county office."