'Trans Day of Vengeance' rally to be held after Nashville Christian school shooting
Activists 'reject any connection' to Covenant School shooter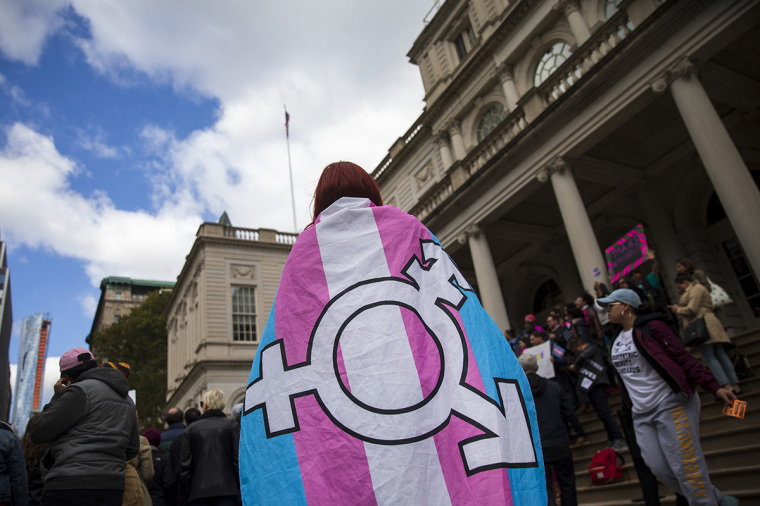 An LGBT advocacy group still plans to hold a "Trans Day of Vengeance" this weekend even though it's drawing criticism in light of the mass shooting Monday at a Nashville Christian school perpetrated by a trans-identified biological female.
The Trans Radical Activist Network released a statement Tuesday indicating that its "Trans Day of Vengeance," scheduled to take place in front of the U.S. Supreme Court in Washington, D.C., Saturday, will move forward as planned.
The event will occur just five days after Audrey Hale, a 28-year-old female who identifies as male, opened fire at The Covenant School in Nashville, killing three children and three adults before being killed by police. The school is affiliated with the Covenant Presbyterian Church.
The event was planned before the shooting and the group stressed that it was "horrified at the acts of violence committed at the Covenant school."
"We are outraged by this tragedy — we grieve for Evelyn Dieckhaus, Hallie Scruggs, William Kinney, Cynthia Peak, Katherine Koonce, and Mike Hill," the organization stated, referring to the victims of the attack. "We also reject any connection between that horrific event and ours," meaning the "Trans Day of Vengeance."
The group argues that "vengeance" means "fighting back with vehemence." 
"We are fighting against false narratives, criminalization, and eradication of our existence," the statement adds. "It is also a call to our allies to stand up and fight with us to bring down the forces that try to divide and subjugate us all. TDOV was created exactly for this. It is about pushing back against unjust and inhumane systems that are responsible for the loss of life, rights, and joy. To do nothing is to accept — we choose to fight for change and progress to ensure a better life for all people."
The group contends that the Trans Day of Vengeance is necessary because of "astronomical amounts of hate" faced by the "trans/non-binary/gender non-conforming/intersex communities" in the form of "Gender Affirming care ban bills" that the organization credits for causing a "mental health crisis."
The group insists that despite its incendiary title, "this protest is about unity, not inciting violence," adding, "TRAN does not encourage violence and it is not welcome at this event." However, Twitter seems to disagree with their analysis.
Twitter Vice President of Product Trust and Safety Ella Irwin stated in a post that the company has "had to automatically sweep" the platform to remove over 5,000 tweets and retweets that contain the "Trans Day of Vengeance" poster. Some of those tweets were tweets from critics who pointed out that the event is happening even after the Nashville shooting. 
"We do not support tweets that incite violence irrespective of who posts them," Irwin stated. "'Vengeance' does not imply peaceful protest. Organizing or support for peaceful protests is ok."
The planned event has drawn pushback on social media by conservative personalities. 
Right-wing Twitter personality Ian Miles Cheong told his followers on social media that "Twitter is now cracking down on those who promote the 'Trans Day of Vengeance' poster, which mostly comprises of trans militants who are calling for a day of mass violence."
Sean Davis, the CEO of The Federalist, decried Twitter's actions as "deliberate censorship and gaslighting" in a message posted on his website's Twitter account. Davis was banned from accessing his personal account as part of what he described as an attempt to "memory-hole the FACT that the Nashville shooter targeted and murdered Christian children and teachers just days ahead of a scheduled 'Trans Day of Vengeance.'"
Police are investigating whether Hale's act of violence deliberately targeted the Christian community, as many Christians hold religious beliefs that homosexuality and transgender identity are sinful. Hale was a former student at the school. 
Some transgender groups have implied that they believe Hale is also a victim of the shooting.
The activist group Trans Resistance Network released a statement following the school shooting, suggesting that Hale committed the crime spree because there was "no other effective way to be seen than to lash out by taking the lives of others." The group called the murder spree a "double tragedy."
The group implied that a "virtual avalanche of anti-trans legislation" could have impacted the shooter's mental health. The Trans Resistance Network criticized the "lack of acceptance" from certain religious institutions, warning that "hate has consequences." 
The Trans Radical Activist Network contends there have been 12 suicides and counting within the community in 2023 and 60 last year.
Concerns about the impact of gender transition interventions on minors have prompted 10 states to ban minors from obtaining some or all of those chemical or surgical interventions: Alabama, Arizona, Arkansas, Florida, Georgia, Iowa, Mississippi, South Dakota, Tennessee and Utah.
Advocacy groups like Trans Radical Activist Network view the laws as a direct attack on their identities. But supporters of bans on gender transition surgeries for minors warn about their long-term impacts on children whose gender dysphoria may not persist into adulthood.
The American College of Pediatricians has warned that puberty blockers prescribed to trans-identified minors can cause "permanent side effects including osteoporosis, mood disorders, seizures, cognitive impairment and, when combined with cross-sex hormones, sterility." The medical organization lists the side effects of cross-sex hormones, also frequently prescribed to trans-identified youth, as "an increased risk of heart attacks, stroke, diabetes, blood clots and cancers across their lifespan."
Gender transition surgeries, which involve the removal of body parts that align with an individual's biological sex and/or the creation of artificial body parts that correspond to one's gender identity, leave behind unsightly scars and can also lead to mental health complications.
Several detransitioners have come forward to tell their stories about how they regret taking steps to change their gender and no longer have discomfort with their biological sex. One notable detransitioner, 18-year-old Chloe Cole, is suing the medical professionals who treated her for gender dysphoria.
A letter announcing Cole's intent to sue details that although doctors advised Cole that "the distress she experienced because of her gender dysphoria would resolve as she transitioned," she found that her "distress always came back worse" after experiencing "initial relief" after "each phase of transition."