Trans swimmer Lia Thomas' former teammate speaks out for the first time: 'Frightening'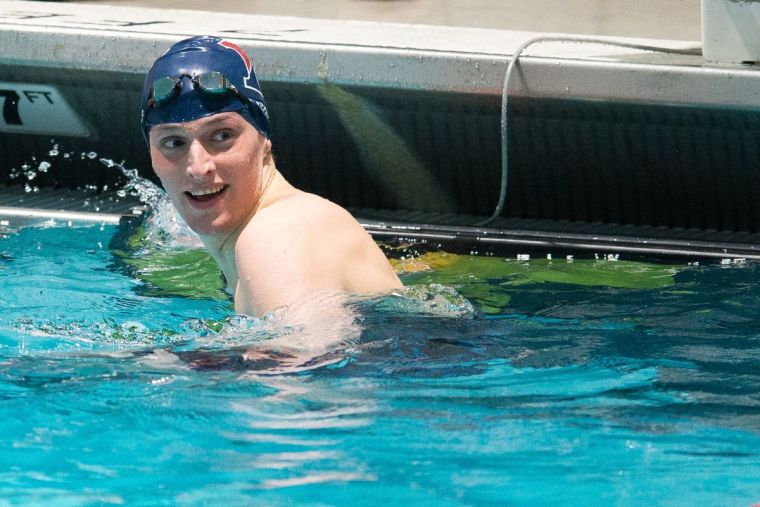 One of trans-identified swimmer Lia Thomas' former teammates accused her alma mater of silencing opposition to including a biological male on the women's swim team, revealing that female swimmers were forced to hide in bathroom stalls to avoid changing in front of Thomas. 
In an interview published Tuesday by the Daily Wire, which purports to be the first public interview featuring one of Thomas' teammates, Paula Scanlan told conservative Matt Walsh that the University of Pennsylvania did not want the student-athletes to speak out on what was happening in the athletic department, calling the situation "scary." 
"They continued to tell us that our opinions were wrong and if we had an issue about it, we were the problem," Scanlan said. "[A]nd it's frightening, and your future job is on the line."
Scanlan, who competed on the Penn women's swim team for three seasons, spoke about the experience of sharing a locker room with a biological male. Thomas, born with the first name Will, competed for three seasons on the Penn men's swim team before competing on the women's team during the 2021-2022 season. 
Thomas made headlines as the biological male became a national champion and an All-American in the women's division. 
Noticing that many girls started changing in the bathroom stalls, Scanlan attested she had never seen such behavior before Thomas became part of the women's team. 
"The biggest thing was just when you're changing, and there's all of these people talking in the background, and you hear all of these women's voices, and all of the sudden, you hear a man's voice," Scanlan recalled. "I'd always kind of jump a little."
Scanlan spoke of one teammate who complained about the situation to the athletic department. Scanlan admitted that she did not know what they said to her, but afterward, the girl began acting as if having a biological male on the women's swim team was a "magical, beautiful thing." 
"They said, 'Don't talk to the media; you will regret it. … Lia's swimming is non-negotiable,'" the athlete said. "And then they provided us with counseling services to help us be OK with Lia swimming."
"It's frightening, and your future job is on the line and everything else you want to accomplish, so of course, it worked, and then after that point, no one would talk about it anymore," Scanlan said.
Scanlan claimed that institutions such as the Ivy League and the National Collegiate Athletics Association failed her and fellow athletes.
Despite the discomforts of having a biological male on the team, these institutions did not step in, she said. 
"I think the biggest thing is to just fight for those people who don't have a voice: those younger girls, the girls that are aged 12 to 14 who are just starting out on those sports teams," she added. 
Scanlan isn't the only NCAA swimmer who had a problem with Thomas being allowed to compete against them. 
Riley Gaines, a former collegiate swimmer and University of Kentucky graduate, revealed in an interview last year with Tucker Carlson that she was surprised the NCAA allowed a biological male to compete against women, believing at first that the institution would not permit it. 
During the NCAA championships, Gaines said Thomas' best time was "at least a second and a half faster" than hers, which makes a significant difference in the sport. 
"The environment is nothing like I've ever seen before," Gaines said about the atmosphere at the championships. She characterized the atmosphere as "edgy" because "people didn't really know what to say, who to say what to, how to feel."
Gaines ultimately tied with Thomas for fifth place in the 200-yard freestyle, a feat she described as "pretty rare in swimming." The former swimmer felt compelled to speak out after an NCAA official told Gaines that Thomas would get to take a picture with the fifth-place trophy while she would receive a separate trophy in the mail. 
Even though Gaines tied for fifth place with Thomas, the official asked the female athlete to pose for a picture with a sixth-place trophy. 
"I think God kind of put me in that position to where I'm just not someone who's scared to speak out," she concluded.