Transcript: What Pope Francis Said About Religious Freedom, Government Officials and Gay Marriage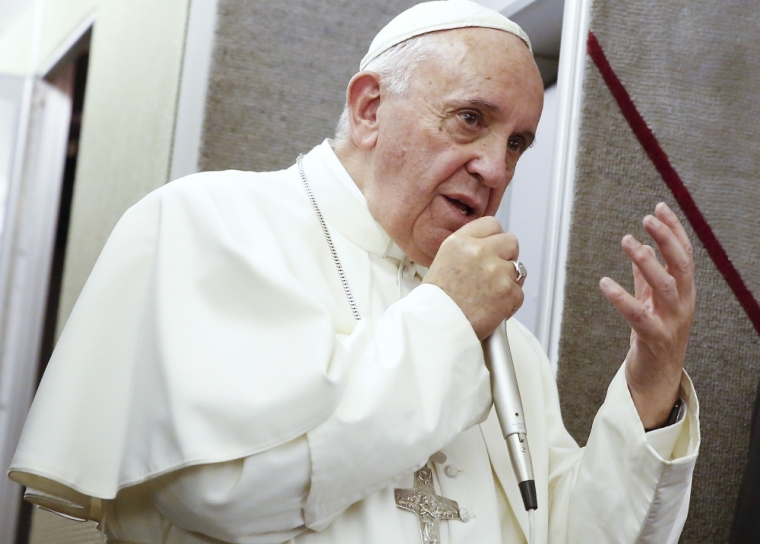 Pope Francis spoke about religious freedom, government officials and gay marriage in response to a reporter's question. He also met county clerk and gay marriage dissenter Kim Davis during his trip to Washington, D.C. The following is a transcript of those remarks followed by a Vatican statement regarding his meeting with Kim Davis.
The Sept. 27 interview occurred during a Q&A with reporters on his flight home from the United States. The question came from ABC's Terry Moran.
The transcript is an English translation provided by Catholic News Agency. You can read the full transcript of the Q&A session here. Below is a video of the exchange provided by ABC News.
Here is the transcript:
Terry Moran, ABC News: Holy Father, thank you, thank you very much and thank you to the Vatican staff as well. Holy Father, you visited the Little Sisters of the Poor and we were told that you wanted to show your support for them and their case in the courts. And, Holy Father, do you also support those individuals, including government officials, who say they cannot in good conscience, their own personal conscience, abide by some laws or discharge their duties as government officials, for example in issuing marriage licenses to same sex couples? Do you support those kinds of claims of religious liberty?
Pope Francis: I can't have in mind all cases that can exist about conscientious objection. But, yes, I can say conscientious objection is a right that is a part of every human right. It is a right. And if a person does not allow others to be a conscientious objector, he denies a right. Conscientious objection must enter into every juridical structure because it is a right, a human right. Otherwise we would end up in a situation where we select what is a right, saying 'this right that has merit, this one does not.' It (conscientious objection) is a human right. It always moved me when I read, and I read it many times, when I read the Chancon Roland, when the people were all in line and before them was the baptismal font – the baptismal font or the sword. And, they had to choose. They weren't permitted conscientious objection. It is a right and if we want to make peace we have to respect all rights.
(A CNA editor notes that "Chancon Roland" is a reference to a poem, "Song of Roland in which Crusaders forced Muslims to choose between being baptized or being killed by the sword. The Pope says they were not allowed to choose conscientious objection.")
Terry Moran, ABC News: Would that include government officials as well?
Pope Francis: It is a human right and if a government official is a human person, he has that right. It is a human right.
Here is the Vatican's full statement regarding Pope Francis' meeting with Kim Davis:
The brief meeting between Mrs. Kim Davis and Pope Francis at the Apostolic Nunciature in Washington, DC has continued to provoke comments and discussion. In order to contribute to an objective understanding of what transpired I am able to clarify the following points:
Pope Francis met with several dozen persons who had been invited by the Nunciature to greet him as he prepared to leave Washington for New York City. Such brief greetings occur on all papal visits and are due to the Pope's characteristic kindness and availability. The only real audience granted by the Pope at the Nunciature was with one of his former students and his family.
The Pope did not enter into the details of the situation of Mrs. Davis and his meeting with her should not be considered a form of support of her position in all of its particular and complex aspects.