Trans group activist drops police complaint against Christian for 'misgendering' adult child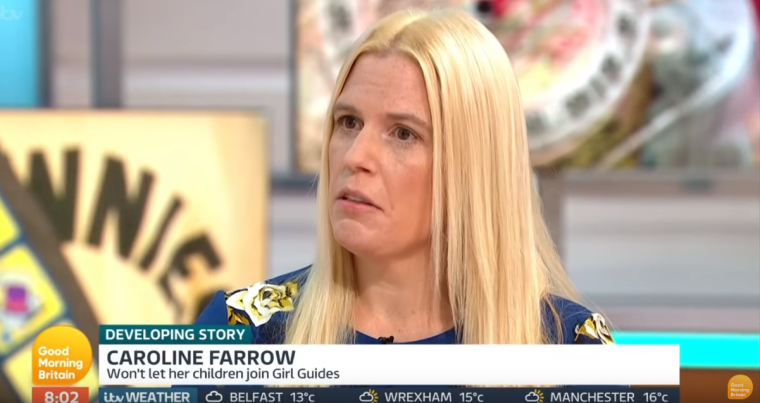 A transgender rights activist who reported a British Christian journalist to the police for "misgendering" her teenage child has withdrawn her complaint. 
Susie Green, who leads the transgender advocacy group Mermaids, decided to drop her complaint against Caroline Farrow, a Catholic commentator and writer for the U.K. Catholic Herald, because the media coverage, she said, was misrepresenting what had happened, the Guardian reported Wednesday.
"If I had continued my complaint then [Farrow] would have continued to have a platform to spread misinformation about what actually happened," Green said in an interview on BBC2's Victoria Derbyshire program.
"Being involved in an investigation would have meant that I couldn't talk."
Surrey police contacted Farrow earlier this week and asked her to present herself at the station for an interrogation on caution over tweets she wrote about Green and her 20-year-old child, a biological male who identifies as female and goes by the name "Jackie."
The police were investigating whether she had violated the Malicious Communications Act, which makes it a crime "to send messages that are indecent or grossly offensive, threatening, or contain information which is false or believed to be false, if the purpose for sending it is to cause distress or anxiety."
Farrow said Tuesday that she did not remember what her tweets said, but noted that she likely said "son" or used male pronouns. The only thing that the police told her was that she was being interviewed for "misgendering."
The Catholic journalist told The Christian Post in a Tuesday interview that she "may have said something about her taking her son abroad for surgery. Which is true. She did. But I guess she is baulking about him being called a son. But at what point did he become a daughter? Because surely at the point she took him to be castrated he was a boy."
Her tweets, which were from October 2018 and shared on the Mermaids website, said that Green was in violation of the Samaritan policy about how suicide is discussed in the media, and asserted that what she did do her male child — taking him overseas to have his penis inverted and his testicles surgically removed — was illegal, and that she had sterilized and mutilated him.
"Susie Green may feel that giving her son off-label illegal medication aged 11 and drastic surgery was the path of least harm in her circumstances but she shouldn't project and impose it on other vulnerable kids as best practice" another one of Farrow's tweets read.
"I think it's time everyone called out Susie Green and Mermaids' policy out for what it is. Child abuse," yet another read.
Green went on to argue Wednesday that "people misgender my daughter online, that wasn't uncommon. What was uncommon was that this was a journalist who had a public platform, who used that to send very malicious and nasty messages."
"They were allegations of serious misconduct and vile and spiteful personal attacks. The content was not about misgendering and it is unfortunate that so much of the media has fallen for the incorrect claim that they were."
She added: "In essence, the public discussion about this issue has been wrongly directed."
When asked by the BBC if she thought the alleged "hate crime" Farrow committed is an urgent life-or-death topic, Green said she didn't believe any hate should stand and that the harm done by communications online is "absolutely immense."
"Saying that Jackie before surgery is male and should be referred to as a boy is completely wrong and goes against the Equality Act 2010," Green asserted.
Green and Farrow appeared on ITV's "Good Morning Britain" to debate transgender policy as it relates to Girl Guides, the English equivalent of Girl Scouts, in September.
During the interview, Farrow argued the position that single-sex spaces such as changing rooms in children's schools and in other places of public accommodation should be maintained. She added that, among other things, females do not have penises.