Transgender Boy Cries Foul After Double Rejection by Women's College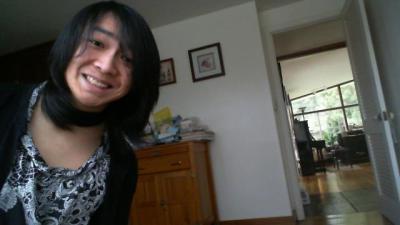 A transgender teen who was born male but insists he is a female, cried foul last week when all-female Smith College twice rejected his application for admission to the institution because of his male genitalia.
The teen, Calliope Wong, 17, a senior at Amity Regional Senior High School in Connecticut, took to his blog last summer when Smith first declined his application because he isn't biologically a female. In order to be recognized as a female, Wong must first perform gender reassignment surgery, according to the American Civil Liberties Union.
But in a defiant and seemingly quixotic appeal on his blog, Wong railed against the school's rejection and incorrectly identifies himself as a transexual girl. A transexual is a person who has undergone gender reassignment surgery, which Wong has yet to do.
"As a transsexual girl, I am still a legitimate girl. Yes, I was born into a body with typically male parts. But I identify and am living as female," wrote Wong. "Prevailing scientific and medical opinions support the fact that who I am identity-wise is different from the gender identity typically associated [with] my physical body," she continued.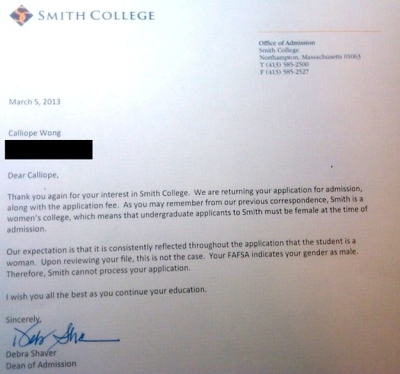 Despite Smith College's detailed rejection, however, Wong reapplied to the school without making the necessary adjustment and the school politely turned him down again.
"As you may remember from our previous correspondence, Smith is a women's college, which means that undergraduate applicants to Smith must be female at the time of admission," wrote the school's Dean of Admissions Debra Shaver in a letter dated March 5.
"Our expectation is that it is consistently reflected throughout the application that the student is a woman. Upon reviewing your file, this is not the case. Your FAFSA indicates your gender as male. Therefore, Smith cannot process your application," Shaver added.
While Wong does not plan to appeal the college's decision, the teen lamented to the Daily News that he doesn't believe anyone should have to go through what he did.
"No one should have to go through what I went through," Wong wrote to the Daily News in an e-mail. "Schools should be focused on building our next generation of leaders, not discriminating against them."
Wong also incorrectly pointed out on his blog, however, that: "The institutional gatekeeper policies keeping transwomen out of Smith are unreasonable and not modeled on the real life struggles of transwomen."