Trump Asks Pastor Brunson to Be 'Great Patriot Hostage;' Says US Will 'Pay Nothing' for Release
Trump Asks Pastor Brunson to Be 'Great Patriot Hostage;' Says US Will 'Pay Nothing' for Release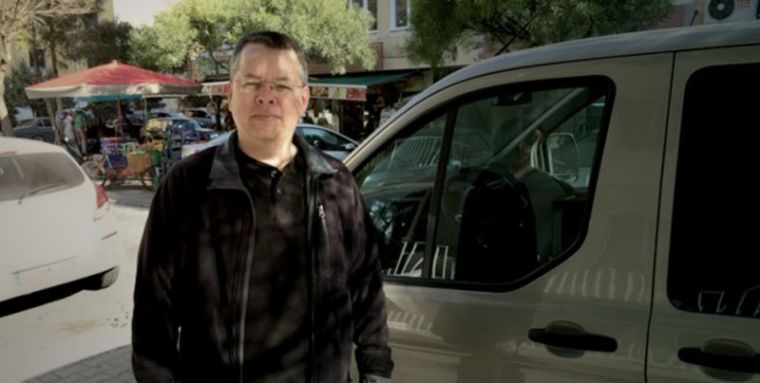 President Donald Trump asked American Pastor Andrew Brunson, who is under house arrest in Turkey, to be a "great patriot hostage" as he declared that the U.S. will "pay nothing" for his release.
"Turkey has taken advantage of the United States for many years. They are now holding our wonderful Christian Pastor, who I must now ask to represent our Country as a great patriot hostage. We will pay nothing for the release of an innocent man, but we are cutting back on Turkey!" he wrote in a statement on Twitter Thursday. 
Brunson, who is facing 35 years in prison on trumped up charges of espionage and terrorism, was remanded to house arrest and banned from leaving the country as an appeal for his release was rejected by the Third High Criminal Court in Izmir, Turkey's state-run Anadolu news agency reported.
Ismail Cem Halavurt, Brunson's lawyer, had applied to the higher court after the appeal was rejected by Izmir's Second High Criminal Court Wednesday.
Halavurt told CBS News Friday that they might file another appeal with the court as, "depending on the developments, we can apply again." He noted that they might also appeal to Turkey's constitutional court. Brunson's next hearing is set for Oct. 12.
Turkey has charged Brunson with spying for the Kurdistan Workers Party (PKK) — a designated terrorist group in the U.S. and Turkey — and the Gulen movement, which Recep Tayyip Erdoğan has accused of being behind the defeated July 2016 coup attempt, according to Anadolu.
As part of their so-called evidence in the 62-page indictment against Brunson is a video of a Middle Eastern dish that Brunson's daughter sent him from the United States.
The indictment further claims that American churches are linked to the FBI and the CIA, that around 40 percent of members of the U.S.' armed forces serving overseas are Mormons.
The pastor has maintained his innocence and pressure from the U.S. continues to build as prominent lawmakers have said that the prosecution lacks credible evidence and have long called for his release.
Pastor Brunson "is not guilty" of anything, Sen. Lindsey Graham, R-S.C., said in a video he posted on Twitter after he and Sen. Jeanne Shaheen, D-N.H., met with Erdoğan in Ankara on June 29. "We are working very hard to get him home."
As the diplomatic row over Brunson escalates, U.S. Treasury Secretary Steve Mnuchin, said officials are prepared to impose new sanctions on Turkey if the pastor is not released. Sanctions have already been imposed on two Turkish ministers and increased tariffs have been added to Turkish steel and aluminum imports.
"We have more that we're planning to do if they don't release him quickly," Mnuchin said, according to the Financial Times.
"They want to hold our wonderful pastor. Not fair, not right," Trump added at a cabinet meeting.
Turkey has already retaliated to the U.S. with some $533 million of tariffs on some U.S. imports such as cars, tobacco and alcoholic drinks. Officials noted that they would also boycott U.S. electronic goods.
Ruhsar Pekcan, Turkey's trade minister, said Friday that her government would respond to any new trade duties as the Lira, that country's currency, fell again as a result of the ongoing conflict.
"We have responded to (U.S. sanctions) in accordance to World Trade Organization rules and will continue to do so," Pekcan said.
Turkey's currency, which had recovered from record losses against the dollar earlier in the week, was down about 6 percent against the dollar on Friday, at 6.17, CBS News reported.
On Wednesday, Vice President Mike Pence warned Turkey against the continued detention of Brunson.
"Pastor Andrew Brunson is an innocent man held in Turkey & justice demands that he be released. Turkey would do well not to test @POTUS Trump's resolve to see Americans who are wrongfully imprisoned in foreign lands returned home to the United States," he tweeted.
"@POTUS and I continue to stand firm until Pastor Brunson is released and returned to his family, friends, and church in the USA. Every American should continue to pray for Pastor Andrew Brunson & his wife Noreen until this godly man of faith is home," he added.
The United States has a longstanding no-concessions policy on paying to release hostages to avoid creating incentives for U.S. citizens to be kidnapped and allowing ransom payments to finance terrorist groups.