Turkish Ambassador Met With Trump Adviser to Discuss Pastor Andrew Brunson's Detention
Turkish Ambassador Met With Trump Adviser to Discuss Pastor Andrew Brunson's Detention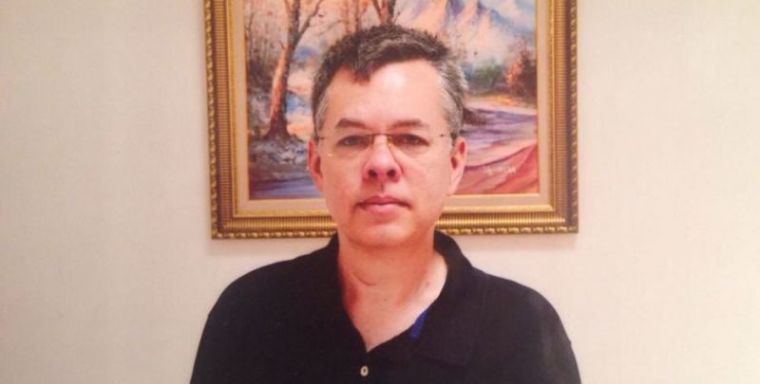 White House National Security Adviser John Bolton met with Turkey's ambassador to the United States on Monday to discuss the detention of American pastor Andrew Brunson.
The meeting between Bolton and Ambassador Serdar Kilic was held at the White House at Kilic's request. The Trump administration has continued to pressure Turkey for the 50-year-old North Carolina pastor's release after over a year and a half of detention.
The meeting comes as the value of the Turkish lira has drastically fallen to new lows with President Donald Trump vowing last Friday to double steel and aluminum tariffs on Turkey in response to Brunson's detention.
"They discussed Turkey's continued detention of Pastor Andrew Brunson and the state of the U.S.-Turkey relationship," White House spokeswoman Sarah Sanders said, according to Reuters.
The Trump administration has taken adverse actions over the last couple weeks against its NATO ally and strategic partner in hopes of pressuring the Erdogan government to release Brunson, who is accused of having ties to an Islamic group blamed for the 2016 coup attempt and Kurdish militants. Brunson, who has served as a church leader in Izmir for over 20 years and could face 35 years in prison, has denied the charges.
While advocates say that the prosecution has not presented any credible firsthand evidence against Brunson in three trials since April, many believe that Brunson is being held as a political hostage since Turkey wants the U.S. to extradite Islamic cleric Fethullah Gulen, who is living in Pennsylvania.
At the beginning of the month, the U.S. Treasury Department issued sanctions against the heads of two Turkish government agencies responsible for Brunson's detention. Erdogan responded by suggesting that Turkey would enact similar sanctions against U.S. officials.
Following Trump's vow to double tariffs, President Recep Tayyip Erdogan has resorted to inflammatory rhetoric to rile his nationalist base. He has tried to put blame on the U.S. for Turkey's economic troubles, saying that the U.S. is "going to make us slaves to the dollar."
Erdogan has also claimed that Trump is waging an "economic war against the entire world."
Bolton's meeting with Kilic follows a meeting between Deputy Secretary of State John Sullivan and a visiting Turkish delegation last week.
According to The Washington Post, participants in last week's meeting were reportedly supposed to discuss the exchange of Brunson for a Turkish banker convicted for alleged violations of oil sanctions against Iran. However, that meeting came to an end when the U.S. demanded that Brunson be released unilaterally.
Erdogan admitted earlier this week that Turkey ignored a deadline set by the U.S. government for Brunson's release. However, U.S. officials have since said that no deadline has been set for Brunson's release.
"The fact that there's ongoing discussions between the two countries regarding Brunson's return to the U.S. is positive," Jay Sekulow, the chief legal counsel for the American Center for Law & Justice, which is representing the Brunson family, told Reuters. "I look forward to the Brunson family returning to the U.S."
Brunson is not the only American imprisoned in Turkey. Earlier this year, Turkish-American NASA scientist Serkan Golge was sentenced to 7.5 years in prison on terrorism charges. The U.S. has condemned the verdict against Golge.
Brunson spent over a year and a half in prison, the first 17 months of which he had not been charged with a crime. Last month, a Turkish court ordered Brunson to be released from prison and put under house arrest.
Since the coup attempt in July 2016, the Erdogan government has arrested over 65,000 for alleged ties to the coup and over 152,000 people (including thousands of academics, judges and prosecutors) lost their jobs.