Trump Attacks Cruz's Faith at SC Rally: 'He Holds Up the Bible and Lies'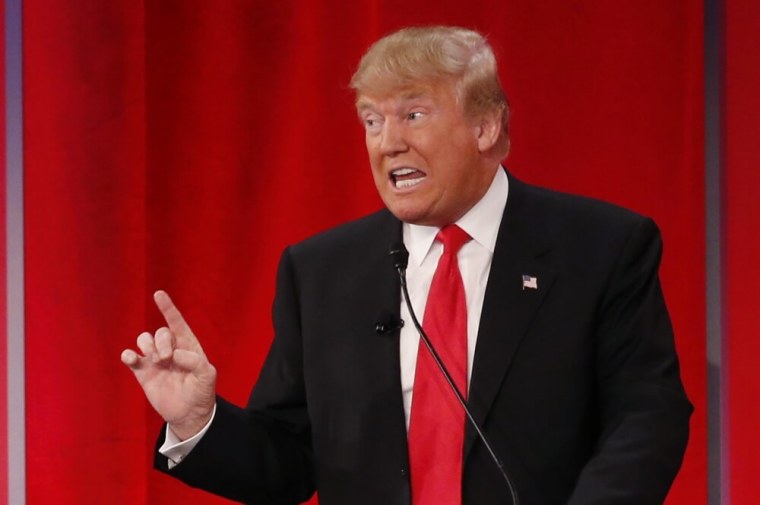 Republican presidential candidate Donald Trump attacked Ted Cruz's Christian character at a South Carolina rally this week, charging that the Texas senator "holds up the Bible and then he lies about so many things. "
Trump has waged a series of attacks in recent weeks after Cruz won the Iowa Caucus earlier this month, arguing that the senator won the Iowa caucuses through unfair and deceitful tactics.
The billionaire businessman escalated his fight with Cruz during a rally in North Augusta, South Carolina, on Tuesday, where he said he's "never seen a human being lie so much."
"I think [Cruz is] going to go down," Trump argued. "I think a guy can't be — I'm a Christian — but you know Ted holds up the Bible and then he lies about so many things."
Along with allegations of fraud, Trump has also accused Cruz of being too liberal on the Affordable Care Act and gun control.
Trump began his attack in a string of social media posts following the Iowa Caucus vote, where he accused Cruz of stealing votes from Dr. Ben Carson, as well as sending out misleading election mail to Iowa voters.
Cruz received criticism for announcing that Carson had dropped out of the race shortly before the Feb. 1 vote. The Texas senator then sough to clarify the misunderstanding, saying he used a CNN article as a source for claiming Carson was taking a break from the election.
Trump also demanded an investigation into Cruz's campaign team after they sent out mailers to Iowa residents that implied they would suffer a penalty if they did not vote in the upcoming election. The Cruz camp has argued that the mailers were simply an advertisement, but Trump has said that their official appearance was misleading.
Before his South Carolina rally, Trump hurled insults at Cruz while appearing on CBS's "Face The Nation" on Sunday.
When asked by host John Dickerson if he questioned the senator's faith, Trump replied: "No, I say this. I say this. You can't lie and then hold up the Bible, OK?"
"He consistently lies. What he did to Ben Carson was a disgrace. What he did with the voter violation form, which is a fraud, is a disgrace. And you can't do that. You can't hold up all of these values and hold up the Bible and then lie," the politician argued.
Tensions between the two heightened on Wednesday after Cruz announced that Trump had sent him a recent cease-and-desist letter for a political commercial in South Carolina that claims Trump is "pro-choice."
The political advertisement shows a clip from a 1999 "Meet the Press" interview in which the real estate mogul says he's "very pro-choice."
Cruz responded to the letter during a press conference in South Carolina, urging Trump to follow through on his threat.
"I have to say to Mr. Trump — you have been threatening frivolous lawsuits for your entire adult life, even in the annals of frivolous lawsuits, this takes the cake," the senator said.
"Donald, I would encourage you, if you want to file a lawsuit challenging this ad, claiming it is defamation, file the lawsuit. ... The operative words in that ad come from Donald Trump's own mouth."