Trump/Carson 2016? 'I Like Him, He Likes Me,' Trump Says
Trump, Carson Dominate Rivals in New Poll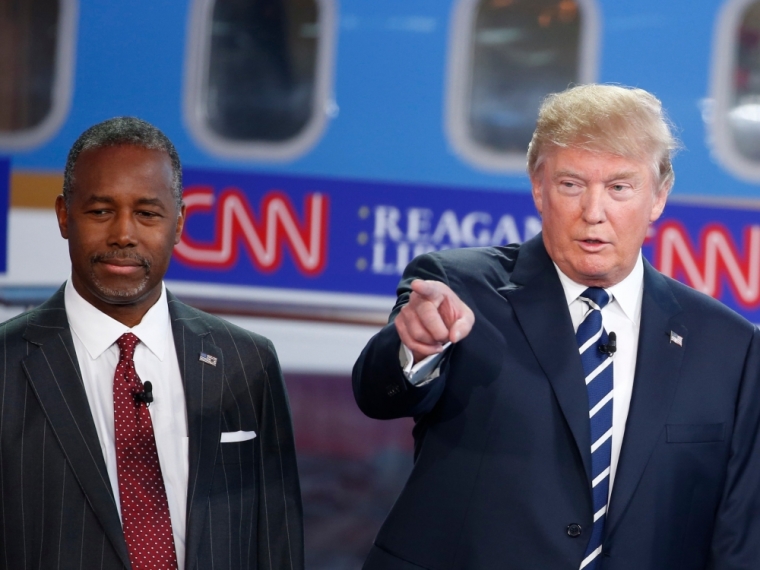 A Tuesday CNN/ORC poll shows 2016 GOP presidential frontrunner Donald Trump and retired neurosurgeon Ben Carson dominating their Republican rivals with 27 percent and 22 percent support respectively.
Trump also says he is not ruling out the possibility of having Carson as a running mate if he is the eventual nominee.
"Well, we've hit a chord. And we're not as different as people think," Trump told CNN about the poll results. "You know we have a very good relationship. ... But there is certainly a different style. You know, I have great assets and he has some great assets. But we are both resonating, there's no question about it."
Earlier Tuesday, Trump also told CNN's Alisyn Camerota on "New Day," "Well I like [Carson], he likes me. I mean, stranger things have happened … But it's too early to think about."
No other Republican candidate besides Trump and Carson has double-digit support nationwide, according to the poll.
After dismissing Trump's success at the polls early on in his campaign as a fleeting "summer fling" according to "Fox News Sunday" host Chris Wallace, members of the Republican establishment are also beginning to consider the possibility of Trump becoming the Republican Party's 2016 presidential nominee.
With just three months to go before the Iowa caucuses, a number of Republican strategists told National Review that the Republican establishment now sees Trump as a "serious player."
"Trump is a serious player for the nomination at this time," Ed Rollins, who served as the national campaign director for Reagan's 1984 reelection and as campaign chairman for Mike Huckabee in 2008, told the National Review.
And Steve Schmidt, who managed John McCain's 2008 presidential campaign agrees.
"Trump has sustained a lead for longer than there are days left" before voting begins in Iowa, noted Schmidt.
"For a long time … you were talking to people in Washington, and there was a belief that there was an expiration date to this, as if there's some secret group of people who have the ability to control the process," he added.
On "Fox News Sunday," this weekend, host Chris Wallace in reaction to his sit-down interview with Trump, said he is now "beginning to believe" that Trump "could be elected president of the United States."
"All of us dismissed Trump early on. A summer fling, momentary amusement," said Wallace. "As I watch that interview and I heard what he had to say about the country and about trade and about losing and just the sheer force of his personality, I am beginning to believe he could be elected president of the United States."
The Republican strategists told National Review that momentum is key to grab wins in the early primary states, which are essential to securing victories later on and Trump has that right now.
"He has the potential to win Iowa and New Hampshire and more," said Rollins. "No one seems to be developing to challenge him at this time."
"Momentum matters a great deal," said Schmidt. "You have to win in the early states to win in the larger mega-state primaries that folds out over the balance of March and April."