Trump cheered by evangelical church attendees during Easter service in Florida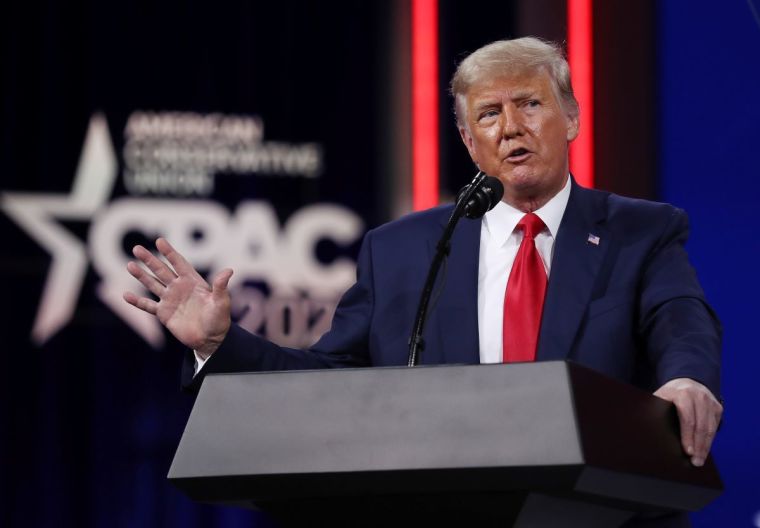 Former President Donald Trump and his wife, Melania, attended an Easter Sunday worship service at a multi-site evangelical church. They were briefly cheered after being pointed out by the pastor.
The Trumps attended service held on Sunday morning at Christ Fellowship Church in Palm Beach Gardens, with Senior Pastor Todd Mullins acknowledging them during the service.
"It is also our privilege, my privilege to welcome President and Mrs. Trump to our service," Mullins said, according to a video posted online.
In response to the pastor's shout-out, the Trumps received a fair amount of cheers and applause before the congregation continued with its contemporary-styled worship service.
A public relations representative emailed The Christian Post a statement from Mullins in which he noted that all are welcome to attend worship at his church.
"We always invite and welcome everyone to join us at Christ Fellowship in celebrating the resurrection of Jesus," stated Mullins.
"This year, perhaps more than ever, we hope that Jesus' message of hope and salvation spreads widely and brings joy to all who hear it."
According to the public relations representative, the Trump family has not attended Christ Fellowship Church in recent history.
Founding Pastor Tom Mullins, who launched Christ Fellowship in 1984 and served as the lead pastor until 2011 when he passed the position over to his son, was part of Trump's evangelical executive advisory board formed during his 2016 presidential campaign. 
After the service, Trump attended an Easter egg hunt at his private club, Mar-a-Lago, according to People.  
President Joe Biden, the second Roman Catholic Church member to become commander-in-chief, spent Easter weekend at Camp David before returning to the White House on Monday. The traditional White House Easter Egg Roll was done virtually due to pandemic concerns.
In an Easter message from the Blue Room Balcony on Monday, Biden was flanked by an Easter Bunny mascot wearing a face mask. The president talked about the coronavirus' enduring impact.
"The virus is not gone, and the second year in a row, most will be apart from their families or friends and a full congregation to fill us with so much joy.  But the Scripture tells us, 'Joy cometh in the morning,'" stated Biden.
"As we celebrate the renewal of this season, we know that longed-for dawn is almost here.  We will rebuild our nation. We will reengage and reimagine what we can be. We'll remember that with faith, hope, and love, anything is possible."