Trump 'Deeply Troubling' But 'I Pray for Him Every Night,' Jeb Bush Says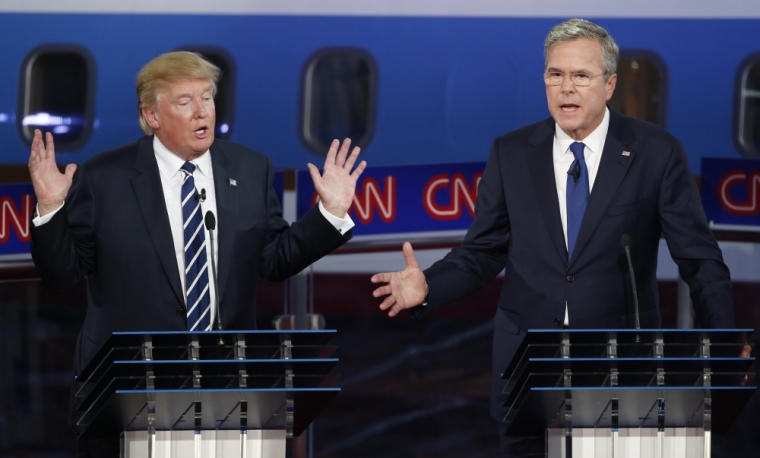 Former Florida governor and Republican presidential hopeful Jeb Bush has stated while he is deeply troubled by President Donald Trump's actions, he still prays for him daily.
In a question-and-answer segment held at OZY Fest this past weekend, Bush explained that the presidency can be an unpredictable environment.
"There's no way to know what's going to happen. Just look at the last six months. No one envisioned any of this stuff happening the way it played out," said Bush.
"I would have thought that other countries would have provoked us to challenge the president. In reality, most of the problems and the crises have been his own doing."
Bush went on to note that it was still important for Americans to support and pray for President Trump, even if they do not agree with his policies or rhetoric.
"I find him deeply troubling in a lot of ways, but I pray for him every night and I pray for our country every night," continued Bush.
"I want him to succeed because if he doesn't ... I mean who cares what happens to him. I care about you all, I care about my grandkids. This is a really important job and we want him to succeed."
Bush was one of several candidates in the crowded Republican nomination contests. During the debates, he and Trump were known to have heated exchanges.
Bush's remarks about praying for Trump every evening came as part of the OZY Fest, held last Saturday at Central Park in New York City.
"Described as 'TED meets Coachella' by The New York Times, this all-day party in Central Park brings together incredible music, provocative ideas, laugh-out- loud comedy and mouth-watering food under the city skyline," stated the event's website.
In addition to Bush, other notable guests included Senator Kirsten Gillibrand, Comedian Samantha Bee, billionaire businessman Mark Cuban, RuPaul, and Katie Couric, among others.
Bush's talk about praying for Trump comes a couple weeks after a photo went viral on social media of evangelical leaders praying over Trump at the Oval Office.
Johnnie Moore, president of the KAIROS Company and an attendee of the prayer meeting who snapped the photo, explained in a statement emailed to The Christian Post that it was "a visit among friends."
"When we are praying for President Trump we are praying within the context of a real relationship, of true friendship," stated Moore.
"Evangelicals feel the door to the White House is as open as it has ever been before, even compared to Reagan according to several that were there whose career began back then."