Trump Is 'Most Stunning Example of the Success of the Prosperity Gospel,' Expert Says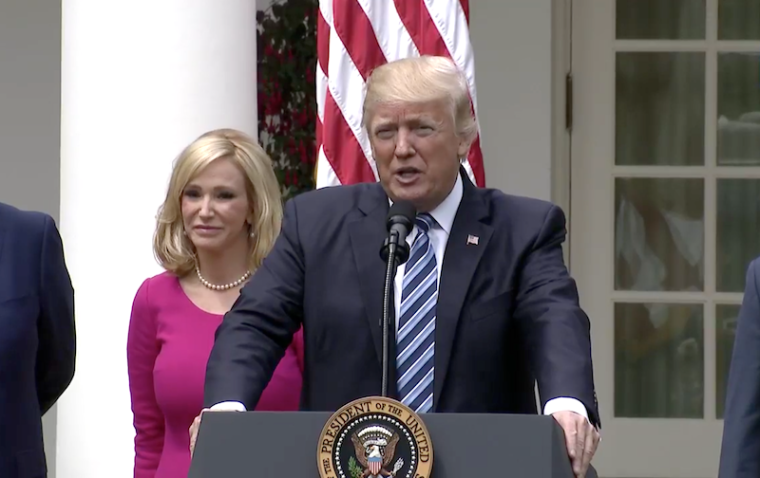 A religion scholar who studies the prosperity gospel argued that Donald Trump represents the "most stunning example" of the success of this theology.
At the Faith Angle Forum in Miami last month sponsored by the Washington-based Ethics and Public Policy Center, Kate Bowler, a history professor from Duke Divinity School unpacked the nuances of what is often referred to as the "health and wealth gospel" or "prosperity theology" before prominent religion journalists. Among the many things her book, Blessed: A History of the American Prosperity Gospel, explores are the origins and dimensions of prosperity teaching, how such teaching manifests in the United States and around the world, and how it feeds the "self-made American" ideal.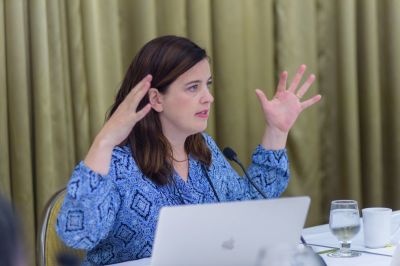 "When I first wrote Blessed, I thought that my job primarily was to explain why one of the most derided Christian movements in American history was not just a punch line. I wanted them to be taken seriously, as we historians like to say, despite its reputation for being maudlin and smarmy," Bowler explained.
Yet she soon became sympathetic to the movement's ability to be in touch with the deepest desires of people.
Even with its extensive television presence and the money gained from bestselling books, "the prosperity movement has always coveted what it did not have," she continued.
The congregations where this teaching is furthered are sometimes known for worship services that have a market-oriented, entertainment bent to them. This brings about some unique incidents, she explained, mentioning a minister who once fought through choking on the emissions from the church fog machine while trying to speak.
Although hard to define precisely because gradations and variations of this theology exist, the mere mention of the "prosperity gospel" is enough to elicit some negative reactions from many Christians. Notable Reformed theologians like John Piper and evangelical blogger Tim Challies have uttered firm condemnations of prosperity teaching and playful worship.
Prosperity gospel churches are the "favorite whipping boy" of critics looking to blast greedy capitalists, Bowler said, but if anyone thinks they are the only congregations with problematic issues regarding the use of financial resources they would be wrong.
"I go to a church with more money in its organ and its stained glass, than it does in its rose garden and the upkeep of its cemeteries, than it does in outreach programs," Bowler admitted.
"It's an indictment on us all," she added.
Politicians and city leaders might look for support from prosperity preachers in certain ways, but because the movement's public profile is shady, they never looked for ways to openly advocate for their causes, Bowler noted. 
Yet all that has changed with the man who now resides in the White House.
"Donald Trump is the first American President whose only religious impulses arise from the American prosperity gospel," Bowler asserted.
"It is well known that the Trump family attended Marble Collegiate Church in New York City, a variable reformed church in America ... whose entrepreneurial pastor, Norman Vincent Peale, preached a theology which also became his personal brand."
Several ministers who espouse this theology stumped for Trump on the campaign trail and now serve as advisers to the President. Paula White, a longtime friend who is arguably one of the closest spiritual influencers of Trump, is frequently called a prosperity preacher, a label she disputes, telling The Christian Post in an interview last year she gets accused of all kinds of things.
"'For the first time in American history, a president-elect instinctively turned toward prosperity thinkers to shape his religious views about what might 'Make America Great Again.' As Trump's connections to positive thinking and the Pentecostal prosperity gospel are combined with his blatant American exceptionalism, we can see that the three strands of what constitutes historically the prosperity gospel have been woven together. Trump is, in short, the prosperity gospel's religious trifecta," Bowler said.
Trump is also perhaps "the most stunning example of the success of the prosperity gospel in casting a vision of the self-made American," she asserted.
Yet the nature of "prosperity theology" is a contested matter and the term seems to be exclusively used by its opponents in a pejorative way.
Bowler made a point to distinguish in her presentation between "hard" and "soft" forms of the prosperity gospel.
"Hard prosperity" often focuses on money and sometimes entertains speculations about an "end times wealth transfer" which posits that God will circumvent evil world systems to bestow significant financial resources on faithful believers. By contrast, "soft prosperity" routinely emphasizes the "spiritual and material benefits of a renewed mind."
However, such "hard" and "soft" distinctions are glossed over by prosperity theology's critics, who consider the teaching as a whole an assault on the gospel, as Southern Baptist Russell Moore did in a keynote address at the First Things Erasmus Lecture last October.
But a wide chasm indeed separates a slick televangelist who proclaims that it is God's will for him to have multiple Gulf Stream jets while begging viewers for donations and a sincere Christian who believes that God delights in blessing his children, and that blessing might be material.
During Q&A, Bowler was asked if a link exists between the language of the prosperity gospel that permeates American culture and Trump's ability to use it effectively such that it influenced the election.
"I don't know if there's a relationship between the number of people who believe that God rewards people with health and wealth as those who actually attend those churches or if it's something that they get from Oprah," she replied. "It is so much a part of the water everyone's swimming in that naming numbers in terms of congregational attendance is going to be really tough."
However, while it is impossible to map the scope of this language's electoral impact, the prosperity gospel did create some of the "cultural and ideological preconditions" that explain the rise of Trump, she noted.
In early December, CP interviewed two scholars from Assemblies of God institutions who objected to the linkage of prosperity teaching and Pentecostal and charismatic expressions Christianity, in light of major newspapers like the Washington Post asserting that Trump's election signaled a "triumph" of sorts for the prosperity gospel.
"For those who are proponents of prosperity theology," said Wave Nunnally, professor of Biblical Studies at Evangel University, "if they want to claim that Trump's victory is a victory for the prosperity gospel, they have this problem, an obstacle to overcome. And that is that Trump is not a believer in the prosperity gospel."
Trump may be wealthy but he did not obtain his riches through the prosperity gospel's divine formulaic prescriptions, he argued. And, he added, prosperity theology did not emerge from early, classical Pentecostalism.
Early Pentecostalism's focus was the same one found in Acts chapter 1:8 which was "being empowered for more effective service, of God and of neighbor," Nunnally said, noting that it had next to nothing to do with accumulating wealth.
Similarly, Alan Ehler, dean of the College of Christian Ministries and Religion at Southeastern University, a Pentecostal school in Lakeland, Florida told CP that he does not believe that Trump's election victory means prosperity theology will gain a stronger footing.
He acknowledged, however, that some Pentecostal Christians unfortunately started overemphasizing "the idea of faith being essential to seeing one's prayers answered and reading all the scriptural promises from God, and Jesus in particular." This was in some cases a co-opting of Norman Vincent Peale's "power of positive thinking" message into their theology, he said.
Thus, when Christ told his disciples in John 14 that "you may ask anything in my name and I will do it, people said, 'Ok, I'm going to ask, and whatever I ask, I get,'" Ehler explained.
"The challenge is to find a balance, to say how can we be people who understand that the gospel is both the now and the not yet, that the work of Jesus in our life should change our experience of living in this earth as well as give us an eternity with him."