5 Things to Know About Trump's Move to Recognize Jerusalem as Israel's Capital
3. Past Presidents All Recognized Jerusalem as Israel's Capital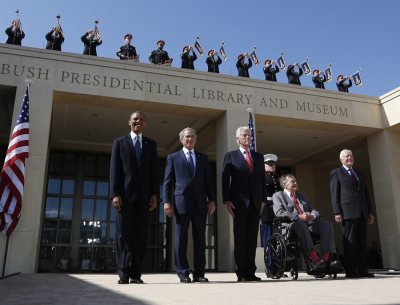 Despite Clinton's refusal to sign the Jerusalem Embassy Act into law, he and all the presidents after him have made clear statements during their election campaigns indicating they support recognizing the city as Israel's capital.
Clinton said in February 1992 during the Democratic primaries that he supported recognizing Jerusalem as Israel's capital, Townhall noted. During the general election campaign he argued then-President George H.W. Bush "repeatedly challenged Israel's sovereignty over a united Jerusalem."
George W. Bush in turn attacked Clinton during the 2000 election campaign, criticizing him for failing to deliver on the promise to move the embassy. Bush vowed to "start the process as soon as I'm sworn in," speaking before leading Jewish organizations, including AIPAC and the American Jewish Committee.
Bush never followed through on the promise, however, and instead worked on peace negotiations between Israel and Palestinians, looking to secure a deal on a Palestinian state.
Like his predecessors, Barack Obama also signified that he believes Jerusalem belongs to Israel.
"The Palestinians need a state that is contiguous and cohesive, and that allows them to prosper — but any agreement with the Palestinian people must preserve Israel's identity as a Jewish state, with secure, recognized and defensible borders," Obama declared on June 4, 2008 after capturing the Democratic nomination.
"Jerusalem will remain the capital of Israel, and it must remain undivided. I have no illusions that this will be easy."
Obama, like Bush and Clinton, signed continuous security wavers throughout his presidency delaying the move of the embassy, however.