Trump in Saudi Arabia: $110 Billion Arms Deal, 'Global Center for Combating Extremist Ideology'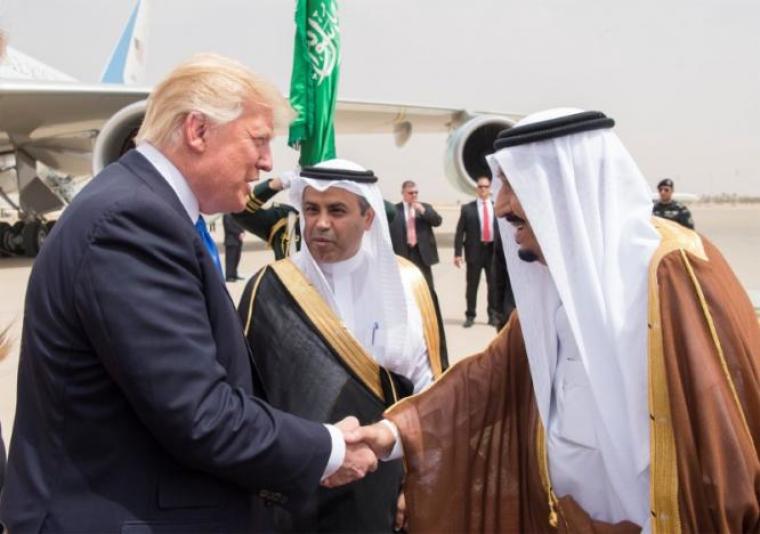 On the first foreign visit of his presidency, President Donald Trump visited with royalty in Saudi Arabia and gave a speech that is considered to be scaled back in its tone towards Islam compared to the rhetoric of his 2016 election campaign, but still insisted that Islamic extremism can only be defeated if Muslim-majoirty nation's "drive out" terrorists.
After landing in Riyadh on Saturday, Trump was greeted with a warm welcome from King Salman, his senior officials, a military brass band and was also greeted by a military jet flyover.
Also on Saturday, Trump signed a $110 billion arms deal with the Sunni kingdom. According to reports, the deal commits Saudi Arabia to buying various military equipment from the United States, including military vehicles, ships, tanks, helicopters, intelligence gathering aircraft, cybersecurity tools and missile defense radar systems.
On Sunday, Trump spoke before a gathering of Muslim leaders at the Arab Islamic American Summit in Riyadh and proclaimed that he was not there to lecture them on the dangers of radical extremism. Instead, he offered up the United States as a committed partner in combating radical extremism.
"I stand before you as a representative of the American People, to deliver a message of friendship and hope," Trump said, according to the transcript of his speech. "That is why I chose to make my first foreign visit a trip to the heart of the Muslim world, to the nation that serves as custodian of the two holiest sites in the Islamic Faith."
"Our goal is a coalition of nations who share the aim of stamping out extremism and providing our children a hopeful future that does honor to God," he continued. "And so this historic and unprecedented gathering of leaders — unique in the history of nations — is a symbol to the world of our shared resolve and our mutual respect. To the leaders and citizens of every country assembled here today, I want you to know that the United States is eager to form closer bonds of friendship, security, culture and commerce."
After praising the arms deal signed yesterday, Trump explained that history was going to be made later in the day on Sunday with the opening of the Global Center for Combating Extremist Ideology that will be located in Saudi Arabia. Trump contended that the opening of the "groundbreaking" new center "represents a clear declaration that Muslim-majority countries must take the lead in combatting radicalization."
Trump, who was criticized throughout his presidential campaign for harsh rhetoric on Islam and once said "I think Islam hates us," said in his speech that "we are not here to lecture."
"We are not here to tell other people how to live, what to do, who to be or how to worship," he said. "Instead, we are here to offer partnership – based on shared interests and values – to pursue a better future for us all."
Trumped stated that a better future for young Muslim boys and girls, where they can grow up free of fear and safe from violence, can on be achieved by "defeating terrorism and the ideology that drives it."
"But the nations of the Middle East cannot wait for American power to crush this enemy for them. The nations of the Middle East will have to decide what kind of future they want for themselves, for their countries, and for their children," the president asserted. "It is a choice between two futures – and it is a choice America cannot make for you."
Trump went onto explain that "a better future is only possible if your nations drive out the terrorists and extremists."
"Drive them out of your places of worship," Trump said. "Drive them out of your communities. Drive them out of your holy land, and drive them out of this Earth."
"Muslim nations must be willing to take on the burden, if we are going to defeat terrorism and send its wicked ideology into oblivion," he continued. "The first task in this joint effort is for your nations to deny all territory to the foot soldiers of evil. Every country in the region has an absolute duty to ensure that terrorists find no sanctuary on their soil."
Trump also announced that representatives of the nations present at the summit would be signing an agreement to prevent the financing of terrorism called the Terrorist Financing Targeting Center. The center will be chaired by the United States and Saudi Arabia.
"Of course, there is still much work to do," Trump assured. "That means honestly confronting the crisis of Islamist extremism and the Islamist terror groups it inspires. And it means standing together against the murder of innocent Muslims, the oppression of women, the persecution of Jews, and the slaughter of Christians."
"Religious leaders must make this absolutely clear: Barbarism will deliver you no glory – piety to evil will bring you no dignity," he added. "If you choose the path of terror, your life will be empty, your life will be brief, and your soul will be condemned."