Trump Calls Syrian President an 'Animal,' Rips Obama, Putin After Children Die in Chemical Attack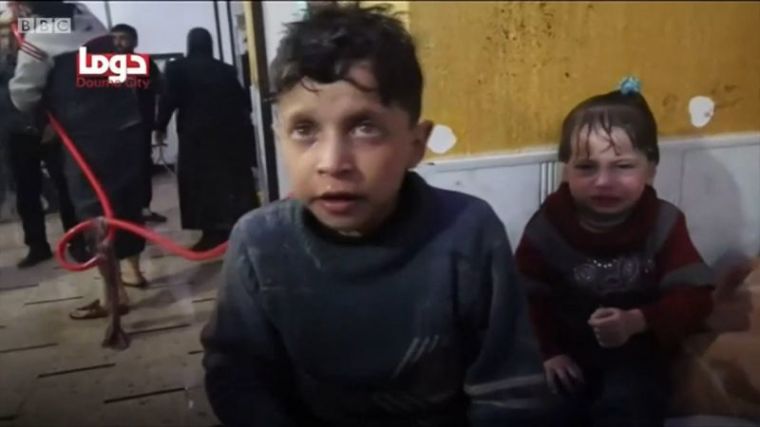 U.S. President Donald Trump has called his Syrian counterpart Bashar al Assad an "animal" after reports emerged of an alleged chemical gas attack in the city of Douma, with as many as 70 people, including women and children, possibly killed.
"Many dead, including women and children, in mindless CHEMICAL attack in Syria. Area of atrocity is in lockdown and encircled by Syrian Army, making it completely inaccessible to outside world. President Putin, Russia and Iran are responsible for backing Animal Assad," Trump tweeted on Sunday.
"Big price to pay," he added. "Open area immediately for medical help and verification. Another humanitarian disaster for no reason whatsoever. SICK!"
As Sky News and other sources said, rescue forces believe that the banned chlorine gas was used in Douma, with the death toll placed at least 70 people, and another 500 injured.
Assad's regime, which has been backed by Russian President Vladimir Putin, has since 2011 been fighting a civil war against anti-government rebel factions. It has been accused by the U.S and human rights groups around the world of carrying out air strikes on rebel-controlled civilian areas, killing hundreds of thousands of people in the last several years.
As with the alleged attack on Sunday, Assad's government continues to deny that it is responsible for the casualties, or that it is using chemical weapons in the first place.
Syrian media said that the latest accusations are being made by anti-Assad fighters in Douma, describing the toxic gas reports as an "unconvincing broken record."
The European Union has warned that the "evidence points toward yet another chemical attack," however, while U.S. Ambassador to the United Nations Nikki Haley called for an emergency U.N. Security Council meeting on Sunday.
"Yet again, there are reports of what appears to be a chemical weapons attack in Syria. Unfortunately, chemical weapons use to injure and kill innocent Syrian civilians has become all too common. The Security Council has to come together and demand immediate access for first responders, support an independent investigation into what happened, and hold accountable those responsible for this atrocious act," Haley said in a press release.
As Russia is one of the five permanent members of the Security Council, however, it would have to agree on any course of action the U.N. takes on Syria.
In a later tweet on Sunday, Trump also took aim at his predecessor, Barack Obama, for what he argued was failed leadership on the Syrian issue.
"If President Obama had crossed his stated Red Line In The Sand, the Syrian disaster would have ended long ago! Animal Assad would have been history," the U.S. president wrote.
Obama also condemned Assad and pushed for his government to give up its alleged chemical weapons, and in 2012 warned that Syria using such weapons is a "red line" it must not cross. Reports of chemical warfare have continued long after Obama's warning, however.
Last Tuesday, Trump had instructed his military leaders to begin withdrawing the approximately 2,000 U.S. troops currently in Syria to fight ISIS as soon as possible. 
Christian leaders, including the Vatican's Pope Francis, condemned the suspected chemical attack on Sunday.
"Terrible news comes to us from Syria with dozens of victims, many of them women and children ... so many people are struck by the effects of the chemical substances in the bombs," the pontiff said from St. Peter's Square.
"There is not a good war and a bad one, and nothing, nothing can justify the use of such devices of extermination against defenseless people and populations," Francis added, according to AFP.
The Rev. Franklin Graham, head of the major Christian relief group Samaritan's Purse, has also been calling for prayers.
"Pray for the families of the 48+ people who died in Syria and for all those injured and suffering from the cruel chemical attack which the U.S. State Department has called horrifying," Graham urged in a Facebook post on Monday morning.
"So many victims of the toxic gas were women and children. Also pray for our military — about 2000 U.S. troops are currently serving in Syria," he added.