VIDEO: Christian Woman Raped and Sold by ISIS Reunites With Father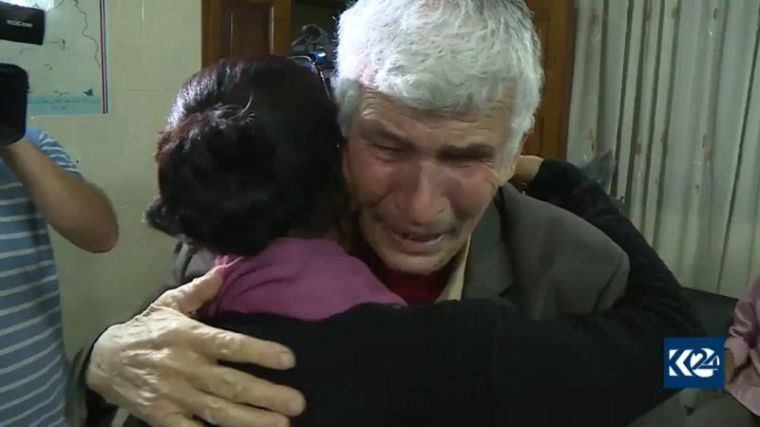 A Christian woman who was kidnapped by the Islamic State terror group in 2014, and was raped and sold as a sex slave, reunited with her father, her last surviving family member, in an emotional video captured online.
The woman, Rita Habib, described her reunion with her father as a "dream," as reported by Kurdistan 24. Extremists overran their town of Qaraqosh, southeast of Mosul, three years ago, killing thousands of people and taking hundreds of women and girls.
"I am very happy that after three years I reunited with my father. It is a joyous moment because he is the only family I have left," Habib said.
The Christian woman was held in IS' stronghold of Mosul for several months after being kidnapped, before she was sold on the Syrian sex slave market.
"I was bought and sold four times. They did evil things to us. They beat us and raped us," the woman recounted. "The worst of all was girls aged nine who were raped. Girls would be sold for 4,000 to 15,000 dollars."
She said that other Christian girls were also used as sex slaves, all part of IS' genocidal campaign in the Middle East.
Habib was finally rescued five months ago in Syria's Deir al-Zor province, as IS continued to lose captured territory in both Iraq and Syria throughout 2017.
Now that she has reunited with her father in Erbil, the woman said that she wants to start rebuilding her former life, and help other victims forced under IS slavery.
An untold number still remain in captivity, with the terror group branching out its operations and kidnappings in other countries, including Egypt.
While Qaraqosh and many other Christian towns have been liberated from IS, watchdog groups have warned that they need help from Western countries if they are to rebuild what they have lost.
William Hollander, who partners with persecution watchdog Open Doors to support Christians in Iraq, told The Christian Post in October 2017 that believers have had to endure many broken promises.
"They celebrated last year after Qaraqosh was liberated. People were very happy. But then they found out that the majority of the homes were destroyed, or needed a lot of repairs," Hollander told CP.
He noted at the time that the Christian community there has not recieved the help it needs.
"We don't see anything. It's not happening," Hollander said at the time. "The big frustration for the Christians and everybody at the moment is that [they] are being betrayed by the political powers," and again are in a situation where they have to run to refugee camps.
Ashur Sargon Eskrya, president of the Assyrian Aid Society branch in Iraq, has separately said that the very future of Christianity in its cradle is on the line.
"Iraqi Christians (Assyrian,Chaldean) are indigenous peoples of the country, according to historical sources, and their future in Iraq depends of on international support and protection. Without protections, they will not be able to live in Iraq any more," Eskrya said last year.
"It is critical time for the Christians of Iraq — 'to be or not to be.' The Christians of Iraq are facing their biggest and greatest challenge" in post-IS Iraq, he added.
Watch the video of Rita Habib's reunion with her father in Erbil below: