Trump to Order Mexican Border Wall: 5 Facts You Need to Know
Since his swearing-in as President on Friday, Trump is wasting no time in enforcing his numerous campaign promises.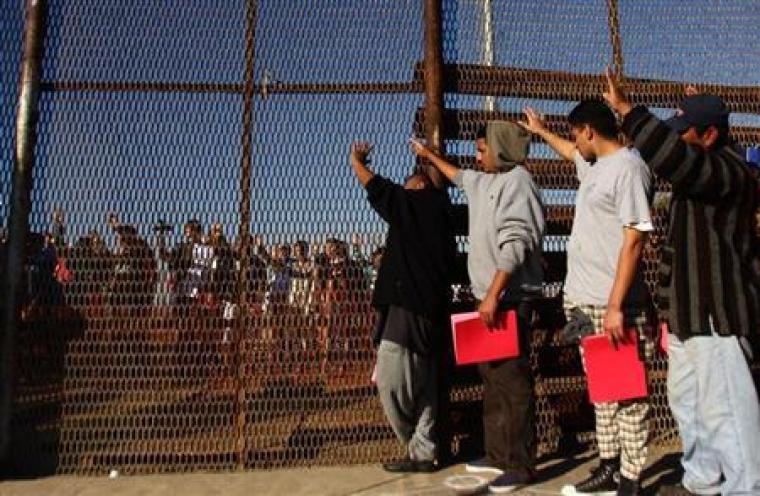 President Donald Trump on Wednesday will order the use of federal resources to construct a Mexican border wall. This move will be followed by a week-long overhaul of national security policies related to refugees and immigration.
Once again using his favorite social media site to broadcast his plans, Trump on Tuesday night tweeted: "Big day planned on NATIONAL SECURITY tomorrow. Among many other things, we will build the wall!"
With major changes to existing policies on refugees, immigration and visas expected in the coming week, here are a few facts you need to know to follow all the happenings:
1. The U.S. - Mexico Border Wall
Perhaps the most vaunted of Trump's numerous campaign promises was his vow to construct a wall on the Mexico-U.S. border to stem the influx of illegal immigrants. And despite Trump's assurances that Mexico will be paying for said wall, it looks like funds for the project will be obtained from American coffers. Trump's executive order will most likely divert funds from the Department of Homeland Security's financial aid to Mexico, reports CNN. The order will also direct repairs of existing fences on the U.S.-Mexico border and mandate a 5,000 person increase of the Customs and Border Protection force.
2. Temporary Ban on Refugees
Trump is expected to sign an executive order issuing a temporary ban on refugees from certain Middle Eastern and African Islamic countries from entering the U.S. in a move that is representative of his anti-Muslim rhetoric. Handing a severe blow to American humanitarian effort, the ban will last several months until a strict vetting process can be set up to verify risk posed to the U.S. by the incoming individuals. Another order will block the issue of visas to anyone coming into the U.S. from Syria, Iraq, Iran, Libya, Somalia, Sudan and Yemen, according to Reuters.
The move is already being condemned by human rights activists and world leaders. "Donald Trump is making good on the most shameful and discriminatory promises he made on the campaign trail. He called for a Muslim ban and is now taking the first steps to implement one. This will not stand. The American people are better than this," said the National Iranian American Council in a statement.
3. Guantanamo Bay and CIA Black Sites
Trump is also expected to continue the operation of the Guantanamo Bay military prison -- a maximum security U.S. Naval base in Cuba which is used to house some of the most dangerous individuals who pose a threat to American security, reports the New York Times. The prison has been embroiled in controversy for reportedly engaging in inhumane interrogation techniques of its captives. Trump is also expected to review the use of CIA black sites, which are American facilities on foreign soil that operate outside any jurisdiction and are used to detain and interrogate high-value terrorists.
4. Illegal Immigrants in the U.S.
The Trump administration also aims to reduce the number of illegal immigrants, also called "aliens", currently residing in the U.S. An executive order, to be signed by Trump on Wednesday, will reportedly work to eliminate "sanctuary cities" -- American cities where municipal governments refuse to hand over undocumented immigrants to federal authorities. In an attempt to identify and apprehend illegal aliens engaging in criminal activities, the order will triple the resources for the U.S. Immigration and Custom Enforcement to ensure an accelerated timeline.
5. Legal Challenges Faced by Trump
Donald Trump as President is legally authorized to restrict refugee admissions and allocation of visas to specific countries if it is done in the public's interest. But while it doesn't violate any legal rules, the move serves a massive blow to American humanitarian and civil rights efforts.
From a legal standpoint, it would be exactly within his legal rights," said Stephen Legomsky, who was chief counsel at U.S. Citizenship and Immigration Services in the Obama administration. "But from a policy standpoint, it would be terrible idea because there is such an urgent humanitarian need right now for refugees."
However, there are certain legal arguments that Trump's proposed immigration ban on Muslim-majority countries is unconstitutional as it violates the First Amendment right of religious freedom.