Trump 'Unhinged,' 'Unconstitutional' For Wanting to Ban All Muslims at Border, Critics Say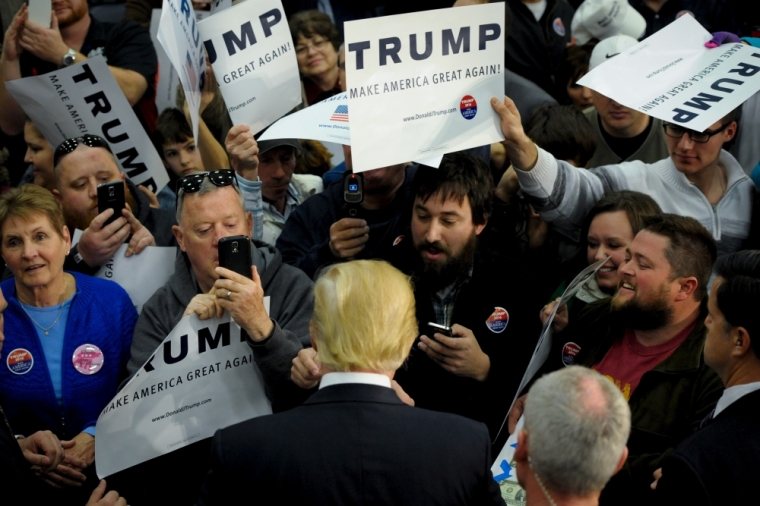 GOP Presidential candidate Donald Trump's proposal to ban all Muslims coming into the United States has been slammed as "unhinged" and "unconstitutional" by political rivals and law experts.
"Donald Trump is unhinged. His 'policy' proposals are not serious," rival candidate Jeb Bush Tweeted.
Cornell Law professor Michael Dorf added that Trump's proposal to only exclude "foreign nationals who are Muslim" would likely be "unconstitutional," MSNBC added.
On Monday, Trump's campaign released a statement calling for a "total and complete shutdown of Muslims entering the United States until our country's representatives can figure out what is going on."
Trump cited a Pew Research survey which he said shows that there is "great hatred towards Americans by large segments of the Muslim population."
"Without looking at the various polling data, it is obvious to anybody the hatred is beyond comprehension. Where this hatred comes from and why we will have to determine," Trump added.
"Until we are able to determine and understand this problem and the dangerous threat it poses, our country cannot be the victims of horrendous attacks by people that believe only in Jihad, and have no sense of reason or respect for human life."
Some Republicans, such as Arizona Sen. John McCain, had previously argued that Trump himself is responsible for turning Muslims around the world against the United States, however.
McCain said last week in an interview that Trump's rhetoric on Muslim people "has an interesting effect of turning Muslims all over the world against the United States of America."
Christian relief organizations helping refugees have also widely opposed suggestions that Muslims should not be welcomed to America.
"I do think we need to do more to resettle Christian refugees, but I don't think we should just resettle Christians and not any other religion," Jenny Yang, vice president of advocacy and policy at World Relief, told The Christian Post in an interview on Monday.
"The ultimate question should not be whether you are Christian or Muslim, but whether or not you are vulnerable," Yang added
On Tuesday morning Trump defended his widely criticized proposal by telling MSNBC's Morning Joe that his idea is based on "common sense."
He explained that if his plan were to be implemented, he would determine how such a ban would be lifted at a later date.
"All it can be is a feel or a touch. We have to find it out," Trump said.
The billionaire businessman also rejected accusations that he is proposing "internment camps," similar to where Japanese Americans were held during World War II.
"We're not talking about internment. This is a whole different thing," he said.
BBC News noted that U.N. refugee agency UNHCR has also expressed its concerns over Trump's proposal, however, saying that such rhetoric puts an "incredibly important" resettlement program for vulnerable Syrian refugees at risk.