Trump vs. Biden on 3 key issues important to Christian voters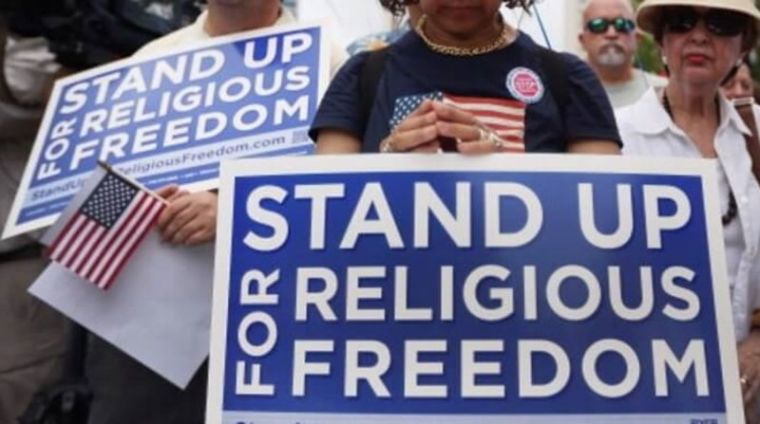 Religious liberty protections
President Trump has taken tangible steps to protect religious liberty in the U.S. and internationally.
In May 2017, Trump signed Executive Order 13798, titled "Presidential Executive Order Promoting Free Speech and Religious Liberty." The order intended to "vigorously enforce federal law's robust protections for religious freedom … to the greatest extent practicable and to the extent permitted by law." 
Trump's executive order also led to subsequent guidance on religious freedom issued to all federal agencies by then-Attorney General Jeff Sessions late that year. In accordance with the order and guidance, federal agencies have, over the course of the last several years, issued their own documents on how to best protect religious freedom. 
Sessions' guidance stated that the U.S. Constitution provides not only "the right to believe or the right to worship," but also the "right to perform or abstain from performing certain physical acts in accordance with one's beliefs."
The order had practical implications in 2018 when Air Force Colonel Leland Bohannon faced disciplinary action after refusing to sign a spousal "letter of appreciation" to one of his male airman's husband. Over a lengthy appeals process, Bohannon was cleared of all disciplinary action and had his record expunged of any wrongdoing. The final decision (see pg. 9) cited Trump's order, among other supplementary laws, saying it was "very clear that the free exercise of sincerely held religious beliefs deserves the highest protection."
The Justice Department has submitted multiple amici briefs to the Supreme Court and other judicial bodies on behalf of those who are facing adverse litigation for their religious convictions. 
In 2017, the DOJ defended Jack Phillips after a six-year legal battle related to his refusal to custom-design a wedding cake for a gay couple in 2012, at a time when same-sex marriage wasn't even legal in Colorado. The Supreme Court ruled 7-2 in Phillips' favor, though he continues to face litigation from others for similar reasons. 
In 2018, the Justice Department filed a brief in support of Montana citizens who argued that a Montana law that barred religious schools from accessing state aid was unconstitutional. The Supreme Court ruled 5-4 that the law was indeed unconstitutional.
This year, the Trump administration filed a brief to the Supreme Court in support of Catholic Social Services, which sued after the city of Philadelphia stopped working with the organization because it refused to change a policy of not placing foster children in homes of same-sex couples.
In June 2018, the Justice Department developed the Place of Worship Initiative to advance the protection and implementation of the Religious Land Use and Institutionalized Persons Act (RLUPIA), a federal law that protects places of worship and other religious uses of property.
In July 2018, the Department of Justice developed the Religious Liberty Task Force to ensure Trump's order on free speech and religious liberty was effectively implemented throughout the federal government.
In 2018, the State Department hosted the first-ever Ministerial to Advance Religious Freedom summit. Secretary of State Mike Pompeo, a devout Christian, hosted the event again in 2019. 
This year, the State Department announced that the 2020 summit would be hosted by Poland, but that event had to be canceled due to COVID-19.
In January, Trump gathered representatives from multiple religious backgrounds in the Oval Office to discuss the importance of prayer in school.
Also in January, Trump signed a bill authorizing $375 million in grants for houses of worship to defend against violence amid rising hostility to religion, specifically anti-Semitism.
In June, Trump signed executive order 13926 that instructs the U.S. State Department to prioritize international religious freedom in its implementation of foreign policy and budget $50 million per year toward the advancement of religious freedom.
The order states that "religious freedom for all people worldwide is a foreign policy priority of the United States," and intends to advance training for federal officers in combating international religious oppression. The order also provides $50 million in resources "intended to anticipate, prevent, and respond to attacks against individuals and groups on the basis of their religion" and help "improve the safety and security of houses of worship and public spaces for all faiths; and to protect and preserve the cultural heritages of religious communities."
For his part, Biden, a lifelong Catholic, said he would work hard to protect religious liberty. However, some of his policies directly and adversely impact this liberty, in some cases, the Catholic Church specifically.
According to his campaign website, Biden plans to provide increased security grants to religious communities, establish a faith-based law enforcement program and strengthen prosecution of hate crimes. 
The website elaborates that funding will go toward infrastructure reinforcement to protect parishioners in the case of an attack while also training armed personnel in houses of worship.
While Biden produces strong rhetoric in defense of religious liberty, he also supports policy ideas that undermine the integrity of such defense. 
For example, according to his campaign website, Biden would repeal religious exemptions that he says discriminate against the LGBT community.
"Religious freedom is a fundamental American value. But states have inappropriately used broad exemptions to allow businesses, medical providers, social service agencies, state and local government officials, and others to discriminate against LGBTQ+ people," a section of the Biden website focusing on his plan to protect the LGBT community states. 
"The Trump-Pence Administration has deliberately and systematically attempted to gut protections for the LGBTQ+ community by carving out broad religious exemptions to existing nondiscrimination laws and policies across federal agencies. Biden will reverse Trump's policies misusing these broad exemptions and fight so that no one is turned away from a business or refused service by a government official just because of who they are or who they love."
Biden would also repeal a proposed rule implemented by the Trump administration that allows religious adoption agencies to refuse to place orphans into the homes of same-sex adults. 
Biden said he would also make The Equality Act a "top legislative priority." 
The Equality Act would codify federal discrimination protections on the basis of sexual orientation and gender identity and passed in the Democrat-controlled U.S. House of Representatives in 2019. The legislation poses a severe threat to religious institutions, according to senior legislative assistant Mary Beth Waddell of the Family Research Council, a Christian conservative activist organization. 
Waddell describes The Equality Act as an "inequality" act since it demands religious organizations to forego their convictions in place of cultural beliefs.
Samuel Smith contributed to this report