TSA Official Seizes Toy Gun From John Wayne Sock Monkey; 'You're Kidding, Right?' Asks Passenger
TSA Official Seizes Toy Gun From John Wayne Sock Monkey; 'You're Kidding, Right?' Asks Passenger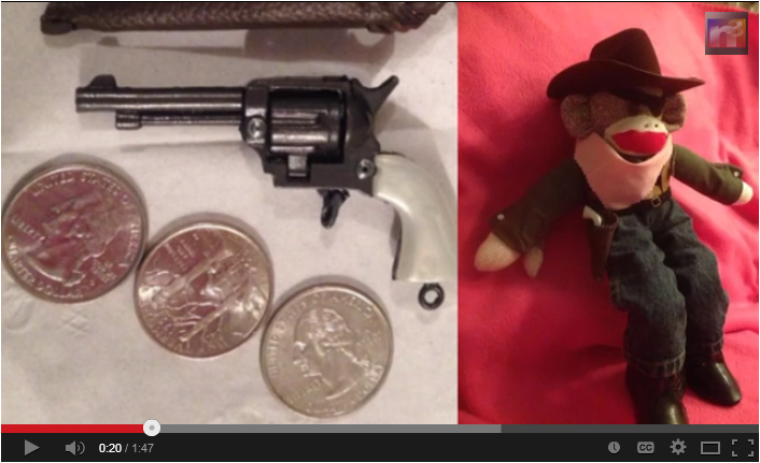 This week, a Transportation Security Administration (TSA) official disarmed a potentially dangerous sock monkey at the St. Louis, Mo., airport.
"You're kidding me, right?" Phyllis May, a woman who makes sock dolls in Redmond, Wash., asked the TSA agent who wanted to take the gun, the Huffington Post reported. May made the mistake of leaving her hand-made dolls and sewing supplies in her carry-on bag.
When the bag went through the screening process and was not given back quickly, May worried. When a TSA agent held up the bag, asking whose it was, May was thunderstruck. "I realized oh, my God, this is my bag," she told Idaho news station KTVB.
"She said, 'this is a gun,'" May recalled. "I said no, it's not a gun it's a prop for my monkey," she continued. The TSA agent told may she would have to confiscate the gun, far too tiny to ever fire a shot.
"She said, 'If I held it up to your neck, you wouldn't know if it was real or not,' and I said 'really?'" May told KTVB.
May called the sock monkey "Rooster Monkburn," from John Wayne's character "Rooster Cogburn" from the film "True Grit." Her small business sells many similar unique sock monkey dolls.
"Rooster Monkburn has been disarmed, so I'm sure everyone on the plane was safe," May said, according to RawStory. "I understand she was doing her job, but at some point doesn't common sense prevail?"
The story has hit the web, being picked up by various outlets and even making two appearances on YouTube.
"TSA Thwarts Yet Another Attack on American Soil – Disarms Rooster Monkburn at St. Louis Airport," a story in the Daily Paul reported, clearly tongue-in-cheek.
A video by YouTube user John Burke gives an "exclusive interview with Rooster Monkburn." Showing a sock monkey dressed up in a cowboy outfit, eyepatch, scarf, hat, and boots included, Burke presents the threat to the St. Louis airport. "My name is Rooster Monkburn, and I was the sock monkey going through the St. Louis airport, when that TSA agent took my pistol away."
"I'll tell you what, the next time they try that, they'll have to pull it from my cold, dead, sock-monkey hands," Monkburn says, slowly and deliberately.
Another video, from the Next News Network, reported on how the TSA protects Americans. "These skilled agents won't let anything on a plane that can do you harm, even if it's a two-inch plastic toy gun, owned by a sock monkey that goes by the name of 'Rooster Monkburn,'" the reporter says.
"We'll never know if Phyllis and her sock monkey were going to hijack that plane that day – with a two-inch toy gun – but now I can safely fly anywhere in this, the greatest country on earth, knowing that no one will ever hijack my flight with a two-inch, sock monkey toy gun," the Next News reporter concluded.