WATCH: Tucker Carlson Exposes Democrat Confusion Over Gender Confusion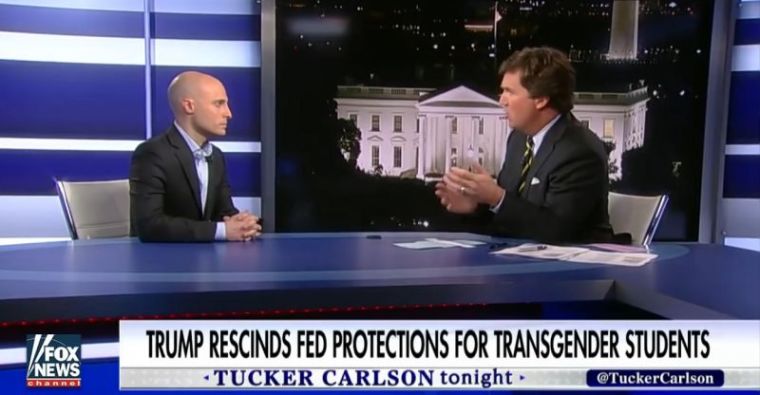 Fox News host Tucker Carlson has sought to clarify objective standards of what constitutes a man and a woman in a debate on transgender issues with Democrat Zac Petkanas, by asking whether a man identifying as female should go to a woman's prison.
The Feb. 23 discussion on Fox News' "Tucker Carlson Tonight" with Petkanas, who is a senior advisor for the Democratic National Committee, focused on President Donald Trump's decision to roll back former President Barack Obama's public school bathroom guidance of 2016.
Obama's guidance sought to allow students to use the bathroom of their gender identity, rather than their biological sex, with the former president explaining that it was aimed at tackling bullying.
A new Rasmussen Reports national survey found that 49 percent of American adults remain opposed to allowing transgender students to use the bathroom of the opposite biological sex, however, with only 38 percent backing Obama's directive.
In their discussion on whether there are objective ways to determine whether one is a male or a female, Carlson tackled Petkanas' suggestion that simply stating one's gender identity reveals the person's gender.
"There are massive implications of this that everyone is either too dumb or too embarrassed to explore, but let's do so now," Carlson said.
"If your sex is what you say it is, then what prevents me from playing on a women's field hockey team? What prevents me from getting convicted of a felony and demanding to go to a women's prison?"
Petkanas responded by saying "it is not a real question, because it is pretty absurd."
The Democrat added: "There are no examples of this."
He also argued that Trump is taking out his insecurities with Russian President Vladimir Putin by stripping away protections from transgender students.
"I'm giving Obama extraordinary praise for taking decisive action to protect these vulnerable kids, and I'm saying that Donald Trump is not only a monster, but he's a coward," Petkanas insisted.
A number of privacy advocates have praised Trump's move, however, with Kaeley Triller Haver, communications director for the Just Want Privacy campaign, telling The Christian Post in an interview that it was a "much needed first step back in the right direction and a welcome breath of fresh air in the battle for the restoration of common sense."
Carlson further asked in the Fox debate whether self-identification can extent to race as well.
"What if I said I'm another race, who are you to say I'm not?" the Fox News host positioned.
Conservatives such as former Governor of Arkansas and presidential candidate Mike Huckabee praised Carlson's line of questioning, arguing that Petkanas' "grasp of basic biology seems to have been culled from an old Shirley MacLaine book about how we all create our own reality.
"Incidentally, Tucker brings up an interesting point when he asks the guest, if people can be any gender they say they identify as, can they also be any race they claim they are?" Huckabee asked on Facebook.
"That's a difficult needle for the left to thread because a couple of outspoken liberal leaders – Sen. Elizabeth Warren and former NAACP official Rachel Dolezal – have already been accused of misappropriating benefits by falsely claiming to be members of other races," he continued.
"So a man can claim he feels like a woman and that makes him a woman, but a white woman who claims to be black or Native-American is a liar and a phony?"
Watch the whole exchange here: