Tucker Carlson, Fox News' highest-rated primetime host, departs news network in surprise announcement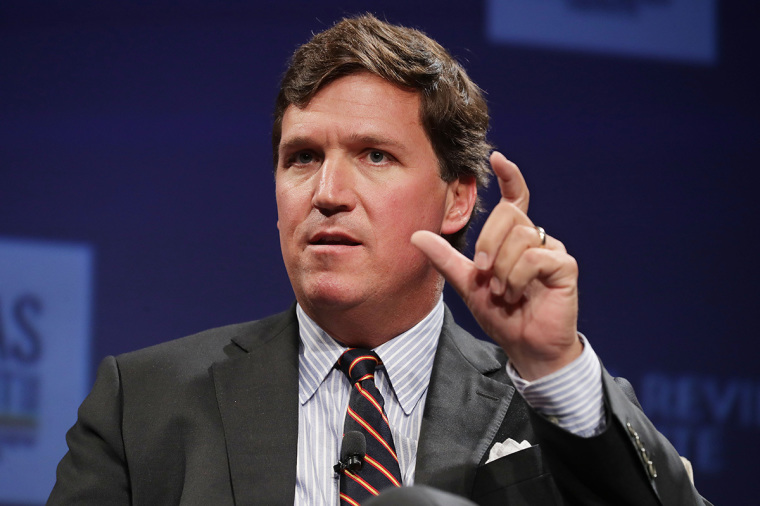 Fox News has parted ways with its highest-rated prime-time opinion host Tucker Carlson, the company announced Monday.
In a brief statement, Fox News said they "have agreed to part ways" with Carlson.
"We thank him for his service to the network as a host and prior to that as a contributor," the statement added.
The company said the last episode of Carlson's program "Tucker Carlson Tonight" aired on April 21. In its place, "Fox News Tonight" will air live "helmed by rotating FOX News personalities until a new host is named," the company said.
The announcement comes nearly a week after Fox News settled a lawsuit with Dominion Voting Systems for $787.5 million over the network's 2020 election coverage, which included unfounded allegations against Dominion of rigging votes to tilt the election in favor of President Joe Biden.
With over 3 million nightly viewers, "Tucker Carlson Tonight" was one of the top-rated primetime shows on Fox News, which is also the most-watched U.S. cable news network, according to Reuters. 
Several of Carlson's media colleagues and biggest critics weighed in on the announcement, including former CNN host Brian Stelter, who called the move an "earth-shaking moment in cable news."
Tucker Carlson is out at Fox News, effective immediately. This is an earth-shaking moment in cable news.

— Brian Stelter (@brianstelter) April 24, 2023
Former Fox News host Megan Kelly applauded the news, tweeting, "Good for Tucker. Trust me, he doesn't need them."
Good for Tucker. Trust me, he doesn't need them. https://t.co/NjFqqsIV4q

— Megyn Kelly (@megynkelly) April 24, 2023
While no reason was given for the move, Carlson came under increased scrutiny at the network in March after airing security footage from the Jan. 6, 2021, storming of the U.S. Capitol, which raised new questions about the events of that day. 
The events of Jan. 6 led to the second impeachment of former President Donald Trump, which continued into his post-presidency. Many Americans who participated in a protest at the Capitol against the certification of the electoral votes of the 2020 presidential election — parts of which turned violent — are facing federal charges and have been detained in prison since their arrests for trespassing. 
Following the March 27 mass shooting at The Covenant School, a private Christian school in Nashville, Tennessee, at the hands of a trans-identified woman, Carlson delivered an impassioned commentary on his show in which he said Christianity and trans ideology can never be reconciled.
"Trans ideology claims dominion over nature itself. 'We can change the identity we were born with,' they will tell you with wild-eyed certainty," Carlson stated in a March 28 segment. "Christians can never agree with the statement because these are powers they believe God alone possesses ...
"Christianity and transgender orthodoxy are wholly incompatible theologies. They can never be reconciled. They are on a collision course with each other."
In June 2021, Carlson stated on-air his belief that the National Security Agency was spying on him after an intelligence community whistleblower told him he was aware of the content in private exchanges that only Carlson would know. 
He further alleged that the NSA was spying on his team's electronic communications and was planning to leak them to remove his show from the air. Carlson insisted again on Tuesday that the government was surveilling him and said that a statement from the NSA contesting his assertion "did not deny" his specific claims.
"The whistleblower, who is in a position to know, repeated back to us information about a story that we are working on that could have only come directly from my texts and emails," Carlson asserted last year.
"There's no other possible source for that information, period," he said, noting that he had a conversation with NSA officials Tuesday that was "Orwellian."
In response, the NSA issued a statement claiming Carlson was not targeted for surveillance. The statement said Carlson's claim that the NSA is "monitoring our communications and is planning to leak them in an attempt to take this show off the air" was "untrue."
Within hours of Fox's announcement about Carlson, CNN tweeted it had also "parted ways" with longtime opinion host Don Lemon.
"CNN and Don have parted ways," CNN said in a statement. "Don will forever be a part of the CNN family, and we thank him for his contributions over the past 17 years. We wish him well and will be cheering him on in his future endeavors."
In response, Lemon issued a statement saying he was "stunned" by the move and that he was informed of the move by his agent and not by the network.
"At no time was I ever given any indication that I would not be able to continue to do the work I have loved at the network," Lemon said in a tweet. 
Lemon was mired in several controversies at CNN, including comments that Nikki Haley, former U.S. ambassador to the United Nations and former governor of South Carolina, was "past her prime," and too old to run for president.
"Nikki Haley isn't in her prime, sorry," Lemon told his former co-hosts on "CNN This Morning." "When a woman is considered to be in her prime — in her 20s, 30s and maybe her 40s," he added, explain that he got his information by asking Google.
Last year, a sexual assault claim against Lemon was dropped. This came after his accuser, Dustin Hice, said he had forgotten details pertinent to the case against the former CNN opinion host.