Tyler Perry Reveals He Was Minister, Attended Seminary in Message at Lakewood Church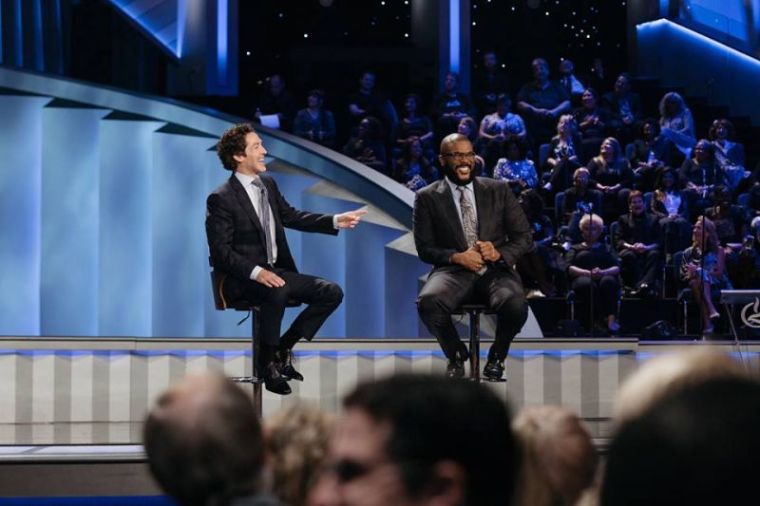 Christian Hollywood film producer Tyler Perry revealed on Sunday at Lakewood Church that he was once a minister and went to seminary to pursue his passion. God later revealed to him, however, that his ministry would not be behind the pulpit.
"There's a little bit about me you may not know 'cause everybody knows Madea, the plays and a bunch of other stuff but you may not know that when I was in my late teens, early 20s I went to seminary school. I was a minister in my church. I actually preached and prayed for people," Perry said at the start of his 20-minute message at the Texas megachurch.
"And I remember doing my first sermon and the pastor got up after I was finished. It was so bad all he could say was 'if God called you, he'll qualify you.' So I prayed and I said 'God what is that about,'" Perry continued as the congregation erupted in laughter.
"And the Lord's voice spoke to me and said 'your ministry won't be in a pulpit.' I said 'Oh, Thank God," Perry, 48, explained. "But through television and films. And even though sometimes, I'd do movies that are not Christian movies, I am still a Christian but I'm also an artist who wants to do a lot of things."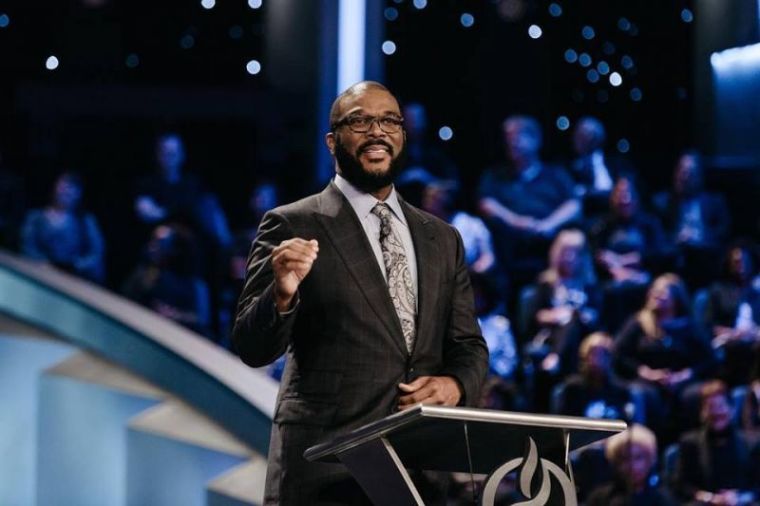 Prior to sharing his message with the church, Perry and Lakewood Church Pastor Joel Osteen sat down on stage for a Q&A session during which Osteen introduced Perry to his congregation as a "bright light" in Hollywood.
"Tyler is a bright light shining in the entertainment industry and I love people that love the Lord that are just making a huge difference. You know he doesn't have to be doing this. He's got plenty of things he could be doing but I invited him to come out to share with us at Lakewood," Osteen said.
Perry shared the story of his abusive childhood spent living with dysfunctional parents and how faith and forgiveness factored in his rags-to-riches story.
He also revealed that everyone who enters his more than 300-acre studio in Atlanta, Georgia, has to pass over a Bible buried at the entrance of the property.
"In order to get into the studio you've got to drive through the gates. And to go through the gates you've got to pass through the arms and the handle. Buried under that when you're going in and coming out is the open word of God. I've buried the Bible at the gates of the studio. So you can't come in without crossing the Word and you can't leave out without crossing the Word," he said.
In his message preached from Genesis 22: 1-14, where God asked Abraham to offer his son Isaac as a sacrifice in a test of his faith, Perry exhorted from the perspective of Isaac.
He pointed out how Isaac questioned his father about the missing sacrifice after seeing an altar prepared and his father armed with a knife. He connected Isaac's question to present-day anxiety experienced by present-day Christians.
"I feel like there are many of us today who are going through so much anxiety. We're riding high, everything is fine, things are going really, really well and all of a sudden we see a knife as a threat. Something's going on. The doctor's called and say 'hey, I need to talk to you. We've found something.' You see the knife, you see the wood, you see the fire and you're wondering, are you the sacrifice?" Perry said.
"All of you with great anxiety, I came to talk to you ... I came with good news. You are not the sacrifice.
"In that very next verse after Isaac asked, he said 'where is the sacrifice?' Abraham said to him 'God Himself will provide the sacrifice. Now you have to understand in the Old Testament they were living under the law so they needed the blood of an animal to atone for their sins."
He noted that Christ has already atoned for the sins of those who believe.
"Why are you nailing yourself to a cross that Jesus has already come down from?" Perry asked.