Tyler Perry's 'Meet the Browns' Stars Talk Their Calling as Artists and Christians (VIDEO)
David and Tamela Mann Say Sometimes 'We Are Images of the Bible'
Entertainers, actors and musicians David and Tamela Mann, known as stars of Tyler Perry's "Meet the Browns," talked to The Christian Post recently about their new show as well as their take on how broadcast media could and should be utilized for spreading the Christian message.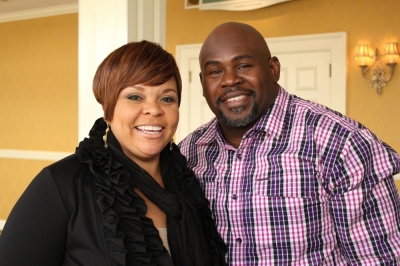 David Mann is an actor who has also written, directed, and produced numerous plays, including "I Can Do Bad All By Myself," which gave birth to the nosey, wisecracking character of Mr. Brown. Mann later impersonated that character in the TBS show, Tyler Perry's "Meet The Browns," in which he starred alongside his wife, Tamela (who plays Cora Simmons). Acting is something that David Mann used to get in trouble for, he revealed. "I was always acting somewhere," he said. "It's just something I always loved. I like to see people laugh, have a good time. I like to bring joy to people."
Tamela Mann is an actress and singer, as well as a 2011 NAACP Image Award nominee and 2011 Dove Award winner for Traditional Gospel Album of the Year. She has performed alongside artists like Yolanda Adams, Mary J. Blige, Al Green, Celine Dion, Bono, R. Kelly and Fred Hammond. Mann went on to join the gospel musical cast of David E. Talbert as he directed the stage play "He Say…She Say…But What Does God Say?" In 2005, Mann released her solo album titled "Gotta Keep Movin" and in 2007 she released "The Live Experience." Her primary career is singing, and acting is something she "tripped into," she told CP.
"Singing is my first love but acting is something that I stumbled upon," she said. "I guess you can say Tyler Perry saw something in me that I didn't see in myself." Mann is currently working on a new CD titled "Best Days."
To many Americans the Manns are better known as Cora and Brown. "Meet the Browns" aired its final episode last November after 140 shows, being replaced by another production by Perry.
"We had a good, long run," David Mann said in a conversation with CP. But right now the Manns are working on their new show, "Hanging With the Manns" – a reality show blending cooking and adventure. From the Bahamas to a wild-west style rancho extravaganza, the couple goes on adventures and has an on-air cook-up related to the adventure afterward.
Exclusive: David and Tamela Mann Discuss Career in Media
Both Manns seem to believe that working with national media poses a unique responsibility to exude the spirit of Christianity in everything they do.
"This is what we do," David Mann told CP. "Christians is who we are. … I think we've been given this platform not just to be celebrities and see how many cars you can buy, how many houses you can buy. We've been give this platform to get ministry."
Sometimes it is a little heavy, Tamela Mann added. "Because you do feel the responsibility to try to get the word out. . .. Try to reach as many people as we could. And a lot of times the story lines that we have as our characters, Cora and Brown, we don't get to say 'Jesus' on everything but we do get to invite people and tell them about God, without being too preachy preachy."
"Sometimes you are the Holy Bible that people will see," David Mann followed. "Some people may not go to church. But sometimes your lifestyle and you just being an example will be the only Bible or the only Christ that they'll see."
Show business can be a "door opener" for talking about Jesus, the couple suggested.