U2's Bono Discusses Faith, Helping Others With Focus on the Family's Jim Daly
Bono, the lead singer of the highly-successful Irish rock band U2, recently sat down with Jim Daly of the nonprofit group Focus on the Family to discuss everything from his children, to his love for his wife of 30 years, Ali Hewson, to his knowledge of Scripture.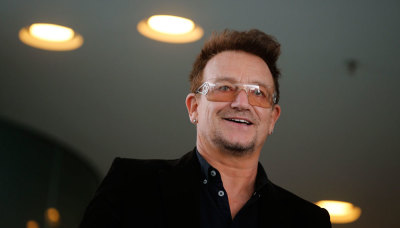 While speaking with Daly at the American Bible Society in New York City recently, Bono's talk particularly focused on helping others, as seen through his ONE campaign, which he co-founded in 2004 to fight extreme poverty and HIV/AIDS, particularly in Africa. The campaign seeks to use advocacy, media and policy to raise public awareness regarding issues such as preventable diseases, including HIV/AIDS, extreme poverty, child mortality, education, and malaria.
Bono told Daly that he has chosen to put so much time and energy into the ONE Campaign because to him, "love is to realize the potential of others."
"The job of love is to realize potential. When you see lives squandered in the developing world because they cannot get access to medicines that we buy […] or they can't vaccinate their kids for measles, then you know something's up. The job of love is to realize that potential," Bono said.
He went on to say that he believes Christians can truly show their faith through their actions; he referenced in the Bible Luke 9 when Jesus told a man about the cost of following him, including "let the dead bury the dead."
Bono told Daly that he believes this move by Jesus was "punk rock" in that it shed all pretenses and showed the importance of working through action, rather than "signs of righteousness."
It is for this reason, Bono says, that he, too, doesn't mind being "cutting edge" or considered "unorthodox" by some evangelicals.
"You've gotta be very careful that grace and politeness do not merge into a banality of behavior, where we're just nice, sort of 'death by cupcake,'" Bono told Daly, according to the interview posted on the Focus on the Family website.
"Politeness is, you know, is a wonderful thing. Manners are in fact, really important thing. But remember, Jesus didn't have many manners as we now know," Bono added.
He then directed the conversation back to the ONE Campaign, telling Daly that the purpose behind the title of the campaign is to show that in spite of partisan or faith lines, all can agree on the importance of helping your fellow man.
"You and I can have many disagreements on many philosophical, theological things, but on this we know we can agree on," he said.
The famous musician also sought to thank the American evangelical community for its support in the fight against HIV/AIDS, saying that evangelicals took a stand in the early 2000's and pressured the George W. Bush administration about AIDS advocacy and providing aid to Africa.
In an op-ed for The Washington Post following his broadcasted interview with Bono, Daly wrote that although many Christians may find the musician unorthodox, he believes Bono truly lives his Christian values through his love for others. Bono "chooses to go out and serve alongside other people consumed by the desire to help others" instead of "easily [enjoying] the spoils of his fame and fortune," Daly wrote.
"Bono may at times be a bit unorthodox in his approach, but he is quite orthodox in the areas that matter most – loving God and loving people," the FOTF president wrote.
In a recent presentation at TED Talks, a global set of conferences focused on the spread of new ideas, Bono, who has worked for 25 years in anti-poverty campaigns, shared the improved statistics of global poverty. He said at the March TED Talks conference, held in Long Beach, Calif., that from 2000 to 2010, extreme poverty dropped from 33 percent to 21 percent of the global population. He remains optimistic of the future of extreme global poverty, saying that if the decreasing global poverty trend continues, poverty could be eradicated by 2030.
Here is a related video:
Jim Daly reflects on his conversation with U2's Bono