Los Angeles School District Teaches Children to Share HIV, STD Status With Peers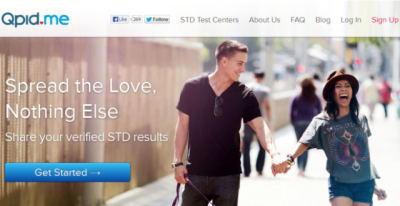 A first of its kind sex education program is being taught in the Los Angeles Unified School District, in which students as young as 12 are encouraged to share their HIV and STD status with their sexual partners by way of a text message that reveals they were tested for HIV, chlamydia, gonorrhea and syphilis. The text message also includes a disclaimer, which reads: "This person MAY have had sex since being tested. Always be safe, use condoms."
In their heath classes, students in the seventh through 12th grades will watch a three-minute YouTube video created by the company Qpid, pronounced cupid, which tells students to go to the nearest Planned Parenthood clinic, or HIV testing center to be tested, and to then register at the qpid.me website to share their results online or by phone. The test, however, doesn't confirm a diagnosis of HPV or herpes.
The Qpid YouTube video states that students must be 13 to use their free program. However, their website also notes that "children as young as 12 can get tested for STDs without the need for parental consent in the state of California."
"We're not using this as a lure for kids to say, 'OK, you can have sex because you did this.' What we felt was that if the kids had the information that they would make better decisions about their sexual partners," said Tim Kordic, the school district's HIV/AIDS prevention program manager.
Some parents are not on board with the school district adding the Qpid program to their children's health classes, and believe this initiative will only encourage young children to engage in sexual activity. They also feel the program is taking their parental rights away from them.
"This is not right. It's something that I should know first," Rosie Alulema, a parent of an LAUSD student, told KCAL-TV.
Last month, The Christian Post reported on the expansion of the California Family Health Council's initiative to mail 10 free condoms a month to children ages 12 to 19, because the state believes sexually active teenagers won't buy condoms at local stores or go to health clinics to obtain free condoms, due to the "barrier of embarrassment."
The Qpid program, however, requires students to go to a sexual health clinic to be tested for HIV and STDs.
This program also claims that a child's HIV and STD results will remain confidential.
The list of advisers for the Qpid program include: Dr. Roni Zeigler, the former chief health strategist for Google; Dr. Jeffrey Klauser, former director of STD prevention at the San Francisco Department of Public Health; Vincent Vigil, director of the LGBT resource center at the University of Southern California; Kicesie Drew, a blogger who has an adult sex channel on YouTube; and Tim Kordic, the program manager for the HIV/AIDS prevention unit at the LAUSD.
According to a CDC study released in 2011, youth ages 15 to 24 account for half of the 20 million STD cases each year.
Likewise, a 2011 study conducted by the Los Angeles County Health Department reveals that Los Angeles teenagers between the ages of 13 and 19 account for 16 percent of all gonorrhea cases, and one out of every four chlamydia cases in the country.