'UglyDolls' review: Kelly Clarkson animated film teaches kids beauty is only skin deep (exclusive clip)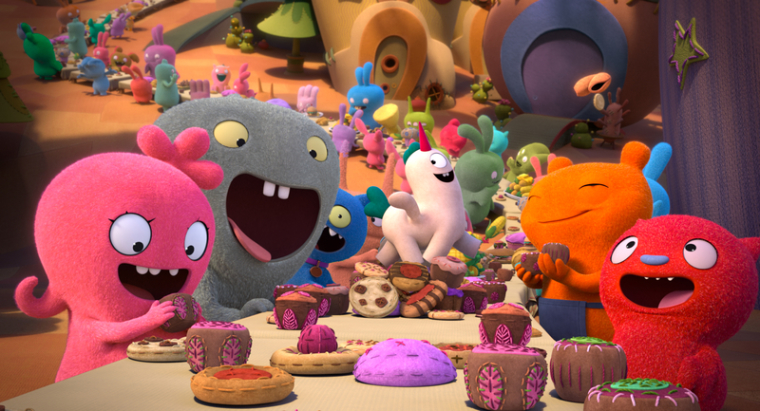 "UglyDolls," the new animated musical from STX Films, highlights the importance of embracing one another despite differences and encourages audiences to extend love to all, regardless of how they appear.
"They say beauty is in the eye of the beholder, but ugly is in the eye of the beholder, too," director Kelly Asbury told The Christian Post. "Those phrases are just words, but they can mean so much to an individual. This movie is about getting beyond what we see and finding what's inside of each person and getting to know them."
"It's a lesson for everyone to learn: Give each other a break, put aside things we think are supposed to be perfect, and see what's beyond that," he added.
Based on a popular line of plush toys launched in 2001, "UglyDolls" follows Moxy (Kelly Clarkson) and her friends as they venture beyond their town of Uglyville and into the town of Perfection. Unlike Uglyville, where differences are celebrated and strange is special, the inhabitants of Perfection are obsessed with appearances, led by the narcissistic Lou (Nick Jonas). Here, dolls are trained to become "perfect" before they graduate and are sent to the "real" world to find the love of a child.
For the first time in their lives, the UglyDolls must confront what it means to be different, struggle with their desire to be loved, and ultimately discover that you don't have to be perfect to be amazing.
The film is whimsical, fun, and fast-paced — but it reinforces a powerful biblical truth: Perfection isn't achievable, and who you truly are is what matters most, "for man looks on the outward appearance, but the Lord looks on the heart" (1 Samuel 16:7b).
Asbury, who is also behind a slew of animated films including "Gnomeo & Juliet" and "Shrek 2," said that this lesson is relevant for audiences of all ages — not just children.
"I believe kids have it over adults when they're young; they don't walk into the world being prejudiced, they walk into the world with an open mind and are innocent about things," he said. "Sometimes, that's a good thing. I think it's about keeping their minds open instead of closing them."
"We try to make the film entertaining for all ages, but every movie I've ever really liked has changed me in some small way, whether it was an animated film or a live-action movie," he continued. "I would encourage people to go to this movie even though it's animated — they may walk out just a little different. Even if the message is slight, I hope it makes an impact."
Clarkson and Jonas lead an all-star cast that also includes Janelle Monae, Blake Shelton, Wanda Sykes, Gabriel Iglesias, Wang Leehom and Pitbull. The film is chock-full of upbeat, memorable songs with titles like "Today's the Day" and "Couldn't Be Better."
"The songs are so fun because it's how we introduce our characters," Asbury said. "The songs kind of take on a life of their own, and I think that's what makes it so appealing."
With a PG rating and a message revealing timeless truths much-needed in today's selfie-obsessed culture, "UglyDolls" is a family-friendly choice for movie night.
"Let's be a little kinder to each other — and to ourselves. It's OK if we're nice to each other instead of approaching everything with anger," Asbury said. "I think the world could use more kindness. Maybe this will trigger a little bit of that."
Watch a clip of "UglyDolls" below.