Univ. Teaching Assistant Accidentally Emails Skype Porn to Students Instead of Math Homework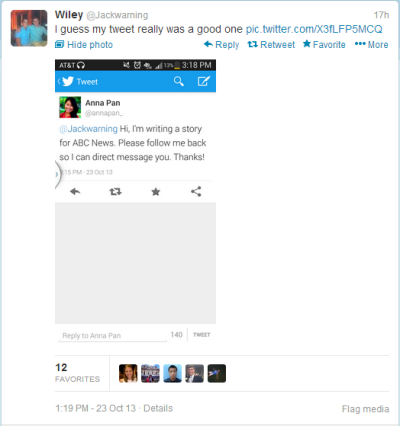 A University of Iowa teaching assistant (TA) accidentally sent a pornographic video of herself and her boyfriend to her class of undergraduates, causing a commotion.
"Welp my math teacher just sent me a video of her and her boyfriend skyping naked instead of the answers to the homework due tomorrow…," tweeted Dru, a student whose Twitter handle (@LittleBabyDrew) now describes him as "a local celebrity."
He and his fellow students broke the news via Twitter late Tuesday night, and added four more tweets in short succession. "…im not kidding," he explained to his followers. "Theres a good chance she pry getting fired…"
Fellow student Andrew Merschman (@merschman) expressed his surprise. "Not every day your math TA accidentally sends nudes to half the class."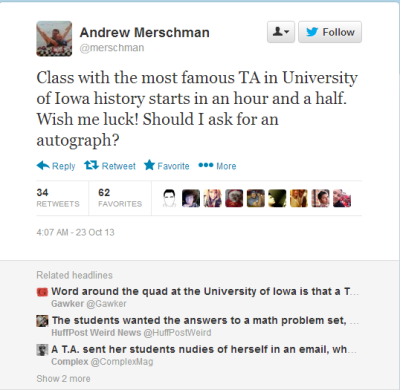 Another classmate, who goes by Wiley (@Jackwarning), tweeted that the "University of Iowa is the #1 party school and #1 Teacher sextape school #hilarious."
While Dru's profile touts his own fame, however, Wiley's merely states "Psalm 91." The referenced scripture begins, "He who dwells in the shelter of the Most High will abide in the shadow of the Almighty. I will say to the LORD, 'My refuge and my fortress, my God, in whom I trust.'"
The email itself, as seen in pictures which have surfaced on the internet, gave no hint of the scandalous material inside.
Students on Twitter and speaking to various outlets let slip that the TA did not discuss the video during the next class, but when she entered, the entire room went silent.
"No one said anything about it but it was just extremely awkward," the tipster added.
"University officials are aware that a teaching assistant sent an email with inappropriate content to students," a University of Iowa spokesman told Campus Reform, a college news website. "The individual who sent the messages has stated it was an accident, the individual regrets the actions."
The spokesman promised that the university "will ask those who received the message to delete it, and not to share the files with anyone else."