University defends student protest as 'peaceful' after activist mob ambushes Riley Gaines Barker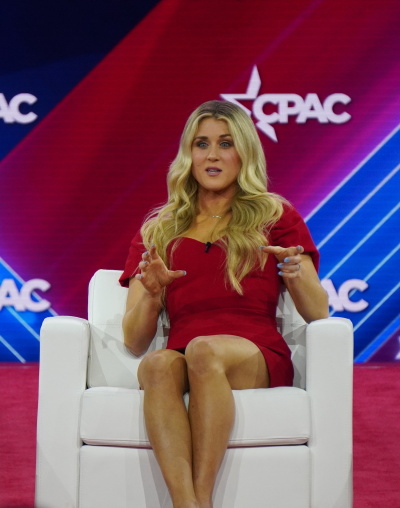 San Francisco State University has defended the violent protest that erupted on campus following a speech by a former NCAA female swimmer who was punched in the face by two men after she spoke about fairness in women's sports. 
Riley Gaines Barker, who has emerged as an outspoken critic of allowing male athletes who identify as trans to compete in women's sports, was physically assaulted and found herself barricaded in a room for three hours following a speech at the university Thursday. 
Gaines said she was undeterred by the mob attack and vowed to continue her advocacy for fairness in women's sports.
The college has defended the protest, however, claiming it was "peaceful."
Gaines Barker graduated from the University of Kentucky last year and has gained national recognition as an opponent of policies allowing male athletes to compete on women's sports teams. She now works as a spokeswoman for the advocacy organization Independent Women's Forum and was invited to speak at San Francisco State University to share her experiences and answer students' questions.
In a post on Twitter, Barker said she was "ambushed and physically hit twice by a man." Video footage accompanying the tweet shows angry student protesters chanting, "Trans rights are human rights" and directing expletives at Barker as campus police officers attempted to escort her to safety. A separate video filmed from a different angle shows the protesters chasing after Barker and appearing to rejoice after campus police were forced to barricade her in a room for her safety. 
Independent Women's Forum released a statement on Twitter declaring, "We strongly condemn the violence perpetrated against @iwf spokeswoman @Riley_Gaines on @SFSU campus." The advocacy organization maintained that "Riley was violently accosted, ambushed, and physically assaulted during a speech on sex discrimination women face in their own single-sex sports category."
"Riley is courageous in speaking up for truth, science and common sense," the statement continued. "She has experienced firsthand the injustice female athletes face across America in their own sport."
Before the event, Barker shared her belief that "inclusion cannot come at the expense of women," insisting that "there are other ways to accommodate trans-athletes without discriminating against female athletes."
Her employer described "the effort to silence, threaten and harm women for standing up for #WomensRights" as "absolutely ludicrous," putting the blame for the tense situation at the university on the Biden administration and the "governing bodies of sport" that are "pushing for biological males in women's sport for the sake of inclusion."
In a statement shared with The Christian Post on Friday, the University Police Department at San Francisco State University said, "We are conducting an investigation into the situation."
"There were no arrests related to the event," the UPD statement added. "The disruption occurred after the conclusion of the event which made it necessary for UPD officers to move the event speaker from the room to a different, safe location."
SFSU Vice President for Student Affairs & Enrollment Management Jamillah Moore sent an email to the campus community over the weekend, which began with a declaration that "the trans community is welcome and belongs at San Francisco State University." She expressed gratitude to the "students who participated peacefully in Thursday evening's event," adding, "It took tremendous bravery to stand in a challenging place."
"I am proud of the moments where we listened and asked insightful questions. I am also proud of the moments when our students demonstrated the value of free speech and the right to protest peacefully. These issues do not go away, and these values are very much at our core," she continued.
Moore did not address the violence directed at Barker although she did cite freedom of expression as an important university value as she expressed disagreement with Barker's point of view. "Our community fiercely believes in unity, connection, care and compassion, and we value different ideas, even when they are not our own," she wrote. "Diversity promotes critical discussions, new understandings and enriches the academic experience. But we may also find ourselves exposed to divergent views and even views we find personally abhorrent."
"These encounters have sometimes led to discord, anger, confrontation, and fear. We must meet this moment and unite with a shared value of learning."
Moore's email did not sit well with Barker, who reacted to the statement in a tweet: "I'm sorry, did this just say PEACEFUL? I was assaulted. I was extorted and held for ransom. The protestors demanded I pay them if I wanted to make it home safely. I missed my flight home because I was barricaded in a classroom. We must have different definitions of peaceful."
The Twitter thread continued with Barker stressing that she had "no problem with 'peaceful' protest." 
She added: "I was grateful to see a diverse crowd in the room during my speech which I expressed multiple times. We had great dialogue and listened to each other. But that ambush was the opposite of peaceful."
I'm sorry did this just say PEACEFUL.... I was assaulted. I was extorted and held for random. The protestors demanded I pay them if I wanted to make it home safely. I missed my flight home because I was barricaded in a classroom...

We must have different definitions of peaceful. https://t.co/izxoCF1IFs

— Riley Gaines (@Riley_Gaines_) April 9, 2023
In a subsequent tweet, Barker indicated that Moore blocked her on the social media platform and that she intended to take legal action against the school: "I guess it's easier for her to ignore me than to denounce violence against women. She won't be able to ignore my lawsuit."
The woman who released the statement following the riot where I was verbally and physically assaulted at @SFSU (to which she called peaceful) blocked me.

I guess it's easier for her to ignore me than to denounce violence against women. She won't be able to ignore my lawsuit???? pic.twitter.com/4RHsYsTNCw

— Riley Gaines (@Riley_Gaines_) April 9, 2023
Barker added that she intended to file a lawsuit in response to the violence at the university last week in an interview on Fox News' "Tucker Carlson Tonight" on Friday: "I will be pursuing legal action. I will ensure that the people who physically assaulted me, the people who put me in that position, they will face repercussions." 
At the same time, she explained that her experience "does not deter me" but rather "assures me that I am doing the right thing," vowing "this will not silence me." Gaines proclaimed that "when they want me to be silenced, it just means I need to speak louder." 
Barker first began to express her concerns about policies allowing trans-identified males to compete in women's sports last year when she and trans-identified male swimmer Lia (Will) Thomas came in fifth place in an event at a National Collegiate Athletic Association women's swimming championship.
In an appearance on "Tucker Carlson Tonight" last year, she recalled that when it was time for the two athletes to take a picture with the fifth-place trophy, an NCAA official handed her the sixth-place trophy even though they had tied.
When she clarified to the official that the two had tied, he informed her that "Lia needs to hold the trophy" in the picture. Barker has continued to voice her disapproval of policies allowing biologically male athletes to compete on women's sports teams on multiple occasions over the past year, most recently by slamming ESPN for recognizing Thomas, a man, as part of its efforts to "Celebrate Women's History Month."
Concerns about trans-identified males competing on women's sports teams primarily focus on the biological differences between men and women. USA Powerlifting said a few of the advantages men have over women include "increased body and muscle mass, bone density, bone structure, and connective tissue." 
In December 2020, the British Journal of Sports Medicine published a study showing that trans-identified male athletes continue to maintain an advantage over their biologically female counterparts even after two years of taking feminizing hormones.
In light of the concerns shared by Barker and others, 20 states have passed laws requiring athletes to compete on sports teams that correspond to their biological sex as opposed to their chosen gender identity: Alabama, Arizona, Arkansas, Florida, Idaho, Indiana, Iowa, Kansas, Kentucky, Louisiana, Mississippi, Montana, Oklahoma, South Carolina, South Dakota, Tennessee, Texas, Utah, West Virginia and Wyoming.
Critics of such laws, including the LGBT activists who confronted Barker, view them as discriminatory attacks on the LGBT community.