Unusual Today, But Typical for a Church From the 1880s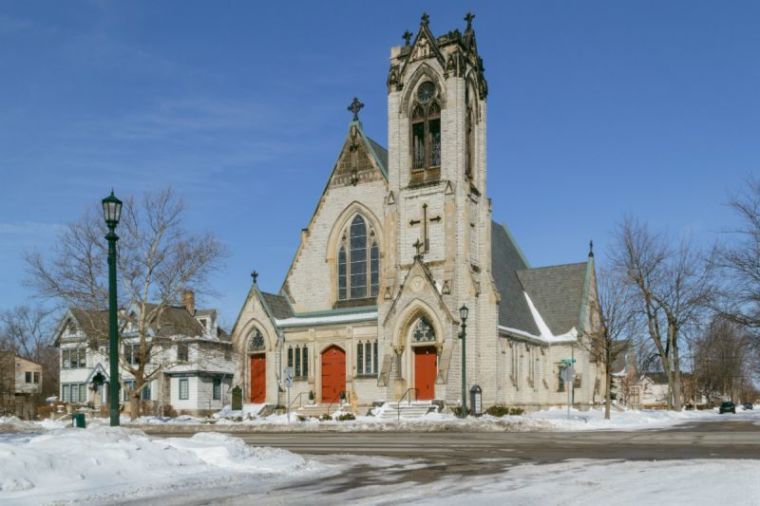 Trinity Church in Bay City, Michigan, is similar to other churches of its era.
Built between 1885 and 1887, the limestone and sandstone edifice was designed for the Episcopalian congregation by local architect Philip C. Floeter in the then-fashionable style of Gothic Revival.
Trinity may have a traditional east-west liturgical orientation, but the west front façade actually faces south toward the busy artery of Center Avenue at the intersection with Grant Street, as in Ulysses S. Grant. In either direction Center bisects streets with similarly illustrious names — Monroe, Jackson, Van Buren, Farragut, Sherman and, of course, Lincoln.
The neighborhood encompassing these streets is recognized as a historic district with over 200 entries on the National Historic of Register Places. Many of those listings are for Gilded Age homes erected by lumber barons and shipping industrialists.
Bay City's wealth allowed Trinity to build its present-day church as a replacement for an earlier wooden church. This was a pattern repeated across the United States as settlement pushed both north and west.
A grand stone church didn't just reflect the social status of a church's congregants, it also symbolized that the community was no longer an uncivilized, uncultured frontier outpost.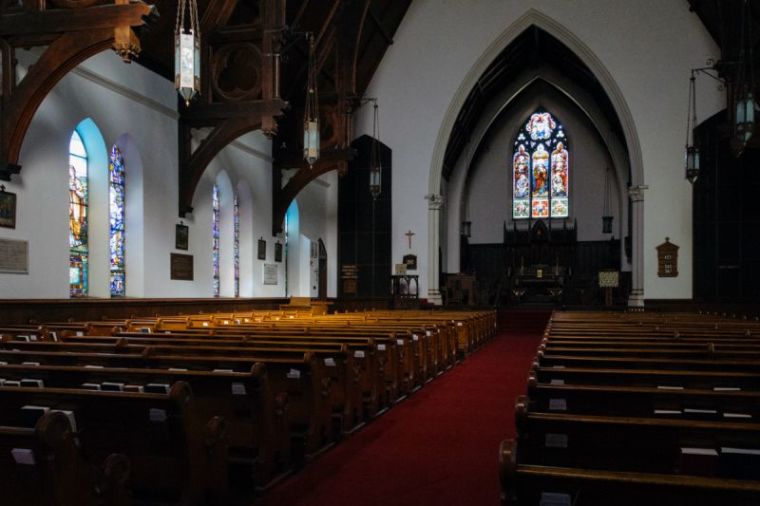 Alterations have undoubtedly been made to Floeter's design — the obvious being the hideous red carpet on the floor of the nave. Still, everything about the interior comes together reasonably well.
Just look at the carved screen (also known as a reredos) behind an altar now blocked by a modern freestanding altar with a versus populum orientation. While added in the 1920s the reredos compliments the handsome hammerbeam roof and wooden pews, which surely number too many for today's congregation. Then there are the 48 stained glass windows, which were installed between 1887 and 1973. Sadly, what you won't see is the church's silver communion set (purchased in 1863), at least outside of Sunday services.
Today, Trinity would be unusual because as the old adage goes, they just don't build them like this anymore.
Ignoring the fact that modern architecture largely ignores the Gothic and Romanesque revivalism of the 19th century, the cost to erect this kind of building would be a significant financial burden on just about any congregation, including those with deep pockets.
Even buying a disused old church isn't always practical, as maintenance is constantly required. As one clergyman told me, he didn't go to seminary to become historic preservationist.
If you visit
Trinity Church is open to visitors from 8 a.m. to 12:30 p.m. and 1:15 p.m. to 4:45 p.m. Monday through Thursday.
Spires and Crosses, a travel column exclusive to The Christian Post, is published every week.
Dennis Lennox writes about travel, politics and religious affairs. He has been published in the Financial Times, Independent, The Detroit News, Toronto Sun and other publications. Follow
@dennislennox
on Twitter.