Uproar as Rich Businessman, Tom Cantor, Spends Millions Trying to Convince Jews They Can Be 'Jewish Christians'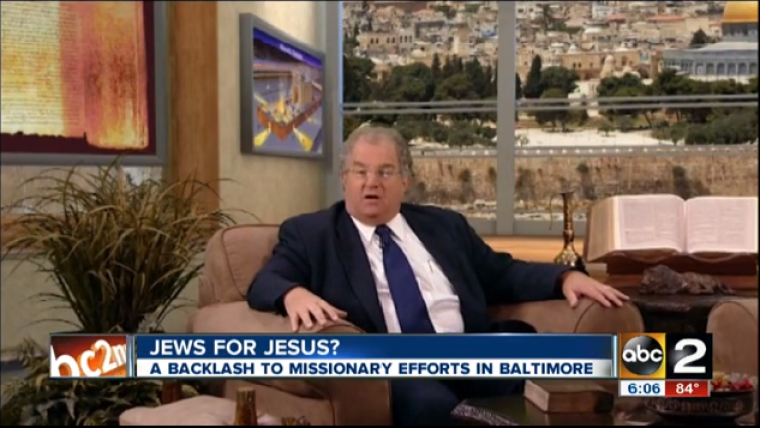 Tom Cantor, a rich Christian businessman who was born a Jew but accepted the gospel of Jesus like Paul the Apostle in the Bible, is now causing a stir among Jews across the country with a multi-million dollar crusade seeking to convince Jews they can be "Jewish Christians."
Cantor, who is president of Scantibodies Laboratories, a medical products company in southern California and the founder of Israel Restoration Ministries, is spending $4 million a year on his Jewish Christian crusade, according to the Jewish Press.
A $1 million campaign launched this summer targeting Jewish communities in Baltimore and other major cities on the East Coast as a part of this crusade, now has area Jews in knots as they try to debunk his Jewish Christian concept.
"What they're saying is that you can accept Jesus and also be Jewish, and there is not a rabbi from the established Jewish community who would accept that," Art Abramson, executive director of the Baltimore Jewish Council told ABC 2.
Abramson explained to the Baltimore Sun that the notion of a Jewish Christian is deceptive, oxymoronic and a "contradiction of basic theological principles."
He also noted that the campaign was "very offensive to the Jewish community" and they would have less objection if Cantor's crusade simply promoted that a Jew accepting Jesus means becoming a Christian while ceasing to be a Jew in the religious sense.
The area campaign, according to ABC 2, features young college girls as missionaries roving through the communities in white vans from the Granite Baptist Church in Glen Burnie armed with a slick DVD containing Cantors testimonial.
"I was born into a Jewish family. Both my parents were Jewish," he tells the camera during the hour-long testimonial explaining how he came to accept Jesus Christ.
"I just told you about my road of how I came to the Lord Jesus Christ. How about you? How about you, my friend? You can come too," he notes near the end of his pitch.
Abramson said the missionaries bringing the message are deceptive because they pretend to be Jews when they are not.
"They claim they are Jewish and they look it. They dress very modestly... nice appearance, young ladies coming in... long dresses, etc... as if they're members specifically of the Orthodox community," said Abramson to ABC 2.
Senior pastor of Granite Baptist, Lou Rossi Jr., said, however, that no effort is being made to deceive anyone. The women just prefer to dress modestly.
"I expressed to Art that Tom and myself have a great love and respect for all Jewish people. We believe that Christ is the Jewish Messiah that they wait for to come, and so we're trying to convey that message to them whether they believe it or not," he said.