US Air Force Locates and Bombs ISIS Group Headquarters in Syria Using 'Moron' Militant's 'Bragging' Social Media Post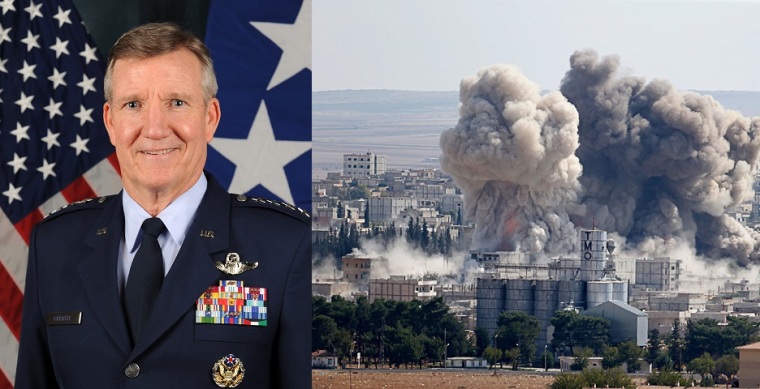 The U.S. Air Force recently located and successfully bombed a group headquarters for ISIS in Syria using information the agency's intelligence unit took from a social media post by a "moron" militant from the terrorist group which has killed and displaced countless Christians in the Middle East.
During a speech in Arlington, Virginia, Monday, Air Force Gen. Herbert 'Hawk' Carlisle, head of Air Combat Command, described how airmen at Hurlburt Field, Florida, with the 361st Intelligence, Surveillance and Reconnaissance Group, identified the social media post from the ISIS militant and turned that into an airstrike resulting in three Joint Direct Attack Munition missiles destroying an ISIS headquarters building, according to Air Force Times.
"It was a post on social media to bombs on target in less than 24 hours," said Carlisle. "Incredible work when you think about [it]."
He continued: "The guys that were working down out of Hurlburt, they're combing through social media and they see some moron standing at this command. And in some social media, open forum, bragging about the command and control capabilities for Daesh, ISIL. And these guys go: 'We got an in.' So they do some work, long story short, about 22 hours later through that very building, three [Joint Direct Attack Munitions] take that entire building out."
At a recent House Homeland Security Committee hearing on ISIS's use of social media, experts told Congress that the group has published 1,700 pictures, videos and other publications, reaching up to 200,000 readers on Twitter and other sites. The media says the experts are being used by "core propagandists" to recruit and show off their ability, as seen in the case of the airstrike.
In his speech, Carlisle also highlighted the destruction the Air Force and coalition aircraft have caused for ISIS so far. This includes 4,200 strikes, dropping 14,000 weapons, resulting in about 13,000 enemy fighters killed, and destroying more than 1,000 vehicles and 50 improvised explosive device factories, according to Air Force Times.