US evacuates Americans from Sudan after being accused of stranding its citizens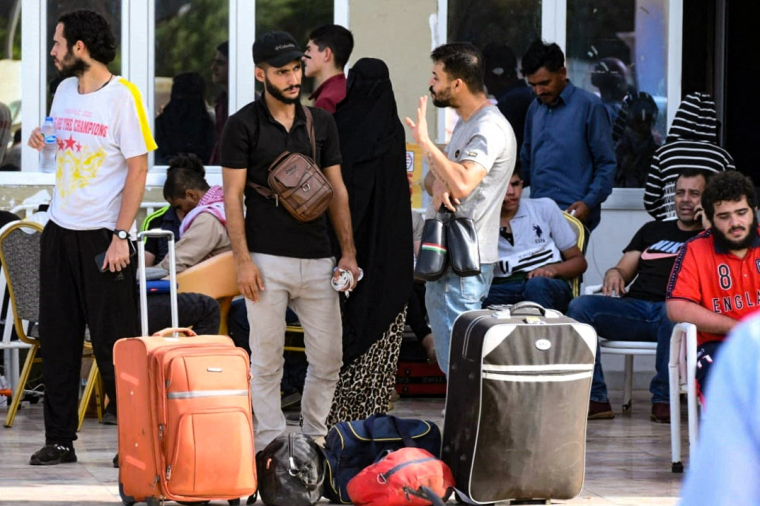 As deadly fighting between the Sudanese army and paramilitary forces continues, the U.S. government has begun land evacuations of American citizens in the African country after receiving scrutiny this week for not doing so sooner.
A day after White House Press Secretary Karine Jean-Pierre urged Americans in Sudan to leave the country within 24 to 48 hours, a convoy of buses carried as many as 300 Americans out of war-torn Khartoum on Friday. There are an estimated 16,000 American citizens in Sudan, though most have not asked to leave the country.
Sources told The New York Times that the 300 Americans were on a 525-mile journey to the Red Sea's Port Sudan.
Before Friday's announcement, the Biden administration was criticized for failing to evacuate its citizens like other countries and the United Nations were doing so. The United Kingdom government has evacuated over 1,500 people, most of whom were British nationals, since Tuesday.
About 70 staff from the U.S. Embassy in Khartoum evacuated last weekend. The delayed evacuation plans for private citizens left some Americans feeling as if their family members were being left behind. 
"I am incredibly shocked and disgusted by the American lackluster response to the health and safety of their citizens," Muna Daoud, whose parents traveled to Port Sudan to flee to Saudi Arabia, told CNN. 
Robert Greenway, an adjunct fellow at the conservative think tank Hudson Institute and executive director of the Abraham Accords Peace Institute, tweeted that U.S. citizens should "justly expect their government to provide the same safe evacuation from harm offered to the government employees they fund."
"Government's primary and non-transferable obligation is the safety of its citizens," Greenway wrote. 
Johnnie Moore, an Evangelical author and former commissioner on the U.S. Commission on International Religious Freedom, argued in a tweet that the situation was a "predictable & preventable catastrophe w/long-term consequences enabled by decisions of the admin." In response to Jean-Pierre calling for Americans to flee within 24 to 48 hours on Thursday, Moore asked: "How are they supposed to leave?"
"YOU left them behind (again!)," he tweeted. 
The country's 2 million Christians are growing increasingly fearful that Islamist extremists may exploit the instability in the country to impose harsh sharia law.
Intense blasts and gunshots rattled Khartoum and its sister city, Omdurman, on Friday even though a delicate ceasefire between the nation's two leading generals had been extended, a power struggle that has already resulted in the deaths of hundreds, The Associated Press reported.
The intensification occurred just hours after both parties, the military led by Gen Abdel Fattah al-Burhan and the Rapid Support Forces under the command of Gen Mohamed Hamdan Dagalo, agreed to extend the ceasefire by 72 hours, seemingly to enable foreign countries to finish evacuating their citizens from the turmoil-ridden African nation, the newswire said.
Although numerous brief ceasefires have not ended the conflict, they have provided enough pause for tens of thousands of Sudanese people to seek refuge in safer regions while also allowing foreign countries to evacuate thousands of their citizens using land, air and sea transportation.
Christians fear for their safety, regardless of which side emerges victorious.
Open Doors, a Christian persecution watchdog organization monitoring persecution in over 60 countries, reports Christians face an uncertain future as the fighting rages on. 
Fikiru Mehari, an Open Doors researcher for the East Africa region, said that a collapse of the country would lead to "untold suffering" for the people of Sudan.
"Once you leave your house, you're not sure whether you can come back alive. It is difficult because people need to leave home to survive (e.g., earn money, get food)," he said. 
"And our fear is that, if the current crisis enables Islamists to influence the political life and the situation in Sudan, believers are heading under another dictatorship which will be against Christian life in the country."
The ongoing conflict is already affecting Christians, as pastors and congregations find themselves separated due to people hiding indoors.
"Church leaders I am speaking to are urging everyone to pray," Mehari told Christian Today. "Many fear Sudan is vulnerable to collapse. From this chaos, Islamist extremists could rise and impose harsh Sharia law. This would prove deadly for Christians."
About 90% of the Sudanese people are Sunni Muslims, and 5% are Christians, including roughly one-half of 1% Evangelicals, according to The Voice of the Martyrs.
Mehari expressed disappointment in the lack of progress since the ousting of dictator Omar al-Bashir in 2019. 
"When the dictator Omar al-Bashir was ousted, we were promised an interim government followed by elections. It gave us hope as persecution of Christians began to drop. That did not last long, though, and I don't see either leader offering the country the freedoms that we were promised," he said.
After regularly being included among the worst countries in the world when it comes to Christian persecution, Sudan was removed from the U.S. State Department's list of "countries of particular concern" in December 2019. The CPC list designates nations that tolerate or engage in egregious violations of religious freedom.
However, advances in religious freedom lasted for only two years in Sudan until a military coup in October 2021.
The coup brought back fears of repression and harsh implementation of Islamic law, as an Islamist "deep state" rooted in former President al-Bashir's 30 years of power remains influential.
Meanwhile, neighboring South Sudan is bracing for a potential influx of refugees from Sudan should the conflict continue.
Christian Aid has expressed alarm about the situation.
"South Sudan is already facing a severe food emergency," James Wani, Christian Aid South Sudan Country Director, said. "There is a significant shortfall in humanitarian funding. If this conflict in Sudan doesn't stop soon, and refugees start crossing the border in large numbers, then this will exacerbate an existing humanitarian crisis."